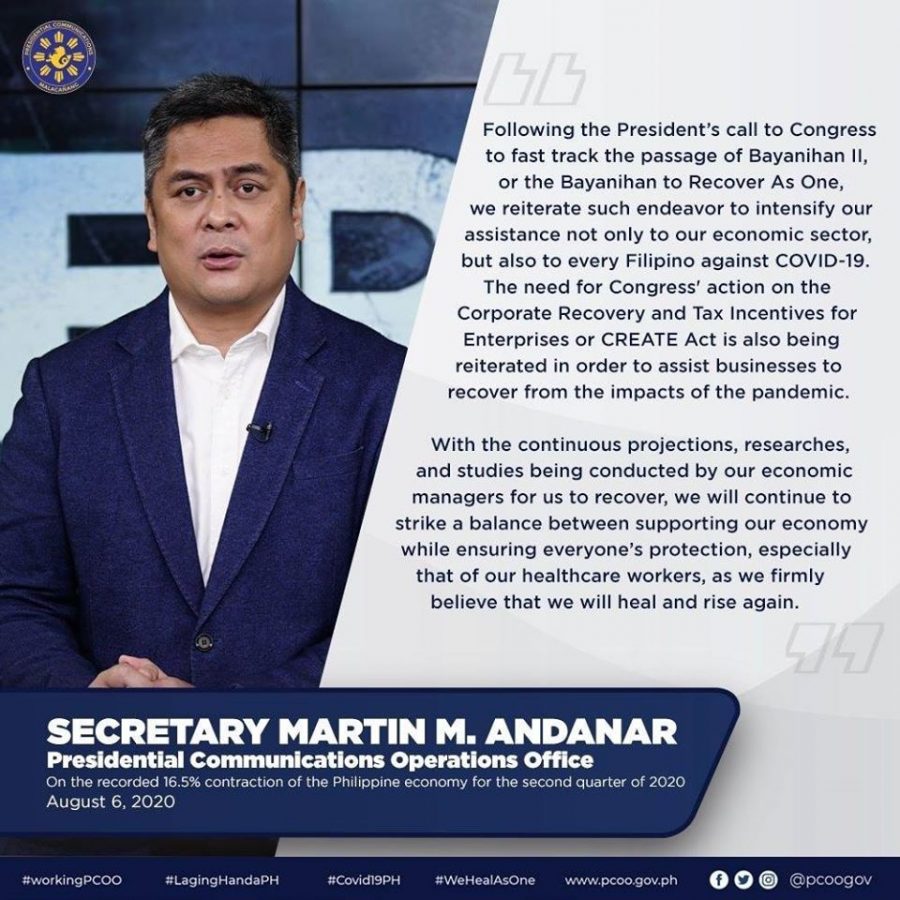 Following the onslaught of the COVID-19 pandemic that heavily affected the world economy due to the responses of different states to the virus and the implementation of lockdowns and community quarantines, which were made apparent throughout the second quarter of 2020, the economic contraction of the Philippines was expected by our economic managers.
Although our lockdown and community quarantine implementation had an impact on our economic performance, it served as a cushion to our society's general health, protection, and well-being against COVID-19. Furthermore, it served as a safety net to suppress the collapse of our healthcare system and assist our frontline healthcare workers, who have been tirelessly responding to the pandemic since it began.
Due to this undertaking, we have prevented an estimated 1.3 to 3.5 million cases, of which an estimated of 68,000 severe and critical cases at a peak day, which would have overwhelmed our healthcare system. More importantly, some 59,000 to 171,000 lives were saved.
It is worth noting that while facing this crisis, we are now in a much stronger economic position to address such circumstances in the long-term. Apart from strong economic foundations established by the successful enactment of economic, social, and institutional reforms, we continue to capitalize on and to reform our socio-economic advantages so that we can weather any potential, foreseen, and unforeseen crisis, such as the COVID-19 pandemic.
As such, our economic recovery program, PH-Progreso or the Philippine Program for Recovery with Equity and Solidarity, will assist our socio-economic sectors from this pandemic's effects. We have recalibrated our budget allocation for 2021 and resumed our Build, Build, Build projects in order to recuperate.
Following the President's call to Congress to fast track the passage of Bayanihan II, or the Bayanihan to Recover As One, we reiterate such endeavor to intensify our assistance not only to our economic sector, but also to every Filipino against COVID-19. The need for Congress' action on the Corporate Recovery and Tax Incentives for Enterprises or CREATE Act is also being reiterated in order to assist businesses to recover from the impacts of the pandemic.
With the continuous projections, researches, and studies being conducted by our economic managers for us to recover, we will continue to strike a balance between supporting our economy while ensuring everyone's protection, especially that of our healthcare workers, as we firmly believe that we will heal and rise again.
###