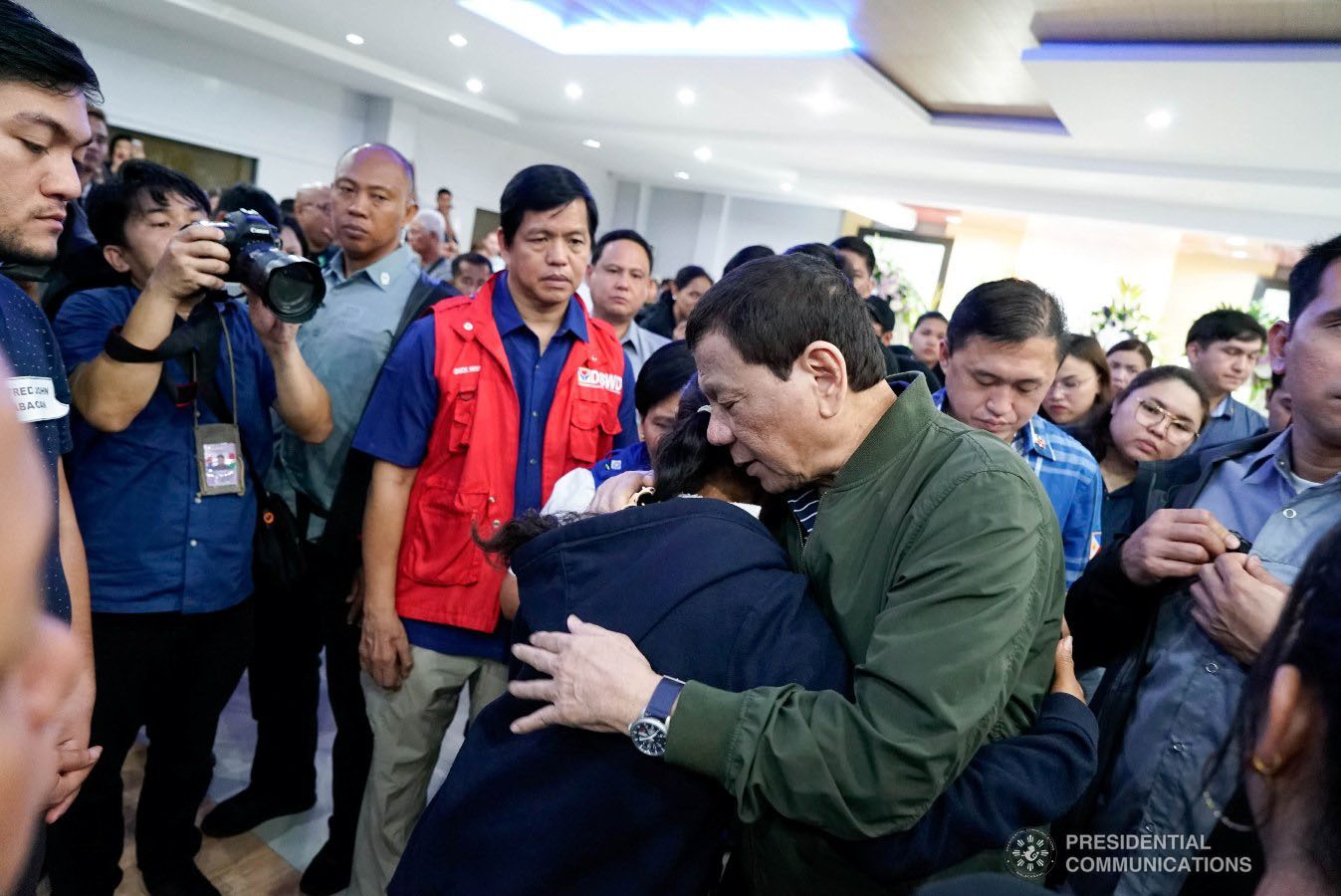 JORDAN, Guimaras—President Rodrigo Roa Duterte arrived in Jaro, Iloilo on Wednesday and handed over financial assistance to the families of those who perished in sea mishaps off the coast of Iloilo and Guimaras provinces over the weekend.
Three motorized, wooden-hulled boats—M/B Chi-Chi, M/B Jenny Vince, and M/B Keziah 2—capsized on August 3 off the waters of Guimaras and Iloilo due to rough seas brought by strong monsoon winds.
Thirteen remains of those who died lie at the Gegato-Abecia Funeral Homes and Crematory in Jaro. President Duterte condoled with the families of the victims and extended financial assistance. The survivors also received support from the President.
Sen. Christopher Lawrence "Bong" Go, who accompanied the President Wednesday, also handed over assistance to the families of the dead and to the survivors.
Meanwhile, President Duterte was supposed to condole with the families of the victims in Guimaras but bad weather prevented him from going to the province.
The President, after making several attempts to land in Guimaras, went back to Iloilo for safety reasons, Transportation Sec. Arthur Tugade told the families.
He offered condolences in behalf of the President.
The remains of the eight fatalities from the province lie at the Guimaras Provincial Multi-purpose Gym.
Ten passengers died when the Guimaras-bound M/B Chi-Chi sank while 18 others lost their lives after M/B Jenny Vince capsized during its journey from Buenavista, Guimaras to Iloilo.
There were 34 survivors from the M/B Chi-Chi and 18 from M/B Jenny Vince.
No one was reported to have died in the sinking of M/B Keziah 2, which was traveling at the time of the accident with only crew members on board.
Rescue efforts were launched after the accident and the survivors from the ill-fated vessels were brought to different hospitals in Western Visayas.
Aside from the assistance extended by the President, the local governments of Iloilo and Guimaras have initially released support to the families of those who died and to the survivors.
The provincial government of Iloilo gave P50,000 for each of the five victims who died. The Iloilo City government, on the other hand, provided P10,000 financial aid to non-Iloilo City fatality. For every survivor, it handed over P5,000.
For Iloilo City residents, each fatality got P50,000 and every survivor received P5,000.
Other government agencies, such as the Department of Social Welfare and Development (DSWD) provided non-food items as well as mental health and psychosocial support to the survivors. The families of the survivors also received medical and financial assistance from the department.
Cadaver bags, jerry cans, and hygiene kits were made available by the Department of Health's regional office.
It also deployed human resource persons at the Joint Iloilo-Guimaras ICP organized to respond to the emergency. PND