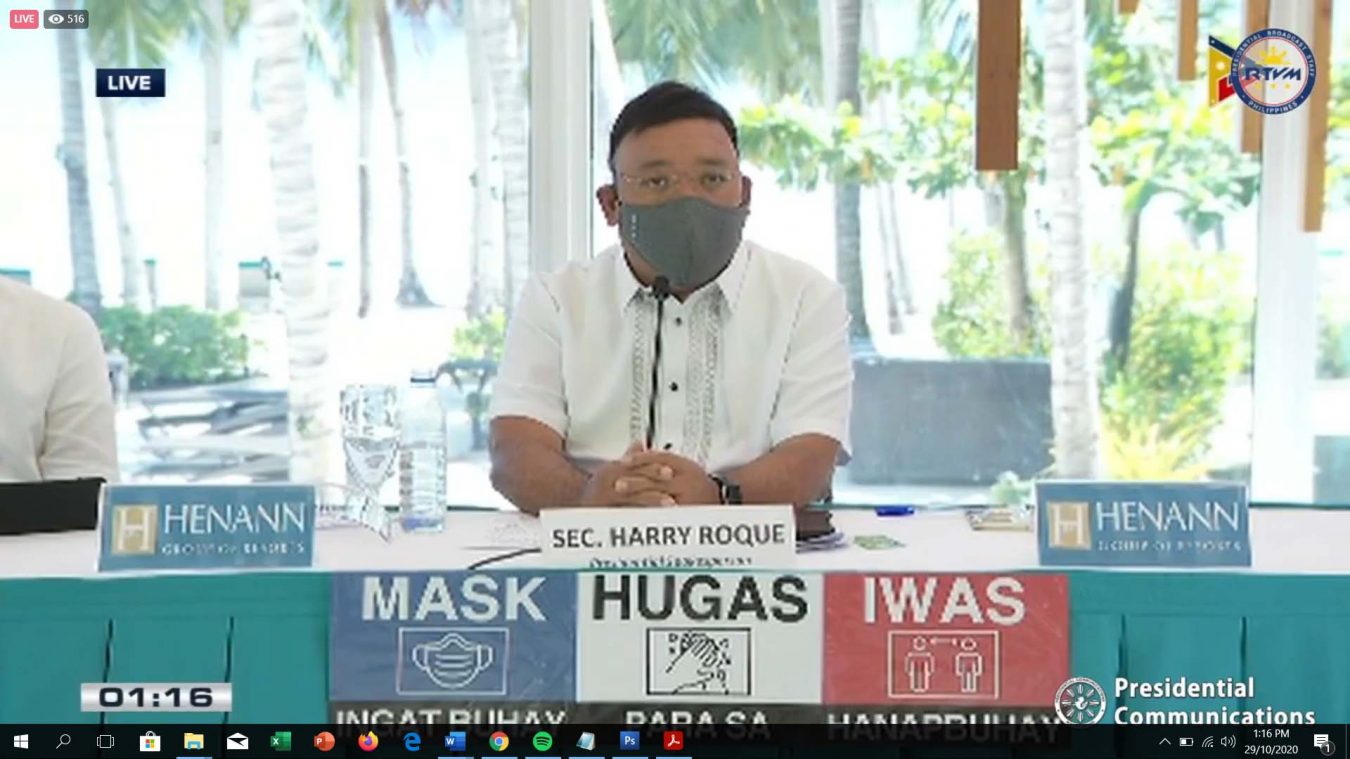 Presidential Spokesperson Secretary Harry Roque Jr, who conducted his press briefing today, October 29, in Bohol lauded the provincial government and other stakeholders in their preparation of the island province's reopening to tourism.
Secretary Roque, who is the concurrent Inter-Agency Task Force spokesperson, lauded the province for its efficient use of technology in facilitating the entry of tourists in the island. Citing his own experience, Roque said that after registering on the provincial government's website, a QR code will be issued upon arrival in Bohol, which will be used and scanned in all establishments and tourist sites in the province.
"Napakaganda po ng sistema, paperless, contactless at wala pong delay. I commend po Governor [Arthur] Yap and the entire province of Bohol for this technological device," Roque said.
Following the gradual opening of tourism sites in the country and in relation to the reopening of the country's economy, the island province of Bohol will soon be opening its doors to tourism. Governor Yap said that they are already studying the possibility of reopening the province to tourism by November 15, 2020.
Yap said that with the QR code system, it will be easy to track down possible infected persons, if there are any, and that they can be immediately isolated to prevent the spread of infection.
For Atty. Lucas Nunag, Chair of the Provincial Tourism Council of Bohol, tourists have more reasons to visit Bohol now as the province has new sites to offer especially heritage and cultural sites, including nationally-recognized heritage churches.
The call for tourists was also underscored by Engr. Allen Varquez, Executive Vice President of the Bohol Association of Hotels, Resorts, Restaurants, Inc., who said that their group has already prepared the guidelines and protocols to follow, and that all their establishments are already prepared for the reopening of the province for tourists.
Dr. Henry Chusuey, Chairman of the Henann Group of Resorts, also supports the reopening of Bohol to tourists and urged LGUs to relax restrictions to encourage tourist to come, which he said can help provide jobs and livelihood to the locals.
Dr. Chusuey said that his company, which runs two resorts in Bohol, used to employ some 1,200 employees. But with the pandemic's impact on the tourism sector, the company currently employs only 60 employees. To be able to provide more jobs, Chusuey said that tourists have to come, which is why he is calling for more relaxation of restrictions with regard to tourism.
On another matter, Health Undersecretary Dr. Lilibeth David explained during the same press briefing, the process and steps involved in assigning community quarantine classifications. Usec. David said that they first consider an area's previous classification, then its critical care utilization, followed by looking at the cross tabulation of the Average Daily Attack Rate (ADAR) and Two Weeks Growth Rate (2WGR). Dr. David said they also factor in other information like an area's socio-economic risk, and take this into consideration along with the other factors when assigning risk classifications.
Meanwhile, on vaccines development, Philippine Ambassador to the United Kingdom (UK) Antonio Manuel R. Lagdameo said that the UK is making good progress in developing a vaccine and added that the UK has 48 million pounds to finance the vaccines for lower income countries, and has promised that the vaccines will be made available for smaller countries like the Philippines.
Also in the said press briefing, Roque confirmed that President Rodrigo Roa Duterte has already allowed the Department of Foreign Affairs (DFA) to conduct an investigation on the controversy involving Philippine Ambassador to Brazil Marichu Mauro.
Mauro was involved in an incident of physical abuse where she was caught on video mistreating her Filipina helper. Sec. Roque said that the President's immediate granting of authority for the DFA to investigate the matter is indicative that the Chief Executive believes that justice has to be served for the violence suffered by the Filipina victim of the incident. ## OPS-PCOO