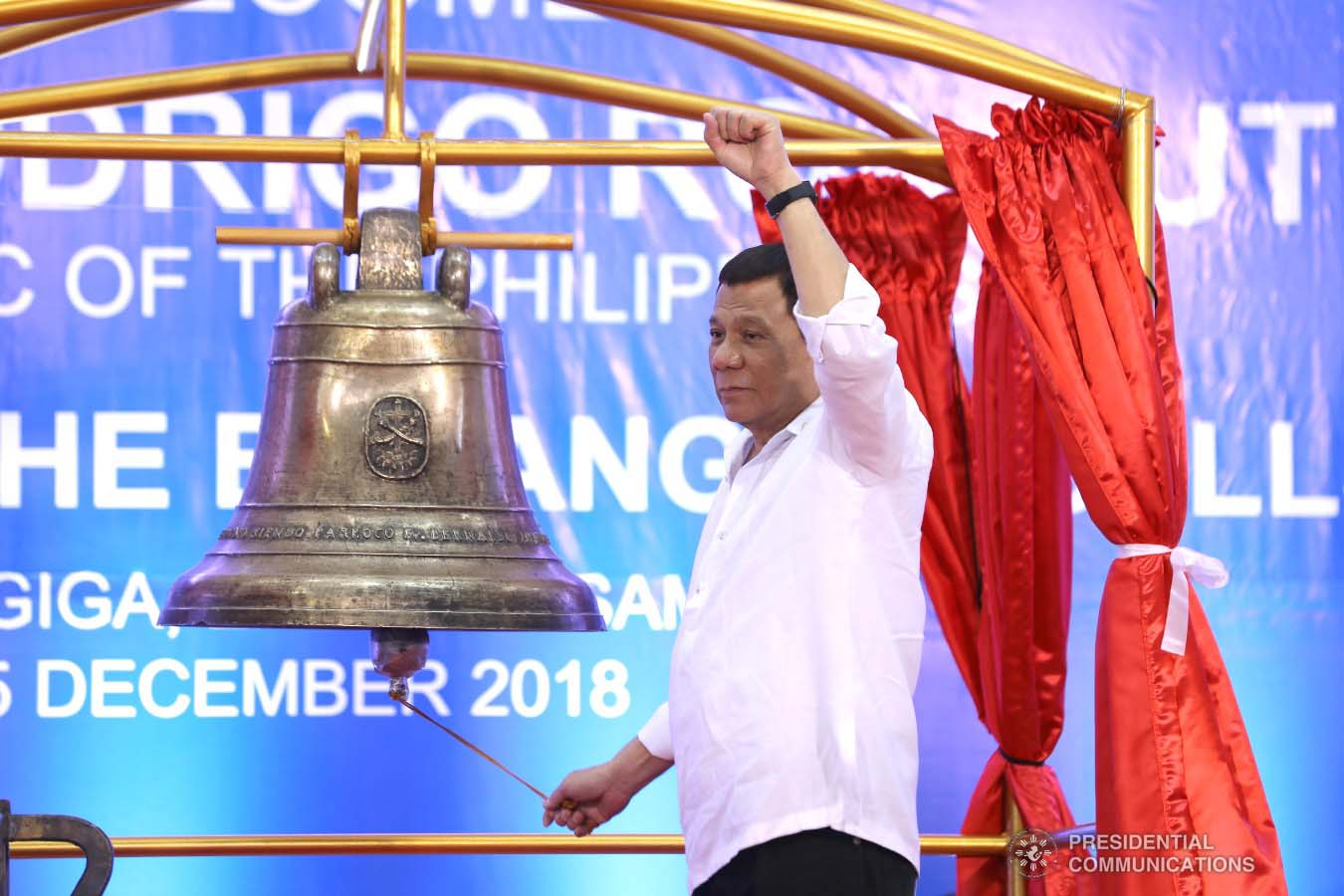 SAMAR — President Rodrigo Duterte on Saturday, December 15, joined the citizens of Balangiga, Samar in celebrating the momentous return of the Balangiga Bells.
"Today's gathering can be a time to be truly sentimental as we welcome back our Balangiga Bells," President Duterte expressed.
The Chief Executive stressed that the 117 year-long wait for the homecoming of this three-piece Philippine treasure has ended, and this was fulfilled due to the joint efforts of the Philippine and American governments.
"The long wait is over. The rest of the Filipino nation joins with the Diocese of Borongan in celebrating this historic event," the President said.
"Indeed, this rectory is the result of the optimism and solidarity and patriotism of those behind the bells' return, just like when our forefathers fought for our freedom against foreign domination more than a century ago," he added.
The President also clarified that no single person should take credit for the historical return of the Balangiga bells.
"The bells are returned, and it was really because of the fervent prayers of the entire Filipino nation… The credit goes to the American people and the Filipino people, "he emphasized.
Apart from this milestone event, the bells' homecoming also signifies another vibrant chapter in the bilateral ties between the Philippines and the United States.
He then reminded the citizens of Balangiga and the rest of the Filipino people to ensure the protection of these three bells. Hence, to continue to preserve and promote the country's culture and history.
"I congratulate the Filipino people for forging a history that we could all forever be proud of," he said.
"I am sure that our ancestors are also celebrating with us on this remarkable victory that does not only bring back the glory of the town of Balangiga, but also contributes to the full restoration of our dignity as a nation," he continued.
During the turnover ceremony, President Duterte rang one of the returned Balangiga bells seven times.
After the event, he went to the Balangiga Massacre Memorial Wall where he paused for a prayer and gave a salute to all Filipino and American victims. ### PND