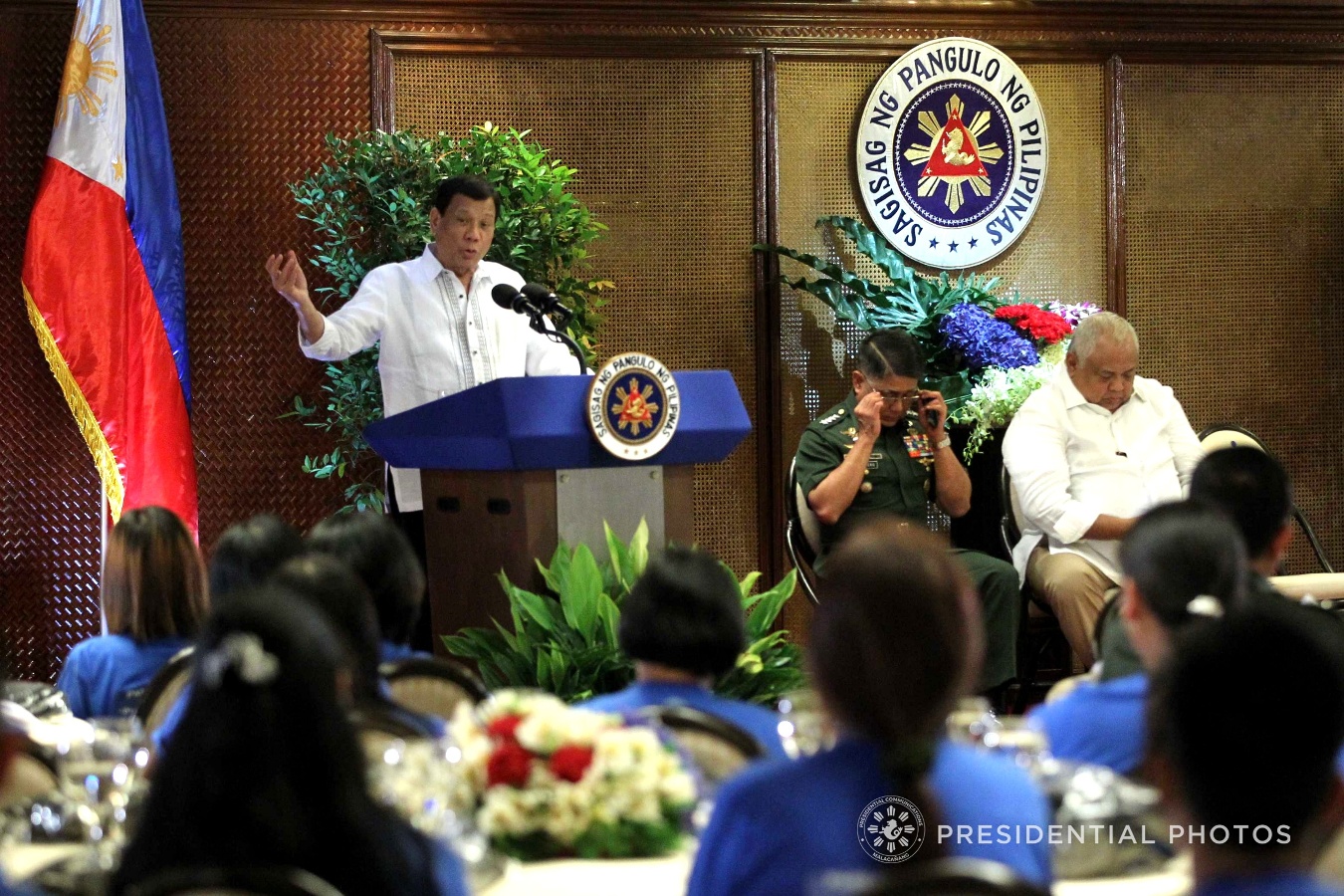 President Rodrigo Duterte on Wednesday, February 7, met former members of the New People's Army (NPA) in Malacañan, assuring that his administration will take care of them and provide them shelter, jobs, livelihood and education for their children
In his speech, President Duterte said it is a good decision for them to return to the fold of the law instead of fighting and dying for a flawed cause.
He said communism is no longer relevant as major former communist powers like the Soviet Union and China embraced capitalism and became successful.
In terms of free education for the children of rebel returnees, the President said the bright ones may opt to apply for government scholarship, noting that he is willing to send them to the country's top universities.
He also said it is not too late for the former rebels to improve their lives.
The President advised them to acquire skills from TESDA such as dressmaking for women and carpentry, plumbing and electrical skills for men.
His government, he said, is encouraging outside investments, particularly from China, to create jobs locally.
He said massive investments in infrastructure development during his administration will require a lot of skilled workers and the former rebels could seize this opportunity.
President Duterte meanwhile said the country's agriculture sector could develop further, as he stressed the potential of Mindanao for agricultural development as it is typhoon-free and with fertile soil.
He vowed to provide tractors to cooperatives to be put up by the former rebels, adding that communities where they are located will be prioritized.
President Duterte also promised to provide them security, which is a major concern of the rebel returnees.
The President said that for them to have a grasp on the successes of capitalism, he will send female former rebels to Hong Kong and China.
This, he said, is to counter the ideology being professed by Communist Party of the Philippines founder Jose Maria Sison.
The former rebels, mostly uneducated and poor, came from different parts of Eastern Mindanao. The Armed Forces of the Philippines has lined up some 683 former rebels to tour them in Manila.
The 215 former rebels met by the President Wednesday were the first batch who arrived in Villamor Air Base Tuesday on board two C-130s from Davao City.
This is part of the President's promise to welcome them in Malacañan during a meeting in December last year in Panacan in Davao City. The AFP's goal in facilitating the tours is to give the rebel returnees a new perspective in life and orient them in peace building and nationalism.
Aside from a Palace tour and meeting with the President, the former rebels visited the Rizal Park and Intramuros as part of their historical and heritage trip. ### (PND)