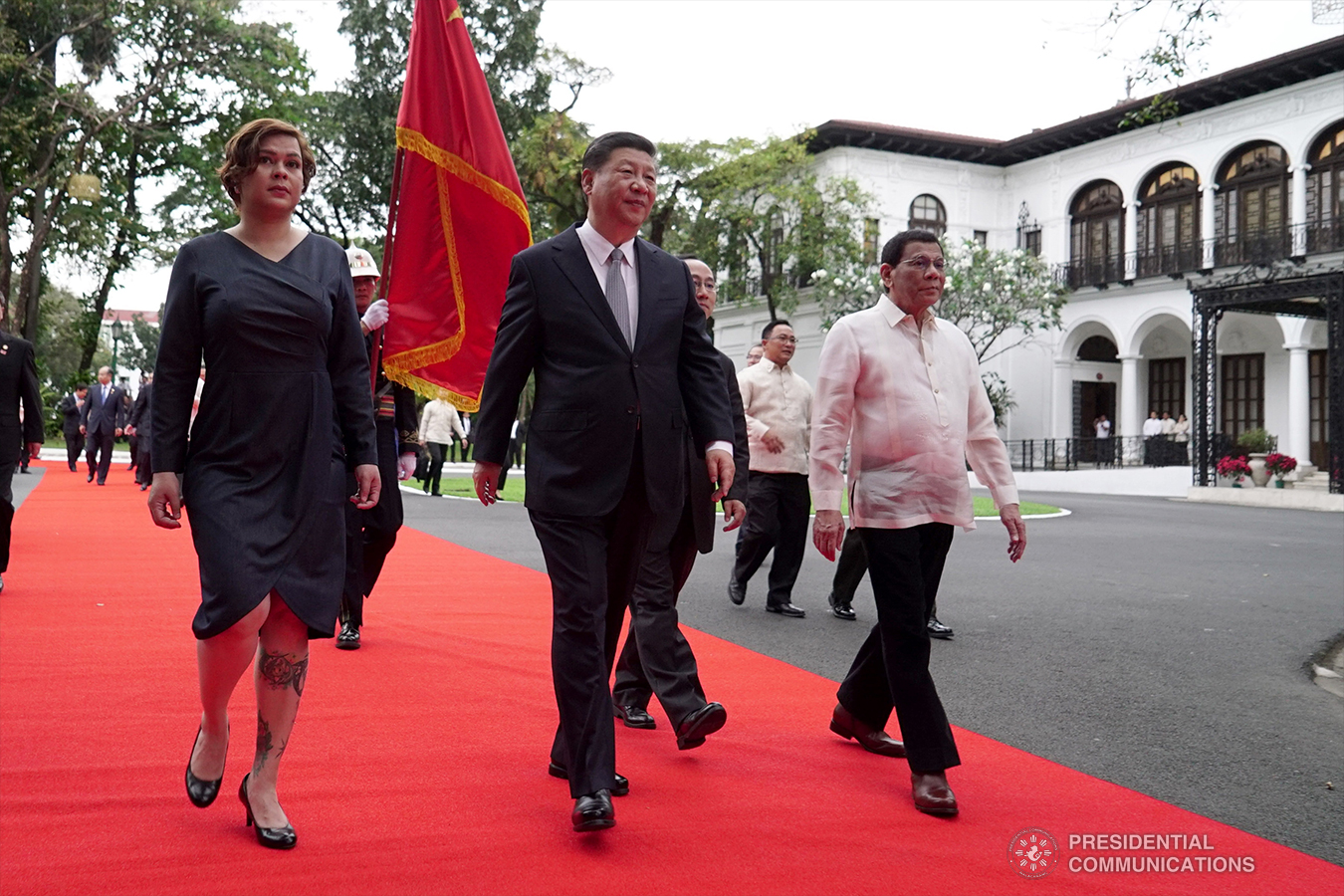 MALACAÑANG — President Rodrigo Roa Duterte on Tuesday, November 20, officially welcomed President Xi Jinping of People's Republic of China in a ceremony at the Malacañan Palace for his historical state visit to the Philippines.
On his way to Malacañang, President Xi was greeted by more than 1,000 Grade 3 to Grade 6 elementary students from different schools in Manila.
The Chinese President arrived at the Kalayaan Grounds in Malacañang around 4:40 P.M. and was received by President Duterte and Presidential daughter Davao City Mayor Sara Duterte-Carpio.
President Duterte and Chinese Presiden Xi paid respect to both countries' national anthems.
The Chinese leader was also given a 21-gun salute from the Palace honorary guards.
Afterwards, President Xi proceeded to the Malacañan Palace Reception Hall for the signing of the guest book.
During the bilateral meeting, the Chief Executive warmly welcomed the Chinese President in his opening statement.
The President considered Xi's visit as "reciprocal" and a "historic occasion" as this is the first state visit of a Chinese head of state in 13 years.
"Today, therefore, is a landmark moment in our shared history. We have turned a new page and we are ready to write a new chapter of openness and cooperation," President Duterte told Chinese President Xi Jinping.
"I look forward to fruitful discussions today as we review the progress we have made and chart the course toward a further enhanced partnership — all in the spirit of friendship, mutual understanding, and respect for sovereign equality," he added.
President Xi likewise agreed to President Duterte's statement regarding the deepening relations of China and the Philippines, and his visit is proof of stronger ties between the neighboring countries.
"Mr. President, I agree with what you have said in your opening remarks that my visit will be a milestone in the history of exchange between our two countries. And the two of us are working together to open a new chapter in the bilateral relations," Xi said.
"We have met six times over the past two years since you took office. We had an in-depth exchange of views on China-Philippine relationship and issues of common interest…cemented our friendship and common understanding," the Chinese President continued.
President Xi also thanked President Duterte for inviting him to visit the Philippines and experience the warm hospitality of the Filipino people.
"I thank you for your gracious invitation and warm hospitality. So along the route here, I have seen the welcoming crowd including the local people and the young students, and we have been deeply moved," Xi said.
"I am satisfied to see the growth in our relations and, indeed, I have been looking forward to this trip a long time ago," he added.
The Chinese president reiterated that he and President Duterte are good friends and, due to their joint efforts, both governments have made productive results in cooperation in all areas that brought benefits to the Filipinos and Chinese people and in making contributions to peace and stability of the region.
President Xi added that China and the Philippines are close neighbors with a thousand- year history of exchanges. Therefore, he stated that "good neighborliness, friendship, and winning cooperation [are] our only correct choice."
"I'm ready to work with you to chart the course for the future development of our relations from a strategic perspective…deepen friendship and cooperation so that our two countries will always be good neighbors, good friends, and good partners that enjoy common development and prosperity," Xi told President Duterte.
Both leaders also presented each other with gifts before continuing their closed door meeting with their respective delegations.
During the welcome ceremony, President Duterte was accompanied by Executive Secretary Salvador Medialdea, Foreign Affairs Secretary Teodoro Locsin Jr., Finance Secretary Carlos Dominguez III, Public Works and Highways Secretary Mark Villar, Defense Secretary Delfin Lorenzana, Trade Secretary Ramon Lopez, National Security Adviser Hermogenes Esperon Jr., Presidential Spokesperson and Chief Legal Counsel Atty. Salvador Panelo, Tourism Secretary Bernadette Romulo-Puyat, Transport Secretary Arthur Tugade, Energy Secretary Alfonso Cusi, National Economic and Development Authority Secretary Ernesto Pernia, and Philippine Ambassador to China Jose Santiago Sta. Romana.
Representing the Chinese delegation were State Councilor and Foreign Minister Wang Yi, Member of Political Bureau of the Cultural Committee of Communist Party of China (CCCPC) and Director of the CCCPC General Office Ding Xuexiang, Director of CCCPC Foreign Affairs Commission Yang Jiechi, Vice Foreign Minister Kong Xuanyou, Director-General of Department of Asia Affairs Wu Jianghao, and Chinese Ambassador to the Philippines Zhao Jianhua. ###PND