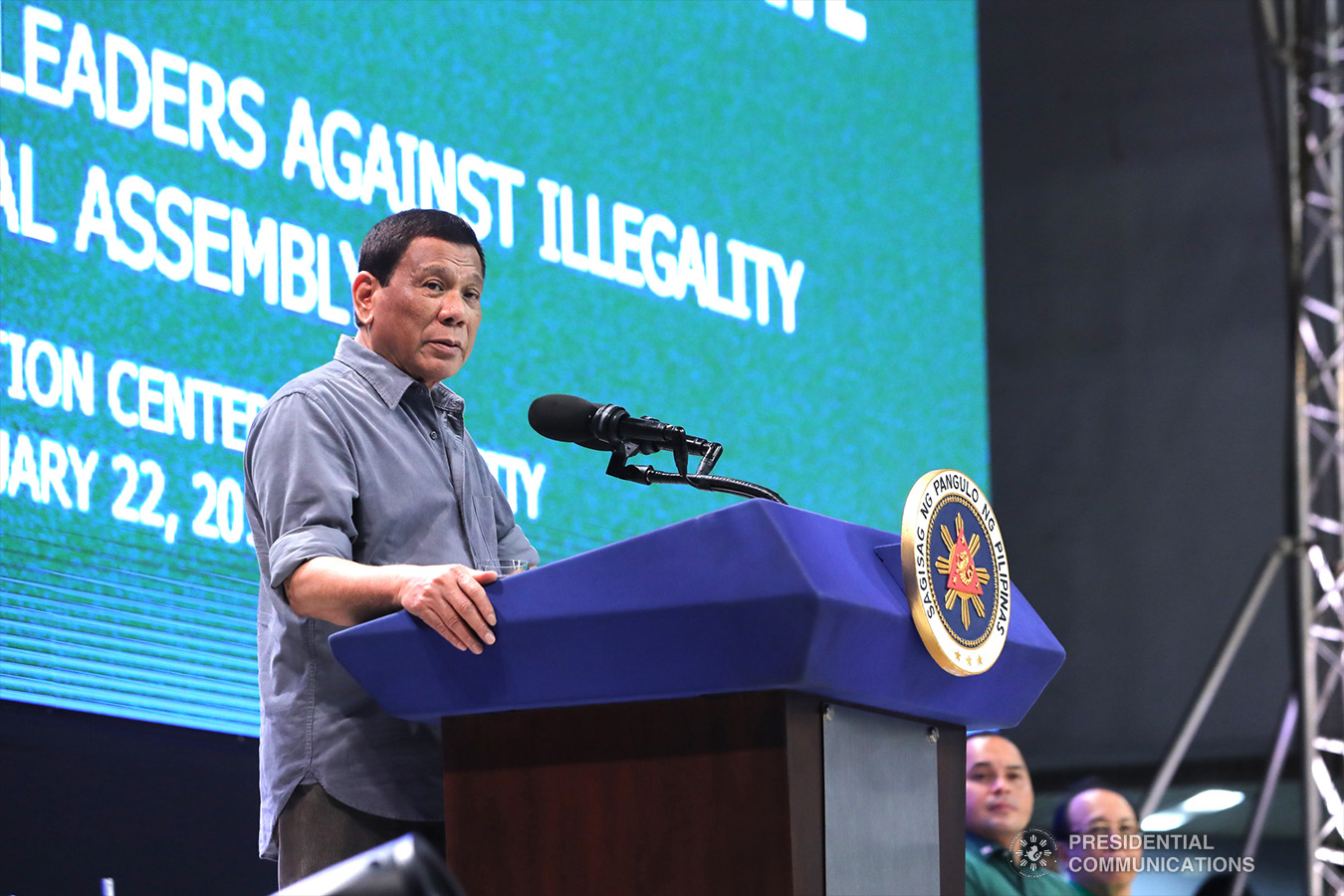 LUCENA CITY — President Rodrigo Roa Duterte on Tuesday, January 22, warned officials and personnel at Department of Agrarian Reform (DAR) to fast track land conversions or else they will face dismissal.
"Sabi ko, if it takes you two years to process a paper, a conversion there, you are up to corruption. I told them one month. Ano ba naman… Bakit mo patulugin ang papel? Kung 'di pabalik-balikin mo 'yung tao," the Chief Executive said during the annual assembly of the Provincial Union of Leaders Against Illegality (PULI) at the Quezon Convention Center.
The President reiterated that slowing down the process equates to "causing disorder" through corruption, which disrupts "law and order" in the country.
To jumpstart the land reform program, he wants the DAR to assess all government-owned lands in Quezon that could be given to landless farmers.
"Alam mo sinabi ko sa military pati sa pulis at sabihin ko na lang sa inyo lahat, we can never solve this problem in the Philippines unless we are able to tackle the issue of land reform," the President said.
The President also cited that there is no reason for the government to hang on to vacant lands when it can be utilized to satisfy the fundamental desire of every Filipino – to own an estate.
"Kaya dito unahin ko. If there's still government lands, pag-aralan na lang ninyo 'yung mga agricultural on the — itong uphill. I will — within the three years of my remaining ibibigay ko sa inyo lahat 'yang lupa ng gobyerno dito," he added.
President Duterte also reinforced his call to the communist rebels, especially the ones residing in Quezon to surrender and lay down their arms promising to give them shelter, money, and livelihood.
"Mag-surrender kayo. I will guarantee you — I will build a house for you here. Maghanap ako. Kaagad, magpagawa ako sa NHA. Then I will pay you tapos magtayo ako dito ng TESDA," he told the communist members.
President Duterte graced the assembly of more than 10,000 PULI members to show his commitment and support to the program, which aimed at making the people of Quezon more informed, empowered, and committed stakeholders in the fight against criminality and other social ills.
The PULI concept initiated by the provincial government is in line with the Community Mobilization Project of the Philippine National Police in connection with the government's thrust to combat criminality in the country. ###PND