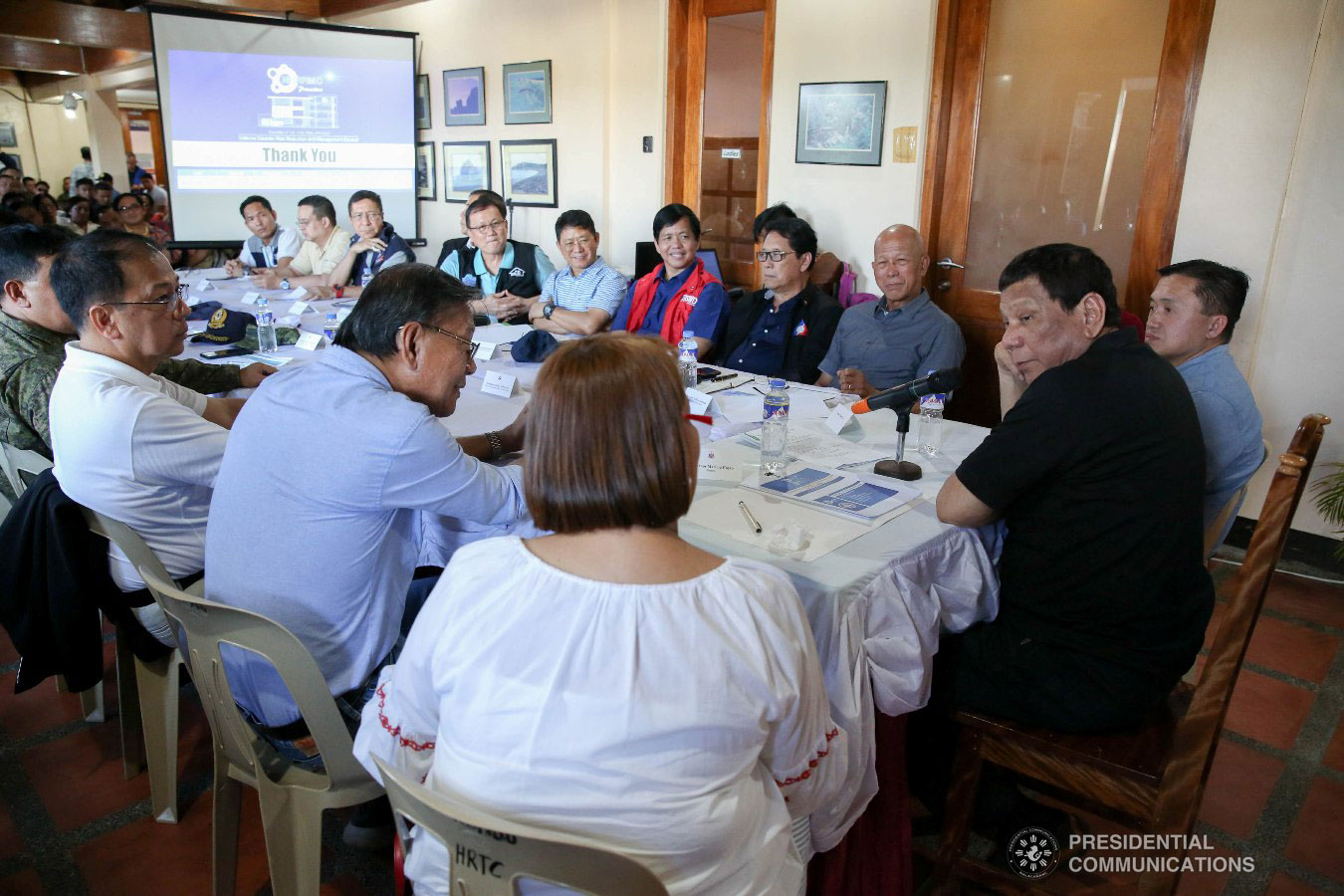 BASCO, Batanes— President Rodrigo Roa Duterte visited Batanes on Sunday to assess the damage of a 5.4 magnitude earthquake that hit the island province, instructing relief officials to ensure continuous supply of basic necessities to affected communities.
"Just make sure that your supply line is working so that nobody gets hungry and people are not short of supply," President Duterte told officials of government agencies during a situation briefing here. "Iyang makita lang naman ng mga tao na nandiyan nakabulto 'yung tulong ng gobyerno."
During the briefing, Social Welfare Secretary Rolando Bautista said DSWD's Field Office II has already prepositioned food and non-food items and it also had a standby stockpiles in Itbayat. On Sunday afternoon, more food items were brought in to Itbayat using boat assets.
Secretary Bautista assured local officials in Batanes that there's a lot of relief items such as food packs on standby. The DSWD also has cash assistance for protective services as well as support to survivors whose houses were damaged by the quake.
To sustain the supply of relief goods, Defense Secretary Delfin Lorenzana said the Armed Forces of the Philippines (AFP) has positioned fuel in Batanes for government aircraft.
According to Secretary Lorenzana, the air force has committed one C-130, two C-295, one N212i, and one F27 for the transport of relief goods from Manila.
"'Yung naman dito papunta-punta doon sa Itbayat, one Sokol, one AW109 ng Philippine Navy at saka one S-76 'yung rescue. So in a couple of days, Mr. President, dito muna lahat sila to support the rehabilitation of Itbayat," he told the President.
For the transport of construction materials coming from the mainland, the government will use ships from the Philippine Navy, he added.
Health officials reported to the President that doctors from Tuguegarao will go to Batanes to tend to the seriously injured. A team of medical, mental health, and psychosocial support will also come over to help traumatized survivors in Itbayat in their quick recovery.
The Department of Health (DOH) is also assessing an Itbayat hospital, which was affected by the quake. The President pledged for the release of P40 million for the rehabilitation of the community hospital.
In rebuilding destroyed homes, Housing and Urban Development Coordinating Council (HUDCC) Chairman Eduardo del Rosario reported that it has intervention through the immediate housing assistance. HUDCC can immediately provide P30,000 for each totally damaged houses and P20,000 for partially damaged.
Based on the initial assessment, Del Rosario said that only 15 houses were totally damaged but local officials expect more reports of partially damaged houses.
Aside from the P30,000 from HUDCC, those who have totally damaged houses can get P30,000 from the DSWD for a total of P60,000.
For partially damaged, survivors can get P20,000 from HUDCC and P10,000 from the DSWD, Del Rosario said, telling the President they can immediately provide the money within the week.
Undersecretary Ricardo Jalad of the Office of Civil Defense (OCD) said Saturday's quake in Itbayat left eight people dead, 63 injured, and one missing. Nine hundred eleven families were also affected and are now staying in tents for fear that their houses will collapse due to aftershocks.
Jalad put the initial figures to damage to infrastractures at P79 milllion and this figure could go up as more reports come in.
The supply of electricity and potable water has normalized in Itbayat, officials said. The services of telecommunications companies are also back to normal.
More routine patrols
Meanwhile, President Duterte suggested that the Philippine Coast Guard (PCG) conduct more routine patrols in the northernmost area of the country or the territory bordering Taiwan in the midst of territorial dispute in the South China Sea.
"We just got…we acquired some sort of a fast boat. You might want to ask the Coast Guard to…pumunta dito, mag-istambay lang, palit-palit lang, to patrol the island from time to time," he said during the briefing on Sunday. "Not every day but just to assure that those islands will remain ours."
"And whatever is ours…it should be very clear to everybody that it is ours. You are no longer ready to ano 'yung…go into that style na ganun…the way China did it. It was not really something that we give freely," he added.
The President also called for the improvement of Batanes' two airports as well as its seaports. The province has two airports, the Itbayat Airport or Jorge Abad Airport and Basco Airport.
"I'm interested in the project of extending both the runways for national security reason. It could be a very crucial factor in the days to come. Not in our generation, but…malay mo," President Duterte said.
"It would be good to [be] prepared so that if we have to defend those islands there, you have to have a launching deck somewhere here."
The bone of contention is Itu Aba, an island administered by Taiwan. The largest of the naturally occurring Spratly Islands in the South China Sea, it is also being claimed by the Philippines, China, and Vietnam. PND