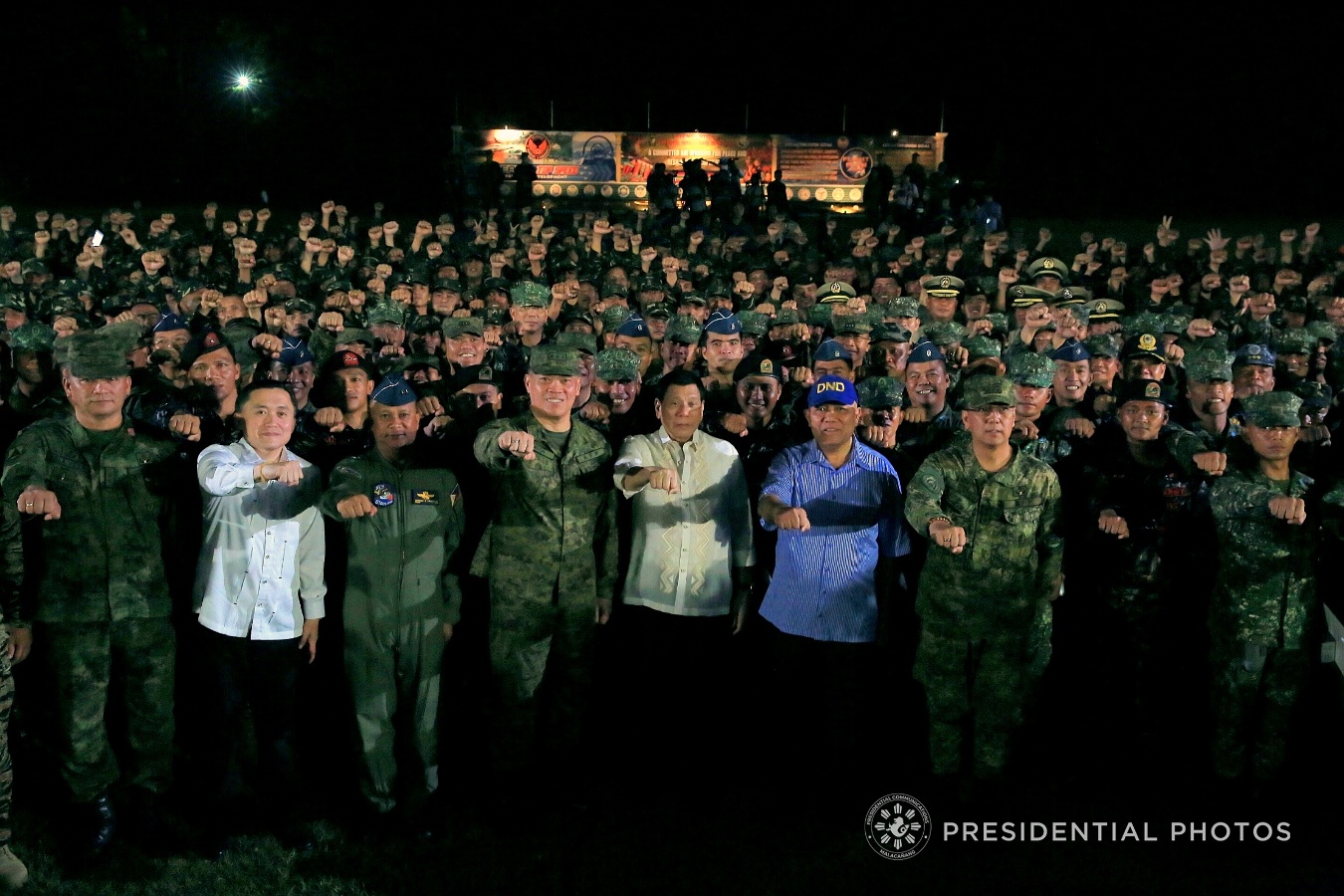 Zamboanga City — President Rodrigo Roa Duterte on Saturday, March 10, hailed the Western Mindanao Command for its efforts against threat groups.
The President visited the Edwin Andrews Air Base here and addressed the members of the Armed Forces of the Philippines (AFP) and the Philippine National Police (PNP).
"I salute the valiant soldiers of the Western Mindanao Command for their successful efforts in combating threat groups in their area of operations," he said in his speech.
The President particularly mentioned the troops' operations against the ISIS-inspired Maute group during the five-month battle in Marawi City.
"By fulfilling your sworn duty to protect our people and to defend our democratic institutions, you helped pave the way for a stronger Republic," he said.
"Together, let us continue fighting for our people's welfare and for the betterment of the entire Philippines" he further said.
The President also expressed gratitude to the officers and members of the AFP and PNP for their sacrifice for the country.
"I know that you have this distinct honor of offering your life for the country. And that is why, sa akin naman is I do everything at least to make your life comfortable, for you and your family." he said.
He reiterated his administration's commitment to provide housing projects to uniformed personnel and education for the fallen soldiers and policemen.
Meanwhile, the President renewed his warning to local chief executives who are involved in unscrupulous activities.
"I'm renewing the warning to mayors: Huwag kayong mag-kumpiyansa sa 'yang ginagawa ninyo," he said.
"Do not feel so invulnerable na pati 'yung mga pulis ninyo pinapatay ninyo. And you are using the Office of the Mayor as your platform for drugs distribution. At talagang hihiritan kita. Hihiritan kita because you are destroying the nation," he added.
Before his speech, the Chief Executive conferred the Order of Lapu-Lapu Rank of Kampilan to 10 military officers and personnel and Rank of Kamagi to 22 others.
The Order of Lapu-Lapu Rank of Kampilan is awarded to individuals who were seriously wounded or injured or suffered great loss of property as a direct result of their participation in an activity pursuant to a campaign or advocacy of the President.
The Rank of Kamagi, on the other hand, is conferred upon individuals who actively participated and contributed significantly to a campaign or advocacy of the President. ###PND