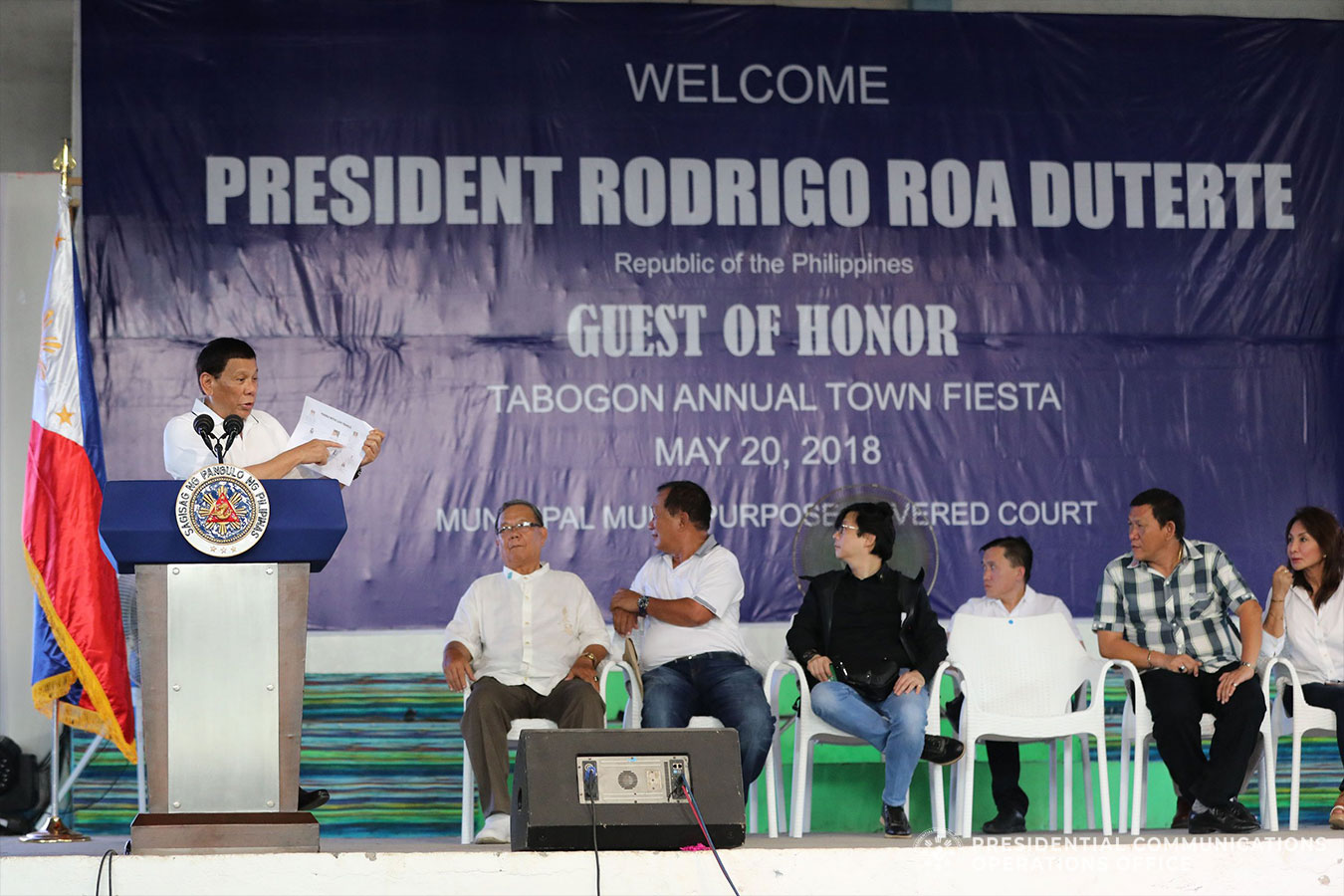 TABOGON, Cebu — President Rodrigo Roa Duterte on Sunday, May 20, 2018 called on the people of Tabogon here in Cebu to stand firm with his administration in shunning terrorism, criminality, illegal drugs and corruption.
President Duterte issued the call as he graced the annual town fiesta of the Municipality of Tabogon, north of Cebu.
"Let us stand firm in our shared mission of building a great nation free from the shackles of terrorism, criminality, illegal drugs and corruption," Duterte told the residents of Tabogon led by his cousin Mayor Zigfred Duterte.
"Together, let us work relentlessly in overcoming these obstacles on our way to become a more progressive and comfortable society," he added.
Duterte also urged the people of Tabogon to "be stronger and more determined in upholding excellence in the pursuits and enriching your identity and sense of patriotism."
The President then reiterated his firm stance in eliminating illegal drugs.
"Ang droga will kill our nation someday… You reduce the young people of this country to crave for a chemical called shabu and make them inutile for the rest of their lives," Duterte said.
He also expressed his assurance to the police and the military that they have his protection if they are implicated in the performance of their duty.
In the same speech, President Duterte said that Cebu's Alegria municipality could become the richest municipality due to its oil reserves.
"The island of Cebu might be sitting on a vast oil reserve," he said.
The President led the ceremonial opening of the Alegria Oilfield Polyard-3 well site last Saturday.
"The fact is Alegria, that is good for exploitation for 20 years," Duterte said.
"Alegria, in five to 10 years would be the richest municipality," he added, noting that Alegria should prepare for massive migration when the town becomes economically progressive.
The President however stressed that the wealth of the nation should be shared with their fellowmen.
Present during the event were Presidential Adviser for the Visayas Michael Diño, Rep. Benhur Salimbangon of the 4th District of Cebu; Deputy Speaker and 3rd District of Cebu Rep. Gwendolyn Garcia, and Special Assistant to the President Christopher Lawrence "Bong" Go. PND
###