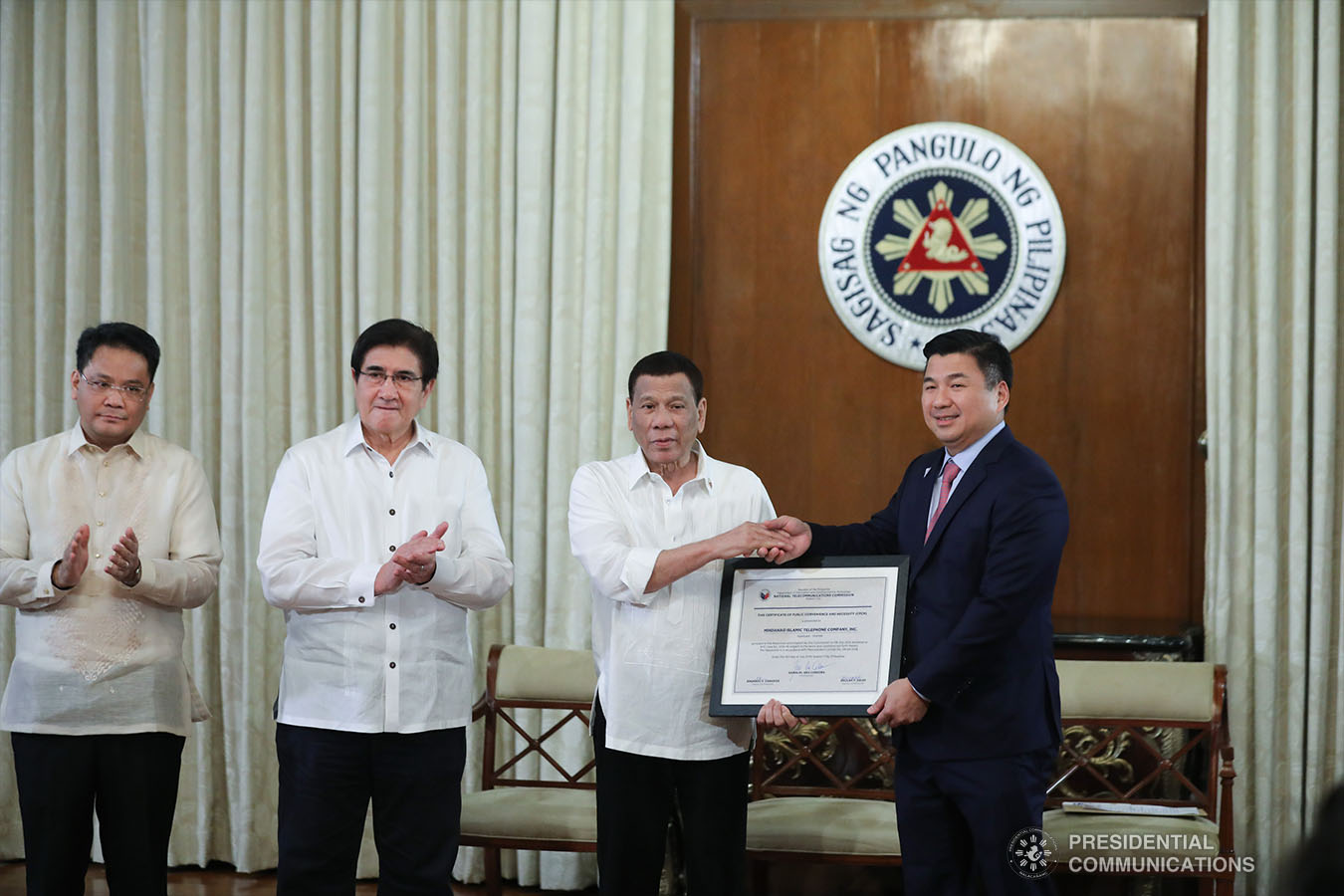 President Rodrigo Roa Duterte on Monday awarded the Certificate of Public Convenience and Necessity (CPCN) to Mindanao Islamic Telephone Co. (Mislatel) consortium, challenging it to break the prevailing duopoly in the telecommunications industry and to provide the Filipino people with better telco services.
Breaking the existing duopoly in the telecommunications industry is one of President Duterte's campaign promises. More than a year ago, he directed concerned government agencies to commence the selection and assignment of a radio frequency for a new telco player to solve the nation's Internet woes.
"Today, I am glad to announce the entry of a new player that will take on the challenge of competing against the existing players in our country's telco industry. This new player is the Mindanao Islamic Telephone Co. or Mislatel consortium," President Duterte said in a speech during the awarding rites.
The President noted that the entry of Mislatel consortium is another milestone in the continuing advancement of the country's information and communications technology capability as it sets to improve the prevailing Internet speed from 4.5 Mbps to 55 Mbps.
Mislatel has already complied with the stringent standards set by the National Telecommunications Commission, the Securities and Exchange Commission, and the Philippine Competition Commission and posted a performance security bond amounting to P25.7 billion.
"Accompanying this bond is a commitment—and I will hold you to that commitment—that it will improve the country's prevailing Internet speed from 4.5 Mbps to 55 Mbps," the President said.
At the same time, President Duterte encouraged Filipinos to take advantage of the opportunities arising from a more vibrant telecommunications industry by engaging in productive ICT-based undertakings.
"Expand your businesses, engage in online jobs, avail of online learning and training opportunities, and participate in productive public discussions," he said.
With a much improved telecommunications service, the President said Filipinos will now have better opportunity to improve their personal, social, political, and economic aspirations as the country move towards greater information and communications technology capacity, adding that "a well-connected society is a well informed and empowered one."
"Let us take the entry of this new telco player as a breath of fresh air in our rapidly evolving information age, where no one should be left behind in our pursuit of an inclusive and sustainable progress for all Filipinos," President Duterte said.
The consortium is comprised of Mislatel, Udenna Corp., China Telecom, and Chelsea Logistics. Mislatel consortium's 55 Mbps Internet speed can cover 84.01 percent of the Philippine population in five years. It intends to spend P257 billion in infrastructure and services rollout during the same period.
Present during the awarding ceremony were Executive Secretary Salvador Medialdea, Department of Information and Communications Technology (DICT) Secretary Gregorio Honasan and Sen. Christopher Lawrence "Bong" Go. PND