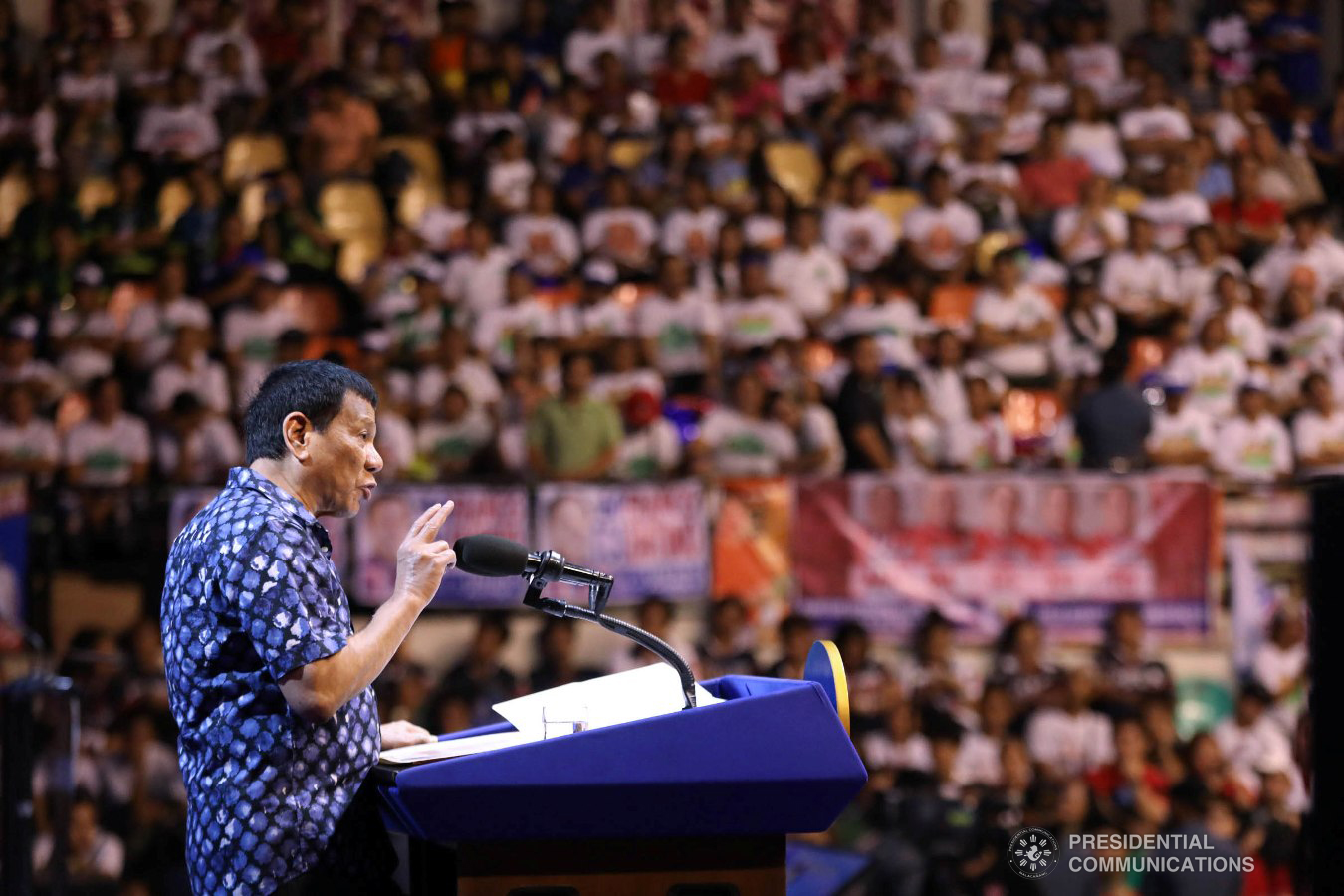 Dismayed by the reports of violence and harassment in Lanao del Sur, President Rodrigo Duterte said Saturday he might visit the province and deploy more troops if the situation does not improve prior to Monday's election.
In his speech during the Partido Demokratiko Pilipino-Lakas ng Bayan (PDP-Laban) miting de avance in Pasig City, he said his government, the police, and the military remain neutral in the conduct of this month's midterm elections.
"That's the order of the day. Kaya 'yung dito…ang gulo eh. Kaya sinasabi ko nga na baka lilipad ako doon…para pagsabihan lang," he told the attendees of Saturday's miting de avance.
Explaining his order to the security forces, President Duterte said candidates are limited to two security details who should come from the Philippine National Police (PNP).
Members of the Philippine Army and the Citizen Armed Force Geographical Unit (CAFGU) cannot provide security and police officers posing as bodyguards are only allowed to carry pistols and not long firearms.
And if ever candidates' convoy pass a checkpoint, he said he instructed the army and the police to neutralize those who will refuse to submit themselves to authorities while carrying high-powered rifles. The order is applicable to everyone all across the country.
Addressing the people in Lanao del Sur, particularly those sowing trouble, the President said they must stop their violent and coercive activities or else his government will respond harshly.
Those groups, he said, could disrupt the election on Monday through intimidation and plain terrorism.
"Pagka ganun…pagbalik ko diyan, magdala na ako ng maraming sundalo. You must remember that until now martial law exists in Mindanao. Do not force me. Do not force my hand to do something which you might not like and hate me for all time," he warned.
Meanwhile, in his brief message to Filipinos who will flock to voting precincts on Monday, President Duterte said, "Now more than ever, the Filipino nation needs us to chart a course of its future. Let us not waste this chance to shape and secure the future of the Filipino now. Thank you at mabuhay ang PDP-Laban."
The Commission on Elections (Comelec) expects more than 61 million Filipinos to vote for the 2019 midterm national and local elections. PND