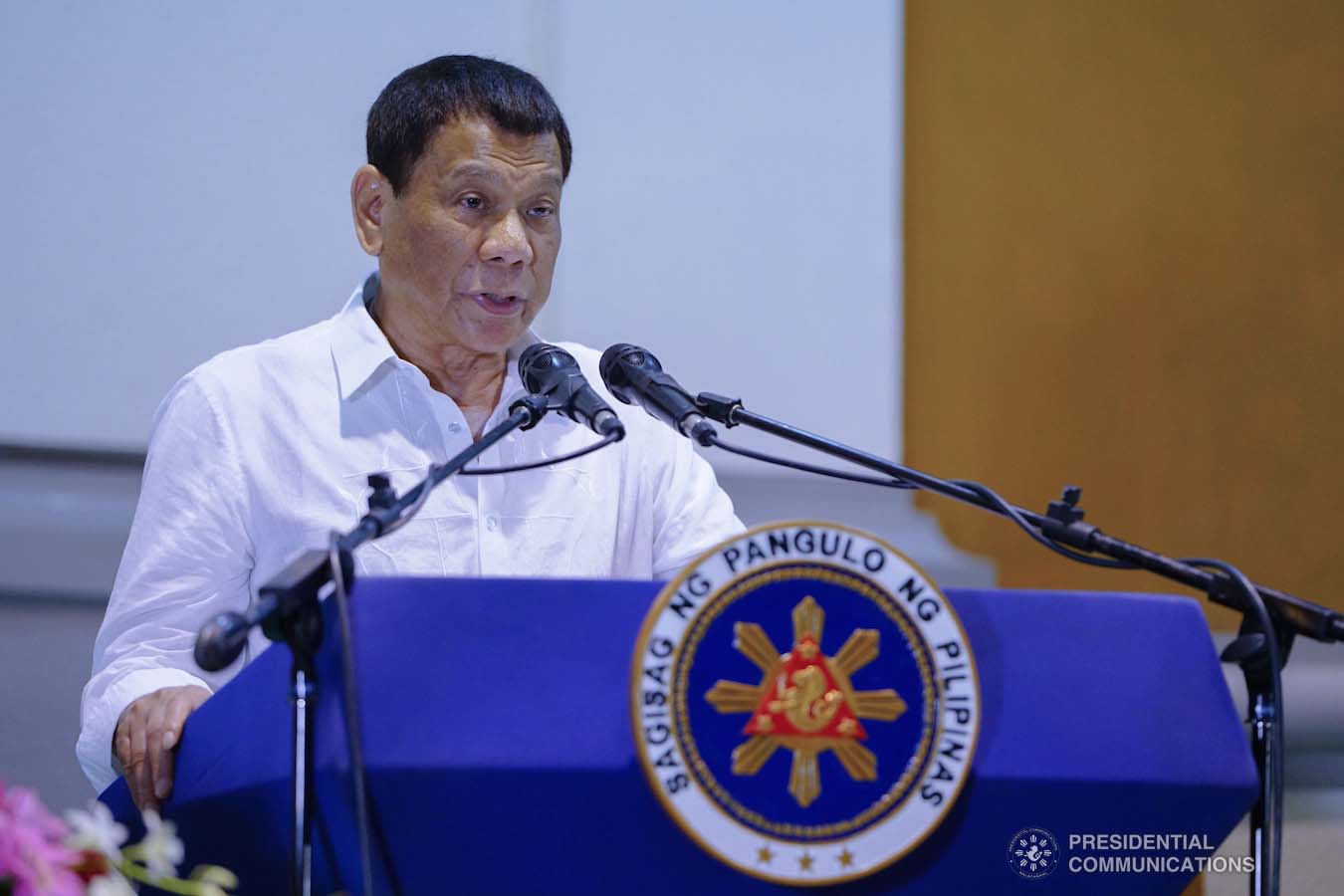 DAVAO CITY—President Rodrigo Roa Duterte said Friday that he would issue an executive order to address red tape in government when he returns from his participation in the 34th Association of Southeast Asian Nations (ASEAN) Summit in Thailand.
The President leaves for Bangkok, Thailand Friday evening.
Speaking during the oath-taking rites for his son, Davao City Vice Mayor Sebastian Duterte, the President reiterated that the country can't progress if there is rampant corruption and no law and order.
"We cannot hope to rise. For every table in the government—be it in the local or in the national—pagka dumating 'yang papel diyan, meron talaga 'yan. It's either they delay it and pabalik-balikin 'yung tao until the money is given. Plain extortion," the President said.
"I'm leaving right after this ceremony. I'm leaving for Thailand to attend the ASEAN. Pagbalik ko, I will just write an executive order."
The President expressed his dismay in the past over snail-paced government transactions, especially when seeing people lining up to get permits and other documents.
The executive order will streamline government processes and put a timetable on the release of public documents, applications, and permits, he said. The order covers agencies under the executive department.
"I will just give you a limited time, including the Cabinet members. 'Yung extension, depende na lang kung i-justify nila. But 'yung lahat ng ano…you better do it," he said, noting there must be a systematic release of documents to the public.
"That is the only way to improve things as they are now. But we can still do it more."
The President also mentioned efforts to address communist insurgency in the country, saying it remains uncertain if the government and the rebels can restart the peace talks.
"Maybe yes, maybe no. Depende na lang sa backchannelling natin. But one thing is clear, again I restate: You have to declare a ceasefire and you have to stop collecting money from the people and from the businessmen," he said
According to the President, he is open to spending money for the talks by sponsoring their hotel accommodation if the rebels agree on his pre-conditions.
Talking local politics, the President advised his children to remain humble and not to abuse power.
"Kaya ito, sinasabi ko sa inyo, mga anak: Stay humble. Do not flaunt that power. Kita mo ako, mas gusto kong hindi ako pansinin ng tao. I would rather just cover in one corner. Ayaw ko 'yang pansinin ako," he said.
"I just want to do things. And I do not accept awards because I am paid to do that. Every time kasi may award ka, sasabihin ko 'no.' Bayad ang serbisyo ko diyan. No awards, no nothing."
The President expects his son Sebastian, a political novice, to have a learning curve, telling him to study the rules of parliament. He expects the younger Duterte to familiarize himself with the rules in two months.
While the President himself does not favor the rise of political dynasties, he said he can't prevent the people of Davao City from electing his children to office.
"But if you think Davaoeños that they are not already up to it, then by all means, I suggest other leaders here to put up a strong opposition so that the people will have a choice na hindi lang ang Duterte pala ang marunong," he said. "I encourage you to do that because this is democracy."
Also present during Friday's event were Davao City Mayor Sara Duterte-Carpio, Davao City First District Rep. Paolo Duterte, and their mother, Elizabeth Zimmerman.
Vice Mayor Sebastian's long-time girlfriend, Kate Necesario, and the President's grandchildren were also in attendance. PND