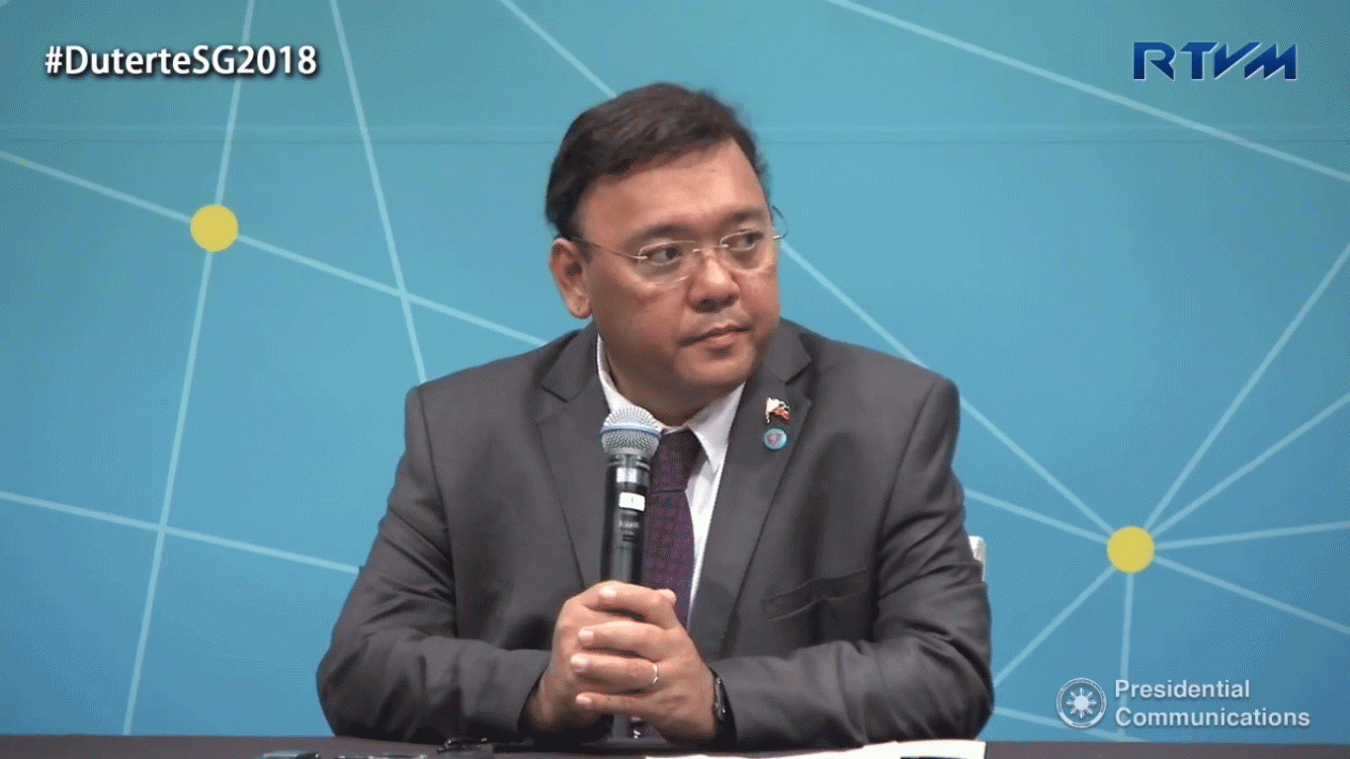 Singapore — President Rodrigo Roa Duterte has given his assurance that the government will stand by the United Nations (UN) Arbitral Tribunal decision awarding the Philippines sovereign rights over the West Philippine Sea (WPS).
Presidential Spokesperson Harry Roque Jr. held a press briefing at the Orchard Hotel here in the Lion City on the sidelines of the 32nd Association of Southeast Asian Nations (ASEAN) Summit, where he relayed matters taken up during President Duterte's bilateral meeting with Vietnam Prime Minister Nguyen Xuan Phuc.
Among the topics discussed by the two leaders was the issue of territorial disputes in the West Philippine Sea, Roque cited. He said the Vietnamese government commended President Duterte for the way he handled the country's territorial dispute with China.
"Ang sabi po ng Vietnam, hinahangaan po nila ang naging posisyon ng Pilipinas sa China pagdating sa West Philippine Sea. At dahil nga po diyan, magkakaroon ng mas madaming kooperasyon sa panig ng Pilipinas at ng Vietnam," Roque said.
President Duterte further gave assurance that he would address the issue involving the UN-backed ruling on the WPS in due course, his spokesperson reported.
Roque said the President wanted it to be clear that his administration will not abandon nor ignore the decision, which favors the Philippines.
"[President Duterte] made it very clear to a head of state that he recognizes the gains of the arbitral award and that he will refer to the arbitral award in due course," Roque stated, stressing the President's commitment to settle the dispute pursuant to the rule of law and to the binding norms of the UN Convention on the Law of the Sea (UNCLOS).
Roque added that both President Duterte and Prime Minister Phuc expressed willingness to push for a Code of Conduct in the West Philippine Sea.
The two governments also agreed to expand their security cooperation, Roque cited. He said President Duterte pledged to go after members of the Abu Sayyaf group who kidnapped Vietnamese sailors.
"Ang pangako niya ay hindi siya titigil hanggang hindi niya tuluyang napulbos at nasupil na talaga 'yang mga Abu Sayyaf na 'yan," Roque noted.
Meanwhile, during the same press briefing, Malacañang stressed that the Philippine government is "very much relieved" by the historic meetup between North Korean leader Kim Jong Un and South Korean President Moon Jae-in.
Secretary Roque said "everyone is relieved" to witness the Korean governments agreeing to pursue peace.
"I think it's almost sure that [the ASEAN leaders] will express relief over this development and will congratulate the Koreans for the effort to talk peace amongst themselves," he stressed.
"Of course, everyone is relieved because we were all looking at the prospects of a nuclear encounter in our backyard" he added. ### PCO-Content