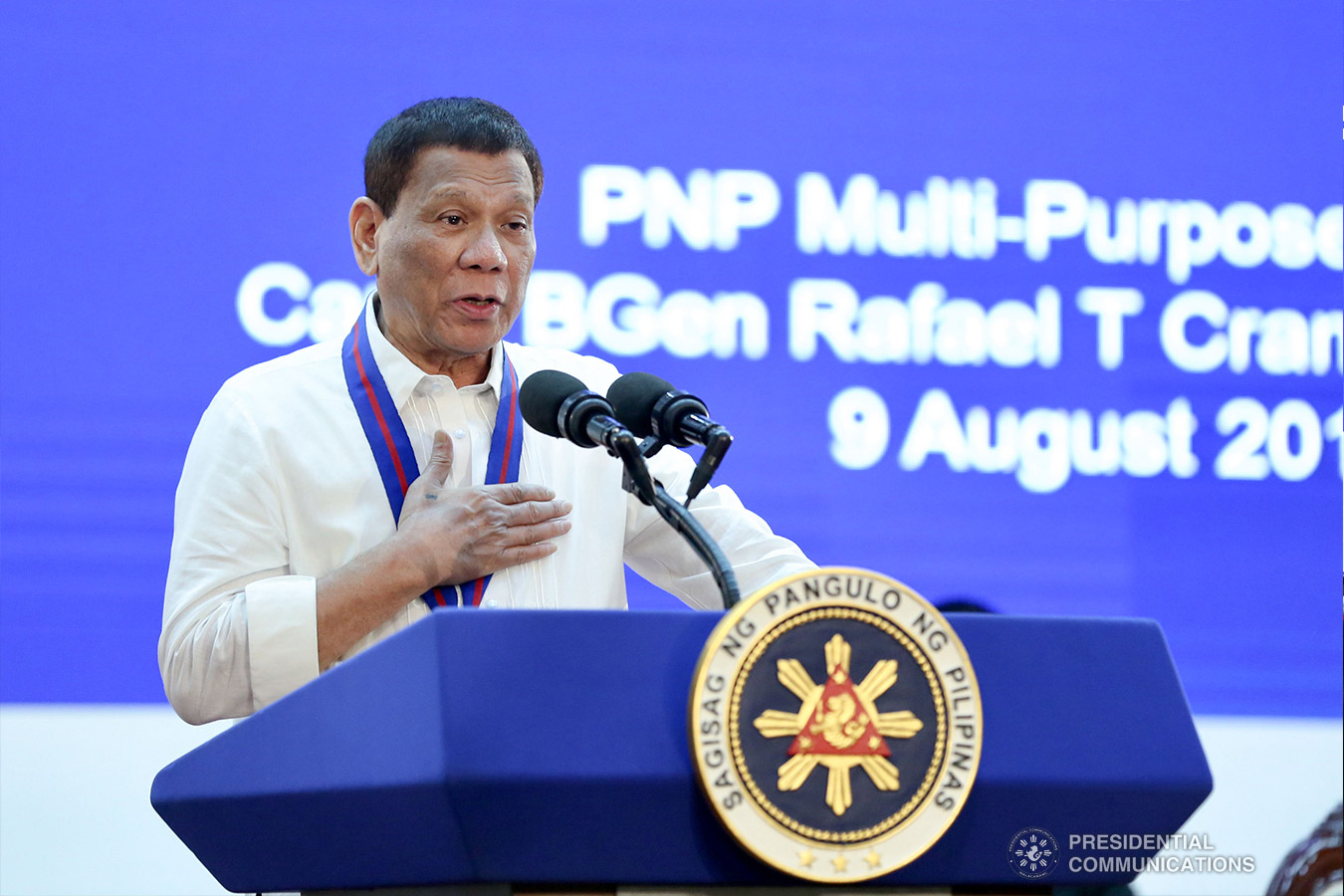 President Rodrigo Roa Duterte on Friday called on the members of the Philippine National Police (PNP) to protect their integrity and maintain good public image for them to become effective law enforcers.
Speaking before the members of the police force as they mark the PNP's 118th year of police service, President Duterte said he expects PNP personnel to enforce the rule of law, prevent and control corruption, maintain peace and order, and ensure public safety and internal security.
"In all of these undertakings, I call upon you to keep your integrity intact as you uphold the highest ethical and professional standards in public service," he said during the event held at Camp Crame. "Take inspiration from our awardees today for their exemplary work and selfless dedication to duty."
"Now, more than ever, we need to rebuild and sustain the confidence of the Filipino people in our police force. Be assured of strong government support in strengthening the capabilities of the PNP in securing and ensuring the welfare and protection of your personnel."
With PNP members' undaunted commitment to duty, and with the active participation of citizens in nation-building, the President said he is confident that his government can achieve a safer, stronger, and more peaceful future for the Filipino people.
The Chief Executive also commended the country's police force in its strong campaign against criminality, illegal drugs, illegal gambling, and other forms of terrorism, as well as its efforts to clean its ranks.
"The entire Filipino nation is truly grateful to your almost 193,000 PNP personnel who are currently deployed in the National Headquarters, Police Regional Offices across the country, and the various PNP National Support Units," he said.
The PNP started as Philippine Constabulary on August 8, 1901. It was organized by the Second Philippine Commission aimed at maintaining law and order during the American period.
The Philippine Constabulary eventually became the PNP on January 29, 1991, pursuant to Republic Act 6975. In almost three decades, the organization has evolved to become a highly capable and effective community and service-oriented agency.
One of the highlights of Friday's event was the presentation of awards and decorations to outstanding PNP units and personnel, with the President leading the awarding rites.
President Duterte also explained Friday his decision to allow Lotto operations to continue, saying its operation is above board.
"As of now, I allowed Lotto because it is a clean…it's really run by a machine and you know the combination is done electronically," he said during the event. "'Yung others, STL [Small Town Lottery], I'm trying to figure out the best way."
He also said that PNP members can operate legal gambling operations as long as there is no corruption in obtaining franchises and they don't use their public office to intimidate competitors.
Joining the President were Interior and Local Government Sec. Eduardo Año, PNP Chief Police Gen. Oscar Albayalde, and Senators Francis Tolentino, Christopher Lawrence "Bong" Go, and Ronald dela Rosa.
The police service anniversary celebration has for its theme "Pinaghusay na Serbisyo, Alay sa Sambayanang Pilipino." PND