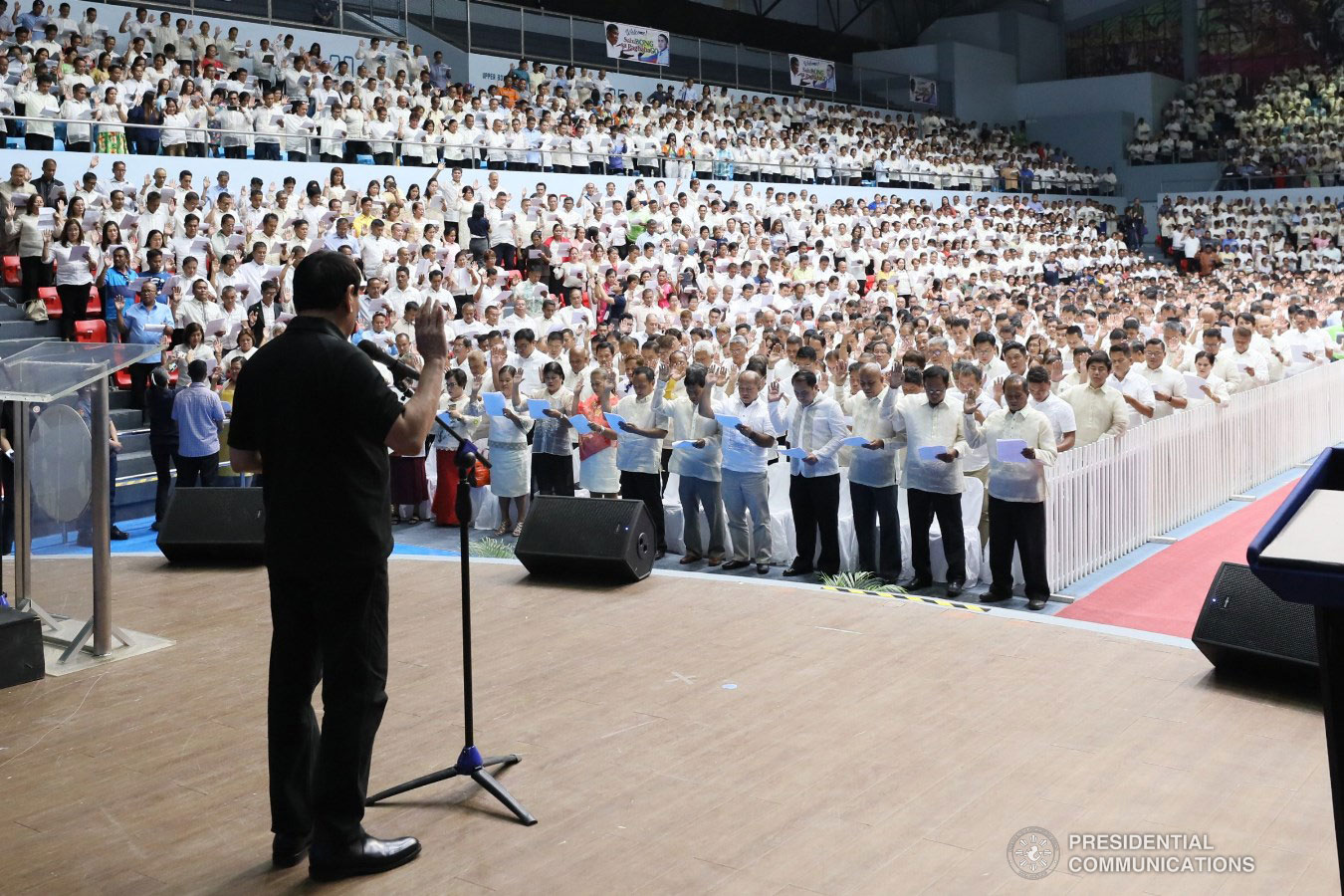 LAPU-LAPU CITY — President Rodrigo Duterte swore in newly elected barangay captains in the Central Visayas rallying their support as his government confronts the scourge of illegal drugs, corruption and criminality.
In his address, President Duterte congratulated the newly elected barangay leaders noting it is an honor for him to administer their oath of office. He told them to always be true to their mandate of serving the people.
"It's not a threat, it's just an advice. I am pleading that you are with government now kindly be one, or be responsible for your mandates sa taong-lungsod. We have a problem sa Pilipinas," he said.
Telling the barangay chiefs that his duty is to protect the people, he recognized their importance in tackling the spread of illegal narcotics and abuses in the bureaucracy.
He reiterated his campaign pledge of addressing illegal drugs, corruption as well as maintain law and order.
He warned that negligent local officials and those involved in the drug trade will be suspended, while he vowed to protect those who were doing their duties but facing prosecution.
The President encouraged barangay officials to determine what challenges are being confronted by their localities saying his government is ready to address those concerns.
Meanwhile, the President said that the government is talking to CPP-NPA founder Jose Maria Sison for the resumption of peace talks.
Discussions could start by mid-July, according to the Chief Executive.
He added that similar peace initiatives are being done by his government to the Moro Islamic Liberation Front and the Moro National Liberation Front Nur Misuari faction.
Some 2,633 newly elected barangay attended the mass oath-taking at the Hoops Dome in Lapu-Lapu City. PND
###