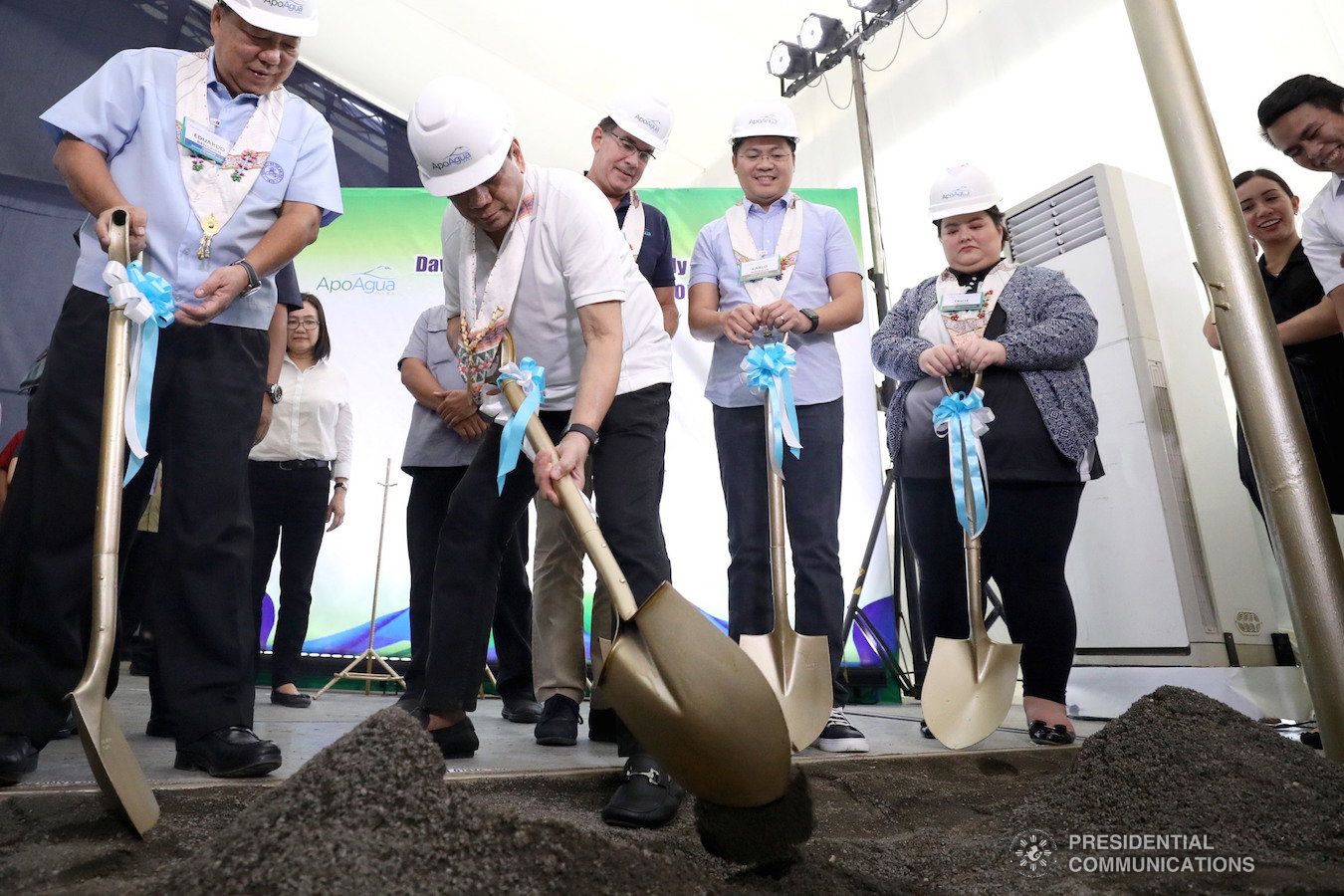 DAVAO CITY — President Rodrigo Roa Duterte on Monday, November 26, renew his vow to the government's private partners of full support in conducting their businesses as long as their priority is the people's welfare.
He expressed this as he graced the groundbreaking of Davao City Bulk Water Supply Project (DCBWSP) at the Apo Agua Infrastructure Project Site.
In his remarks, President Duterte reiterated the importance of the strict implementation of the 'Ease of Doing Business Act.'
"I am thus directing all concerned government agencies to ensure compliance with this law so that projects such as this will not be delayed or caught up in the processing of permits and clearances," the President said.
The Chief Executive also recognized the efforts of the Public-Private Partnership between the Apo Agua Infrastructure and the City Government of Davao in spearheading the construction of the water treatment facility.
The DCBWSP is a strategic infrastructure initiative that will shift the dependence of Davao City's main water supply from groundwater wells to a more sustainable-sourced surface water from Tamugan River.
This design is set to be the largest private bulk water supply facility in the country. The P12.6 billion project will provide the Davao City Water District (DCWD) with over 300 million liters per day of safe water.
The treated water will be distributed to over one million residents of Davao City through the DCWD's five existing water systems namely: Dumoy, Calinan, Tugbok, Panacan, and Cabantian, as well as in three additional new water systems in Talandang, Mandug, and Indangan.
"This will not just address the increasing demand for a steady and sufficient supply of potable water for the city, but will also demonstrate the success of partnerships between the government and the private sector in effecting real change in our communities," President Duterte said.
He also underscored that access to safe drinking water is a fundamental right that must be enjoyed by every Filipino family.
"I look forward to the timely completion of this water treatment facility so that the people of Davao may enjoy its benefits at the soonest time possible," the President noted.
"Let the success of this project inspire us to work together in making Davao City and the rest of the country a better place to live in," he added. ### PND