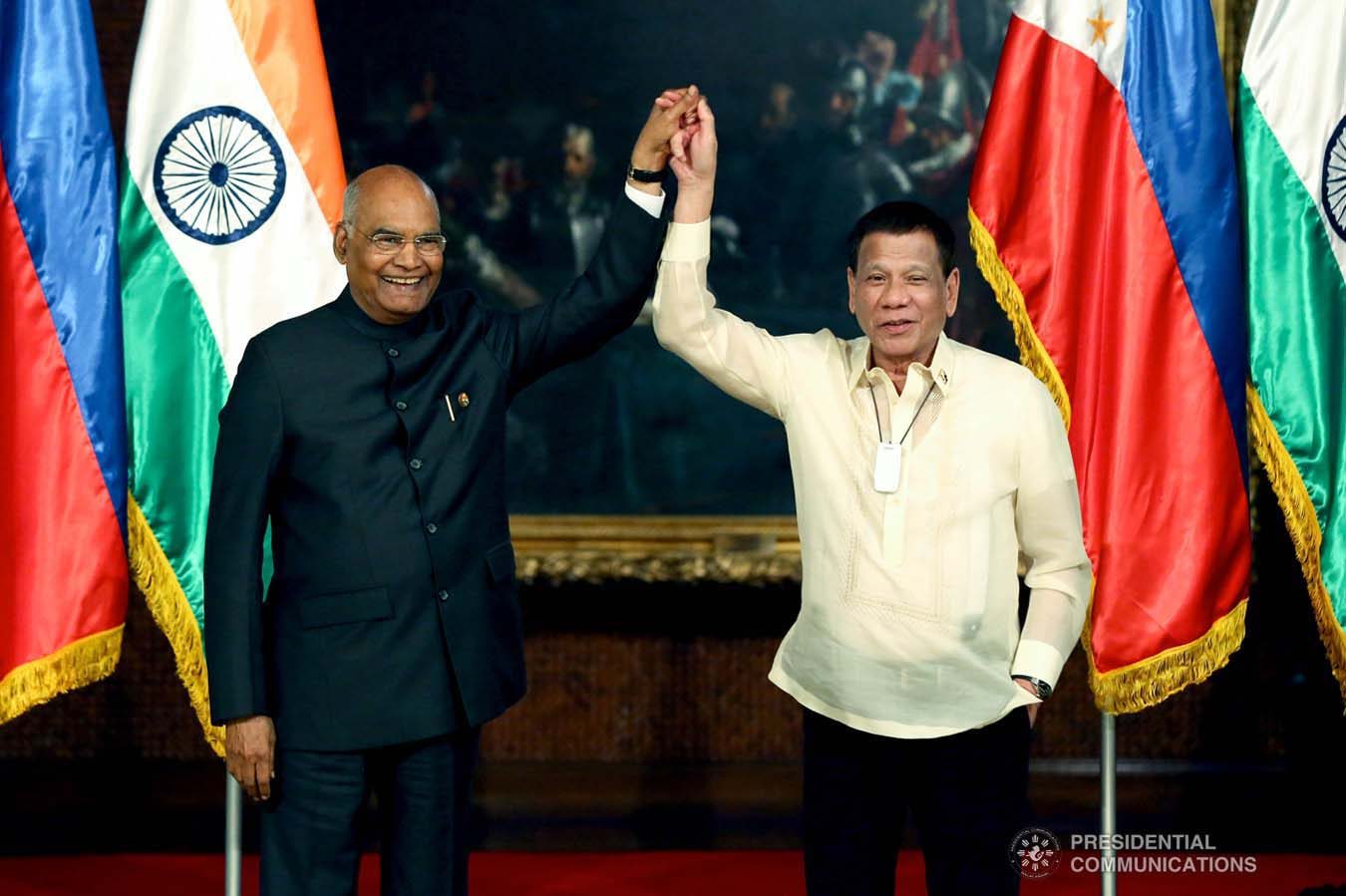 There is no doubt the Philippine and Indian societies are intertwined and it is evident in their language, artifacts, art, and culture.
Hosting a state banquet for Indian President Ram Nath Kovind Friday, President Rodrigo Roa Duterte declared in his remarks, "The Philippines and India have a long history of contacts and friendship."
"Long before the Europeans appeared over the horizons, our ancestors had had dealings with yours, mediated by the vast empires of the Majapahit and Srivijaya."
Indian blood runs in the veins of over a million Filipinos, he said, adding words of Sanskrit origin fill the country's lexicon. "And the Indian influence persists in our arts and, perhaps, even in our world view."
President Kovind, who arrived in the country Thursday, agreed. Responding to President Duterte, the Indian leader said he believes that there exists a rich tapestry of shared heritage between the Philippines and India waiting to be researched and documented.
"The discovery of the statue of Tara in Agusan and the commonality in our languages and art speak of vibrant cultural exchanges in the ancient past," said the visiting Indian president.
"And much to our delight, our contemporary cultural attributes—be it music or dance, karaoke, our Kathak—continue to bring our two peoples together."
President Kovind's five-day state visit to the Philippines, from October 17 to 21, 2019, marks an important milestone in Philippine-India bilateral relations as both countries commemorate this year the 70th anniversary of the establishment of their diplomatic relations.
The Philippines established diplomatic ties with India 70 years ago in November 1949. In the early days of their bilateral relationship, the two nations worked further to strengthen friendly relations.
On July 11, 1952, they signed the Treaty of Friendship in Manila. Soon after, the Philippine Legation in New Delhi was established and eventually elevating it to an Embassy. The Philippines' first ambassador to India was Narciso G. Ramos.
The Philippines and India continue to renew and reaffirm excellent bilateral relations in many aspects, across different fields of cooperation by working together in advancing mutual interests based on a firm commitment to inclusive and sustainable development for both Filipinos and Indians.
President Kovind is the third Indian president to undertake a state visit to the Philippines since the establishment of formal diplomatic relations. The last state visit of an Indian president to the Philippines was by A.P.J. Abdul Kalam on February 3 to 6, 2006.
In terms of trade, the relationship between the Philippines and India is vibrant. In 2018, India was the Philippines' 15th trading partner, 16th export market, and 14th import supplier. Total trade with India has increased in the last four years, reaching $2.28 billion last year.
India is also the country's 15th largest investment promotion agencies (IPA)-approved investor. Investments and cooperation in the information and communications technology (ICT) and business process outsourcing (BPO) sectors remain strong.
India is also home to many Filipinos. As of December 2018, there were an estimated 1,167 Filipinos in India, based on the Philippine embassy database in New Delhi. Of that number, around 80 percent are housewives married to Indian nationals while the rest are overseas Filipino workers (OFWs) mostly skilled workers. PND