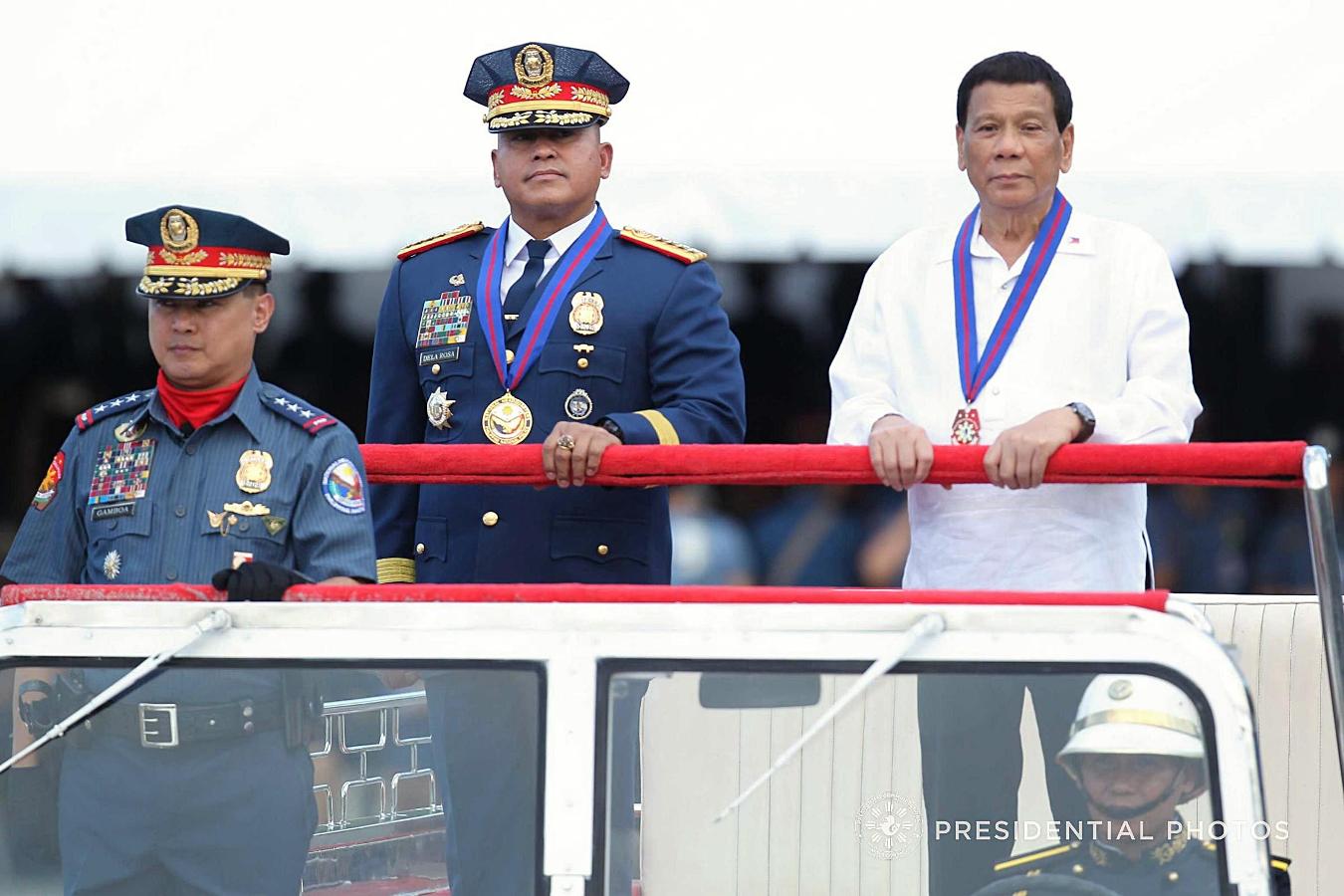 President Rodrigo Duterte on Thursday led the change of command rites of the Philippine National Police and renewed his warning against those involved in illegal drugs.
"Before acknowledging everybody and anybody, I'd like to just issue a warning, not give, but issue talaga. That kayong mga pulis nasa droga, nasa kidnap for ransom kung ano-anong krimen na pinapasok ninyo," he said during the event held in Camp Crame.
"Pagdating ninyo sa Bilibid, ang sasalubong sa inyo ay si Dela Rosa. Kuha niyo 'yan?" he added referring to Director General Ronald Dela Rosa, whom he appointed as new director of Bureau of Corrections.
The President said the problem is huge in the country's prison system. Illegal drugs, and criminality remain rampant, he said.
"It is everyday and it is eroding the country. If we do not strive to put a stop to it, destroy and neutralize the infrastructure of drugs and the men and women behind it, we would have failed the nation," he said.
Saying he is putting at stake his honor, life and the presidency, the President stressed that the fight against illegal drugs and organized crime will continue until his last day in office.
He led the nation in paying tribute to Dela Rosa for his exemplary career as a police officer and his successful tour of duty as the head of the PNP.
"Through his visionary leadership, General Dela Rosa was able to steer our police force to great heights in the past 21 months," he said praising Dela Rosa.
Under Dela Rosa's watch, the PNP posted an impressive 22 percent decrease in the total crime volume nationwide and a 10 percent improvement in the crime solution efficiency rate compared to the preceding 21-month period.
This is highlighted by the PNP's notable contributions to the anti-illegal drug operations which led to the arrest of more than 130,000 suspects, the voluntary surrender of more than 1.2 million drug personalities, and the confiscation of P23 billion worth of illegal narcotics.
Dela Rosa was also instrumental in cleaning the ranks of the PNP, weeding out scalawags who have long hampered the efficiency of the police force.
President Duterte also led the retirement ceremony for Dela Rosa.
In choosing the new PNP chief, the President assured the police force that newly appointed PNP Dir. Gen. Oscar Albayalde will perform well.
"I am confident that through his leadership, we can further build [on] our gains and create a more peaceful, just and harmonious rather society," he said.
President Duterte also seized the opportunity to express his gratitude to SAF members who fought in Marawi City last year against ISIS-linked Maute group.
"We also salute the gallantry of our elite SAF troopers who joined our military offensives in Marawi last year," he said.
"Their display of extraordinary bravery and heroism against extremist groups who sought to sow fear and violence in Mindanao is truly laudable," he added.
This week, the President conferred the Medal for Valor on 42 SAF troopers who died in Mamasapano, Maguindanao in 2015.
All of the 44 SAF members were also posthumously awarded the Order of Lapu-Lapu (Magalong medal) for their bravery during the bloody encounter. ###PND