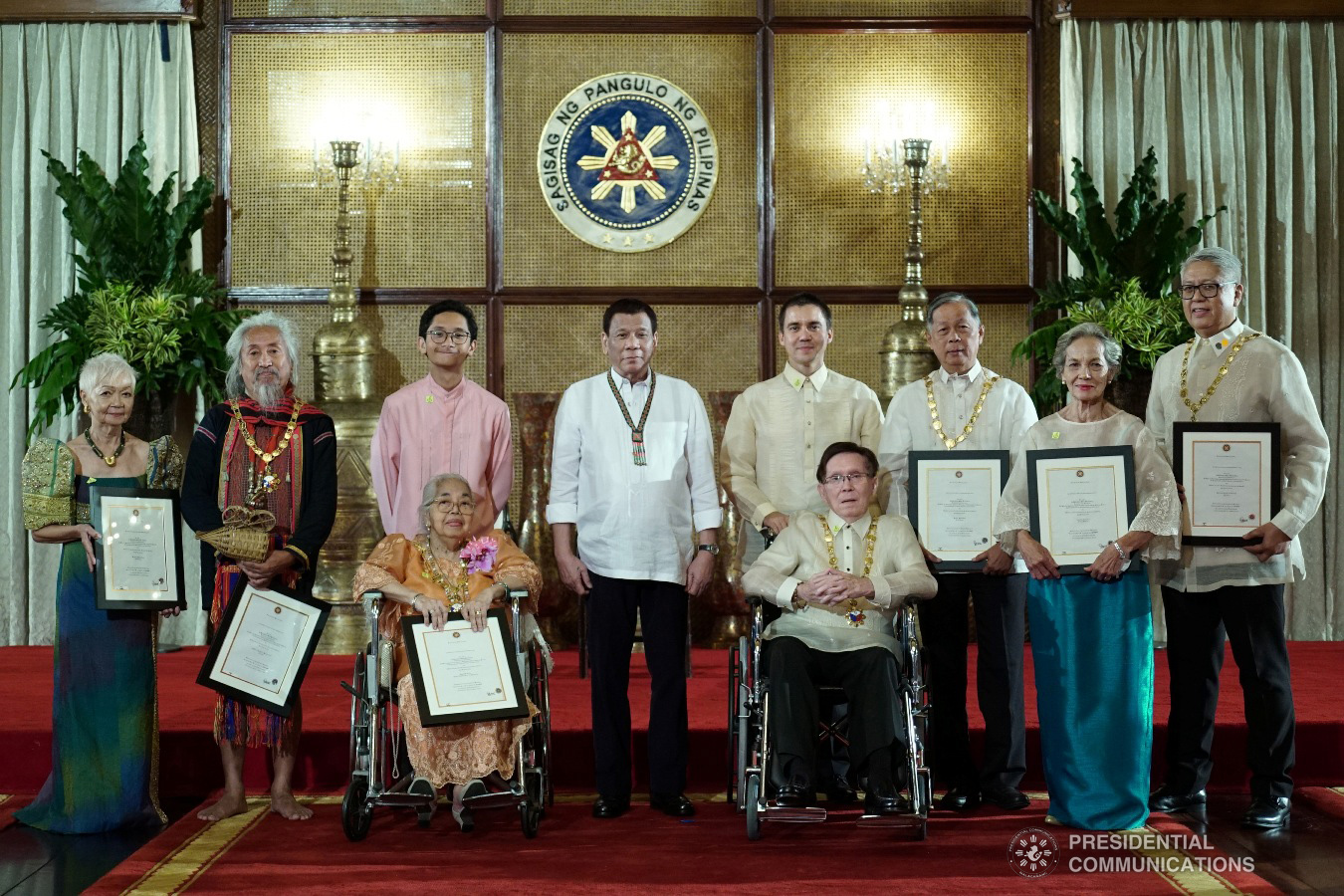 MALACAÑANG — President Rodrigo Roa Duterte on Wednesday, October 24, recognized this year's awardees for the Gawad sa Manlilikha ng Bayan (GAMABA), Philippine Heritage Award, and the Order of National Artist, noting that cultural heritage is vital to the formation of the Filipino identity.
In his remarks at the Rizal Hall, the Chief Executive said that in spite of today's fast-paced world filled with modern technology, it is vital to preserve and promote the nation's homegrown talents.
"We must recognize and fulfill our duty to stay true to who we are, remember where we came from, and honor the timelessness of our culture and traditions," he said.
He further expressed that art has been a witness to the storied history of the Philippines from rising of revolution up to the attainment of democracy. "Indeed, art has done us a great service, and we recognize this by supporting our local and traditional artists and spearheading initiatives to safeguard, preserve, and protect our cultural heritage."
In the event, President Duterte honored seven new national artists in their respective fields: Lauro "Larry" Alcala for Visual Arts, Amelia Lapeña-Bonifacio for Theater and Literature, Ryan Cayabyab for Music, Eric de Guia also known as Kidlat Tahimik for Film and Broadcast Arts, Francisco Mañosa for Architecture and Allied Arts, and Resil Mojares and Ramon Muzones for Literature.
The Order of National Artist or 'Orden ng Pambansang Alagad ng Sining' is the highest recognition bestowed on a Filipino artist who has made significant contributions to the development of Philippine arts and culture.
The President also awarded this year's GAMABA to three Mindanaoan women weavers: Yakan weaver Ambalang Ausalin, Blaan ikat (tie-dye fabric) weaver Yabing Masalon Dulo, and Blaan mat weaver Estelita Tumandan Bantilan.
The GAMABA or the National Living Treasures Award is the highest Presidential recognition given to individuals who excel in various indigenous arts, customs, and traditional practices.
President Duterte also revealed the awardees of the first ever Philippine Heritage Awards, which is pursuant to Section 37 of Republic Act No. 10066 or the National Cultural Heritage Act of 2009.
Six recipients from various institutions and local government were given the coveted award as they illustrate significant contributions and services in the field of heritage preservation and conservation efforts.
The President also conferred the Presidential Medal of Merit on artist Araceli Limcaco –Dans.
"To this year's awardees, I laud you for the passion and dedication to your chosen craft. Your outstanding work does not only inspire self-determination but likewise instill patriotism and bring prestige to our beloved country," President Duterte said.
"I urge our awardees to never hesitate to pass down their knowledge and skills to the younger generation because it is only by educating and training the youth the legacy and work of our artists can live on," he added.
Accompanying the President during the momentous awarding ceremony were Executive Secretary Salvador Medialdea and National Commission for Culture and the Arts (NCCA) Chairman and National Artist for Literature Virgilio Almario. ###PND