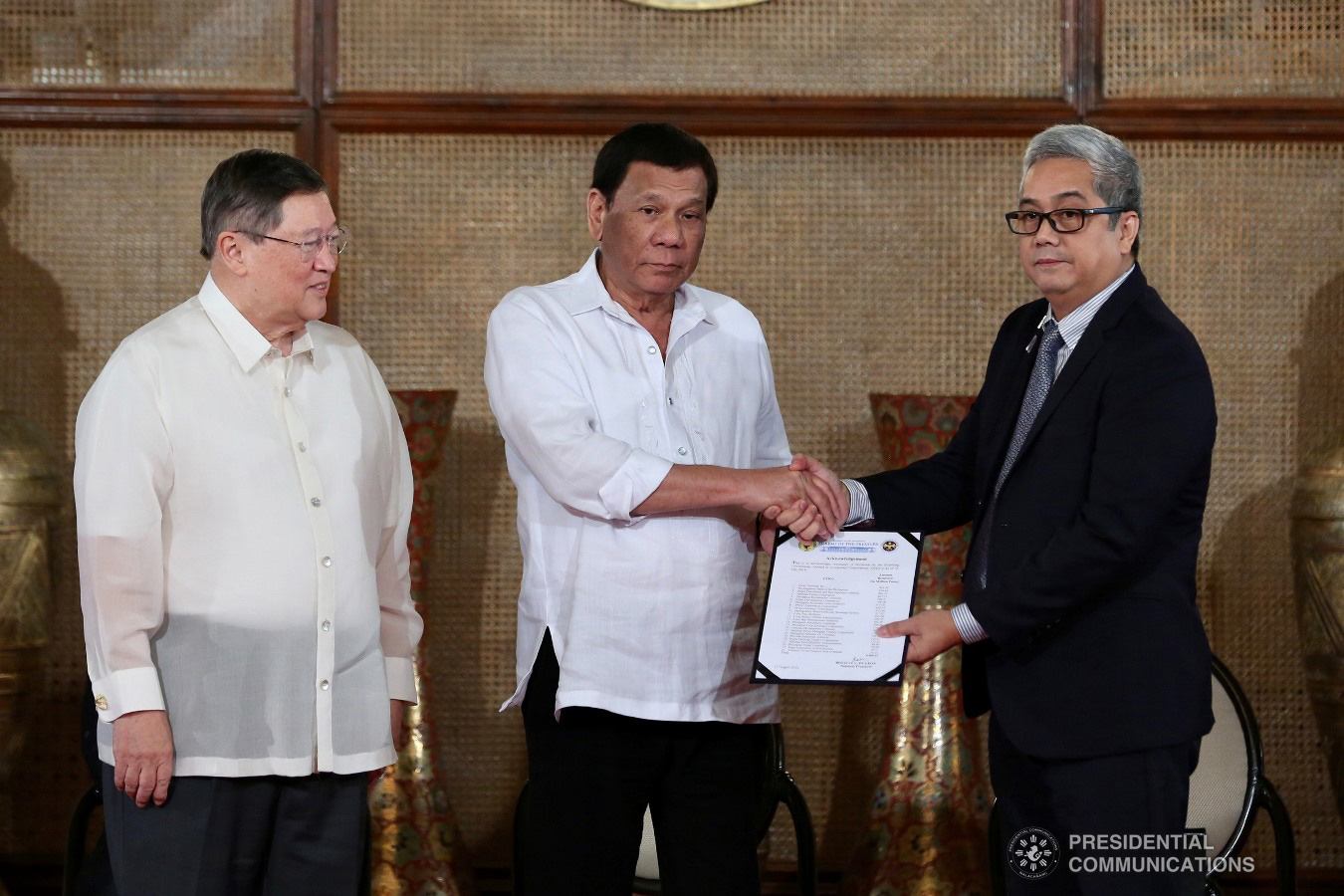 President Rodrigo Roa Duterte received dividend remittances from several Government-Owned and -Controlled Corporations (GOCCs) totaling P32.03 billion during the GOCC Day held in Malacañan Palace on Wednesday, August 15.

During the event, President Duterte, assisted by Finance Secretary Carlos Dominguez III, handed over the certificates of acknowledgment of dividend remittances to three representatives of various GOCC groups.
First was Trade and Industry Secretary Ramon Lopez who received the certificate on behalf of 23 GOCCs, which have remitted a total of P408.7 million since the end of July. Lopez, as trade chief, is the chairman of the Philippine International Trading Corporation, Philippine Economic Zone Authority, and National Development Company.
The second to receive the certificate of acknowledgment was Ariel Buenaventura, president and CEO of Food Terminal Inc., which have remitted P9.6 billion since July. He represented 24 GOCCs.
The last to receive the certificate was Transportation Secretary Arthur Tugade, who represented the seven GOCCs that remitted at least P1 billion to the national government. Tugade is also the chairman of the Civil Aviation Authority of the Philippines, which remitted the highest dividend at P6.2 billion.
As of the end of July 2018, dividend remittances from the so-called "Billionaire's Club" totaled P22.1 billion representing close to 70 percent of total remittances within the first seven months of this year.
Aside from CAAP, this year's Billionaire's Club also include the Philippine Ports Authority, Philippine Deposit Insurance Corporation, Philippine Amusement and Gaming Corporation, Philippine Charity Sweepstakes Office, Bangko Sentral ng Pilipinas, and the Manila International Airport Authority.
"It is difficult to imagine our economic achievement without the tremendous contributions of our GOCCs. They have made possible mass housing, rural electrification, secure and safe water supplies for our burgeoning population, reliable mass transport, stable food prices, efficient health programs and social security services," Finance Secretary Dominguez said in his speech.
He stressed that in the first seven months of 2018, dividend remittances from 54 GOCCs reached P32.03 billion, higher than what they collected in previous years, P30.46 billion in 2017 and P27.73 billion in 2016.
The Finance official also recognized the remittances of the Bases Conversion and Development Authority totaling P8.46 billion from its disposition of assets in 2017 and 2018.
"The dividends will help us offset the subsidies we need to pay out to the GOCCs performing crucial social missions. They will go a long way in helping us hold down deficits and continue funding the infrastructure and social programs of President Duterte," Dominguez said.
The GOCC Day is a ceremonial turnover of dividends that started in January 2011. The annual event was hosted by the Department of Finance, which has fiscal oversight over the government corporate sector.  ###PND