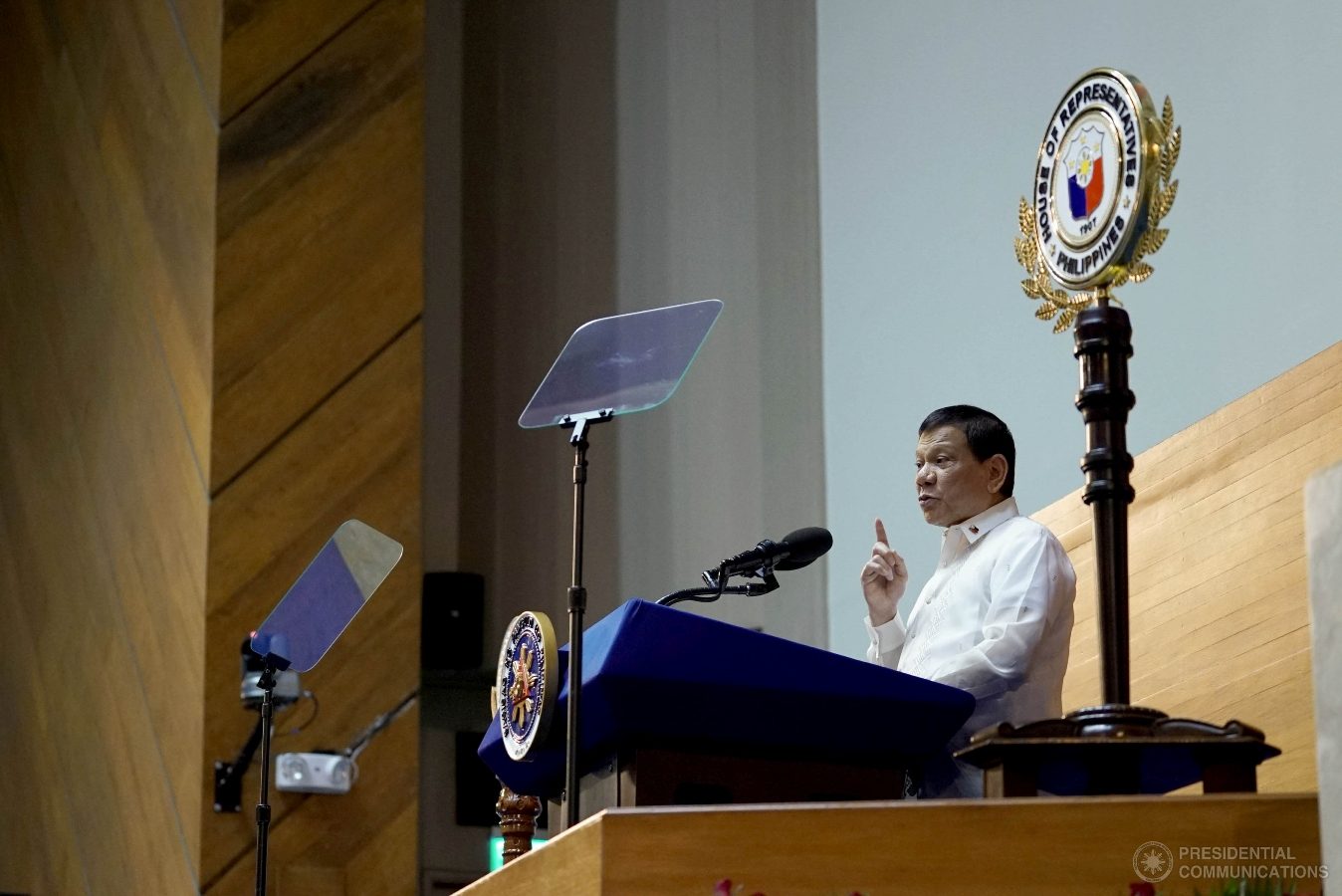 There is a need for a strong military and nation with the continuing threats from communists and Islamist militants, President Rodrigo Duterte said on Monday, July 24, adding that he will ask Congress to help him build a strong armed forces.

"I would need about 35,000 to 40,000 to meet the future threats coming our way from within and outside the country and I will start also to re-arm," the President said in a media interview after he delivered his second State of the Nation Address (SONA).
"We must have a strong republic to withstand all threats and challenges. Today's reality demands, necessitates an armed forces that is strong," he added noting he plans to spend money to organize a credible armed forces that can simultaneously fight different fronts.
He noted that it would be hard to predict how many will sprout up in the near future but currently, he said, the threats are the notorious Islamic State group and the New People's Army.
The President expressed disappointment over the continuing attacks of the communist rebels on government soldiers.
Once the conflict in Marawi is over, he said, he will address the threat pose by the NPA.
President Duterte also said he is purchasing arms and equipment including high-altitude plane or drone capable of pre-assessing areas of operation to minimize the risk to government combatants. He said he eyes to have a strong military in two years.
With regard to the conflict in Marawi, the President said he ordered to halt the assault because the terrorists are holding hundreds of hostages.
"Meron silang hinahawakan doon na 300 hostages. That is what is delaying. Sabi ko huwag mo munang i-assault," he said. "And if possible, we will just wait it out. I am not — I do not care if they are — basta hostages whether they are really Moro or Kristiyano," he said.
He said he does not want the innocents to be slaughtered.
While there are difficulties in the military operation in Marawi, the President said the police and the military gained experience in urban warfare and it is important in building a strong military force.
The President also vowed to shield the police and the military from being investigated by rights groups without his permission.
He, meanwhile, lamented the factors that are prolonging the conflict in Marawi, which prompted him to recommend to Congress the extension of martial law in Mindanao.
"It seems to be without— It's not exhausted. Hanggang ngayon, sila nagtataka kung saan kinukuha. So in other words, the buildup was there for many months," he said.
"I'm blaming the Maranaos who are in cahoots with the terrorists because obviously the stockpile was there for so long a time. Hindi maubusan eh," he added.###PND