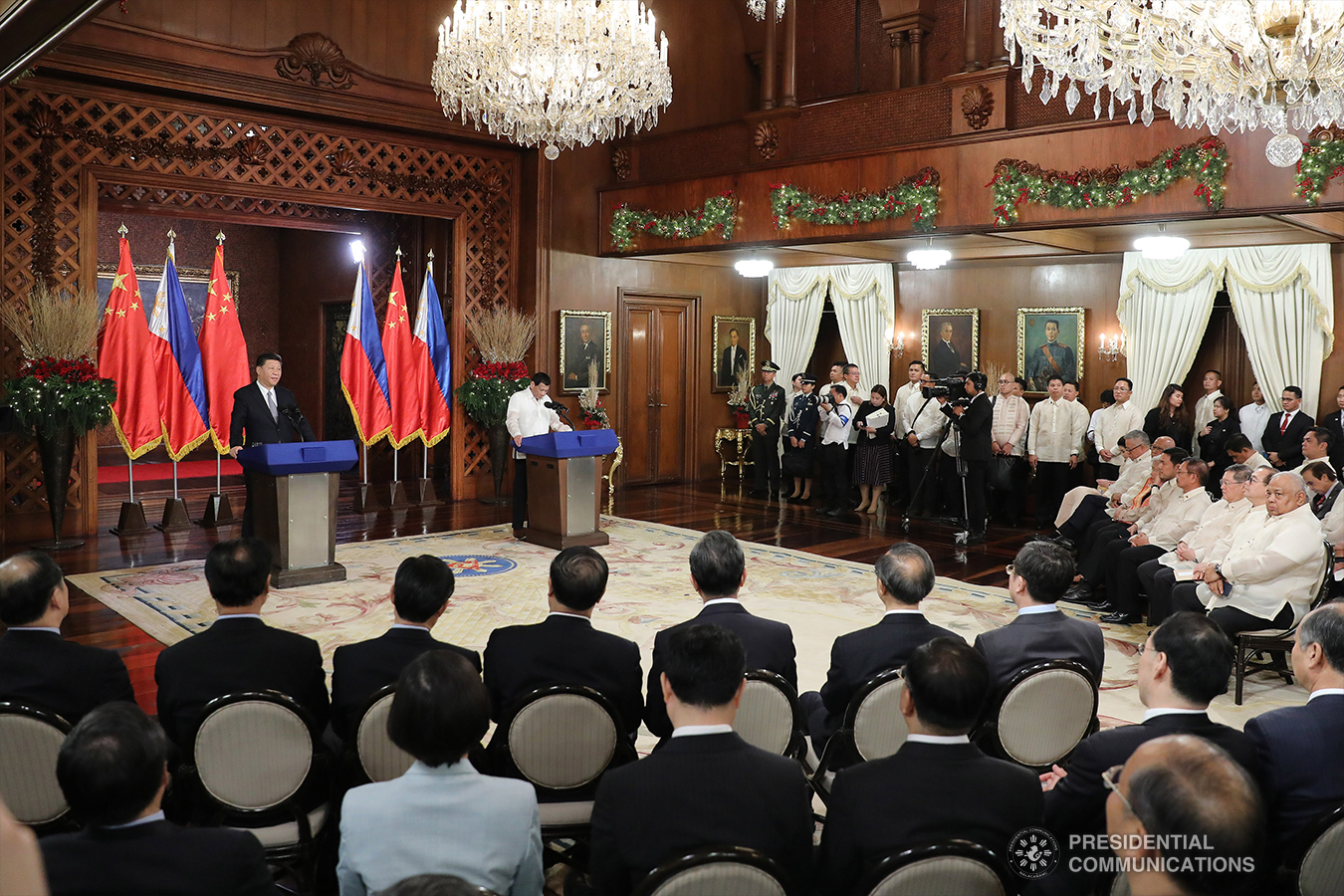 MALACAÑANG —- President Rodrigo Roa Duterte and Chinese President Xi Jinping on Tuesday, November 20, agreed to enhance the relationship between the two countries in a bid to achieve a peaceful and prosperous future and strategic cooperation.
"With mutual respect, sincerity, and adherence to sovereign equality, I will continue to work closely with President Xi to deepen the relationship between our great countries so we may together secure a peaceful and prosperous future for both our peoples and for the entire region," President Duterte said during the joint press statement at the Reception Hall of Malacañan Palace.
During their meeting, the two leaders discussed how to further enhance functional cooperation in key areas, such as bilateral trade and two-way investments promotion.
The two leaders also tackled infrastructure development, particularly China's participation in projects under the Philippines' Build, Build, Build program, which ushers in the "Golden Age of Infrastructure" in the country, as well as cooperation on the reconstruction and rehabilitation of Marawi and the Philippines' participation in China's One Belt, One Road Initiative.
Moreover, they talked about mutual concerns on defense, security, maritime cooperation, law enforcement, transnational crimes, as well as strengthening the partnership in combatting the trafficking of illegal drugs. They also discussed the cooperation on enhancing two-way tourism, agriculture, education, science and technology, and cultural exchanges.
President Duterte emphasized that the Chinese leader's visit is an opportune time for the two countries to celebrate the growing strength of friendship and cooperation.
"In the past two years, we have worked hard to lay the cornerstones for the continued advancement of our beneficial cooperation in a wide range of areas," he added.
President Duterte admitted that much work remains, but also noted that President Xi's visit "gives us new impetus to our mutual efforts to enhance collaboration in ensuring the well-being of our peoples and contributing to peace and stability in the region."
According to the President, he is pleased with the current positive momentum of the Philippines-China relations, noting that there is a deepening trust and confidence between the two governments.
President Duterte said he conveyed to President Xi his appreciation for his valuable support for the Philippines' many initiatives in regional and international spheres, particularly during its ASEAN chairmanship last year and the Philippines' current role as the Country Coordinator of ASEAN-China Dialogue Relations "leading to a sustainable Code of Conduct."
For his part, President Xi described his meeting with President Duterte as "in-depth" and "productive."
"We chartered the future course of China-Philippines relations and drew an ambitious blueprint for its development," he said.
"This vision charts a clear course for China-Philippines relations, and it sends a strong message to the world that our two countries are partners in seeking common development," he added.
President Xi also stressed that "however the international situation may change, both sides will remain committed to the relationship and work hard to make it even stronger."
CHINA PLEDGES SUPPORT FOR PH
The Chinese President commended President Duterte for his leadership that parallels the development need of the Filipino people. Therefore, the Chinese government would continue to support the current administration's initiatives.
"China respects and supports your endeavors, and we would like to see the Philippines playing an even bigger role in regional and international affairs," he said.
"Our support will come in many forms—from lending our hand to your counter-narcotics and the counter-terrorism struggle to helping repair roads and bridges in Marawi and build new infrastructure there," he added.
President Xi also noted that China and the Philippines face similar developmental challenges, making the two countries "natural partners with a common destiny."
"The two sides will seek greater complementarity between China's Belt and Road Initiative and the Philippines' development strategy, move forward cooperation around the three pillars of security, development, and people-to-people ties, and then make our cooperation more comprehensive and balanced," he said.
President Xi then extended a sincere invitation to President Duterte to attend the second Belt and Road Forum for International Cooperation next year to be hosted by China.
The Chinese leader also announced that they would import more goods from the Philippines, noting that Philippine coconut and frozen fruits have been approved for export to China.
The Chinese government would also award 50 government scholarships to Filipino students on an annual basis from 2019 to 2021 and would implement arrangements for Filipino English teachers to work in China.
Regarding disaster assistance, China would donate 10,000 tons of rice to help those communities devastated by Typhoon Ompong.
President Duterte then thanked the Chinese government for the assistance they provided the typhoon victims.
PRESIDENT XI TO PROMOTE MARITIME COOPERATION
Meanwhile, regarding the South China Sea, President Xi emphasized that both nations would address this concern cooperatively.
"We will continue to manage contentious issues and promote maritime cooperation through friendly consultation, and we will work alongside other ASEAN countries towards the conclusion of the COC consultations based on consensus within three years and contribute our share to peace, stability, and the welfare in this region," he said.
"Faced with the big issues of peace and development, China and the Philippines must join hands to uphold the interests of the developing world, resist protectionism and unilateralism, and promote peace, stability, and prosperity in our region and beyond," he continued.
After their meeting, the two leaders witnessed the exchange ceremony of signed bilateral documents, which cover the Philippines-China cooperation in the fields of trade and investment, banking and finance, infrastructure, agriculture, education, culture, and people-to-people exchanges, among others. ###PND