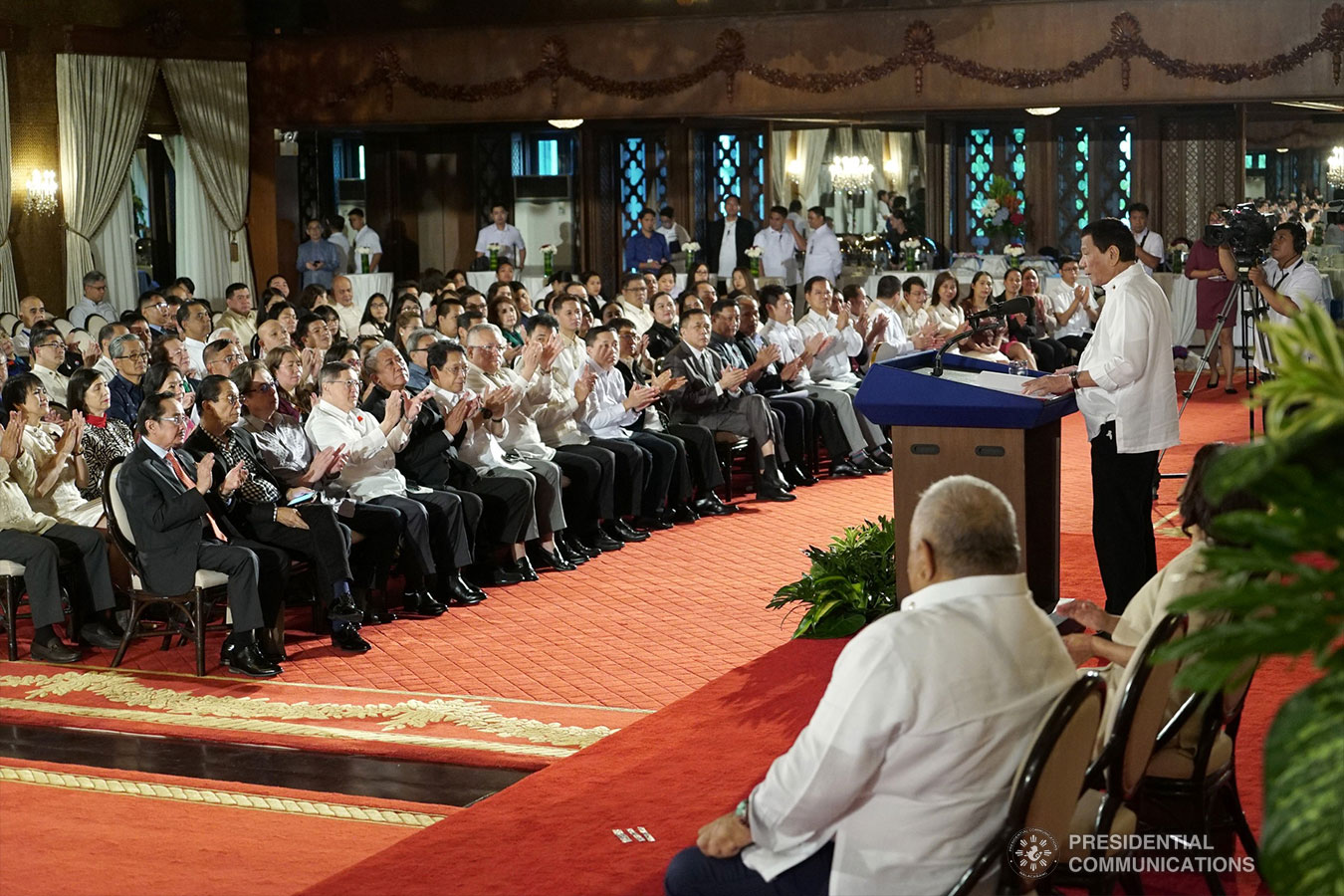 MALACAÑANG — President Rodrigo Roa Duterte on Tuesday, October 9, led the presentation of three significant legislation focusing on the enhancement of personal property security, education, and establishments' mandatory compliance for workers' occupational safety.
In his speech, the President expressed gratitude to the congressional leadership for the expeditious passage of the three bills.
"These three legislative measures do not only represent the vibrant and constructive relationship between the executive and legislative branches of the government but also signify our common desire to set aside partisan and political interests…may we work together in securing the well-being of our people," President Duterte said.
The Republic Act 11057, or the "Personal Property Security Act," establishes a unified and modern legal framework that will allow the use of personal property in securing obligations.
The new law is expected to promote economic activity by providing Filipino entrepreneurs, particularly the micro, small, and medium enterprises or MSMEs, easy access to credit that can be secured by movables.
The Republic Act 11058, or "An Act Strengthening Compliance with Occupational Safety and Health Standards," concentrates on mandating employers to make their workplace safe and healthful for their employees.
"The law intends to protect workers from the hazards of their own work environment by ensuring that existing labor laws and social legislation, as well as international standards in occupational safety, are strictly enforced," the President noted.
Moreover, the Republic Act No. 11079 offers the Integration of the Maasin City College into the Southern Leyte State University.
The new education law addresses the educational demands of the people of Maasin, Leyte and forms part of the government's agenda of improving the quality of tertiary education across the nation.
The Chief Executive, born in Maasin, was elated with such development. "I'm happy for the Maasin guys to have their own state university. It's a long dream doon."
"It is my sincere hope that by affording the youth of Maasin City access to quality university education, they will be further inspired to take part in nation-building through highly specialized research programs in various fields of endeavor," he continued.
President Duterte presented R.A. 11057 to Finance Secretary Carlos Dominguez III, the R.A. 11058 to Labor Secretary Silvestre Bello III, and R.A. 11079 to Commission on Higher Education Chairman Prospero De Vera III. ### PND