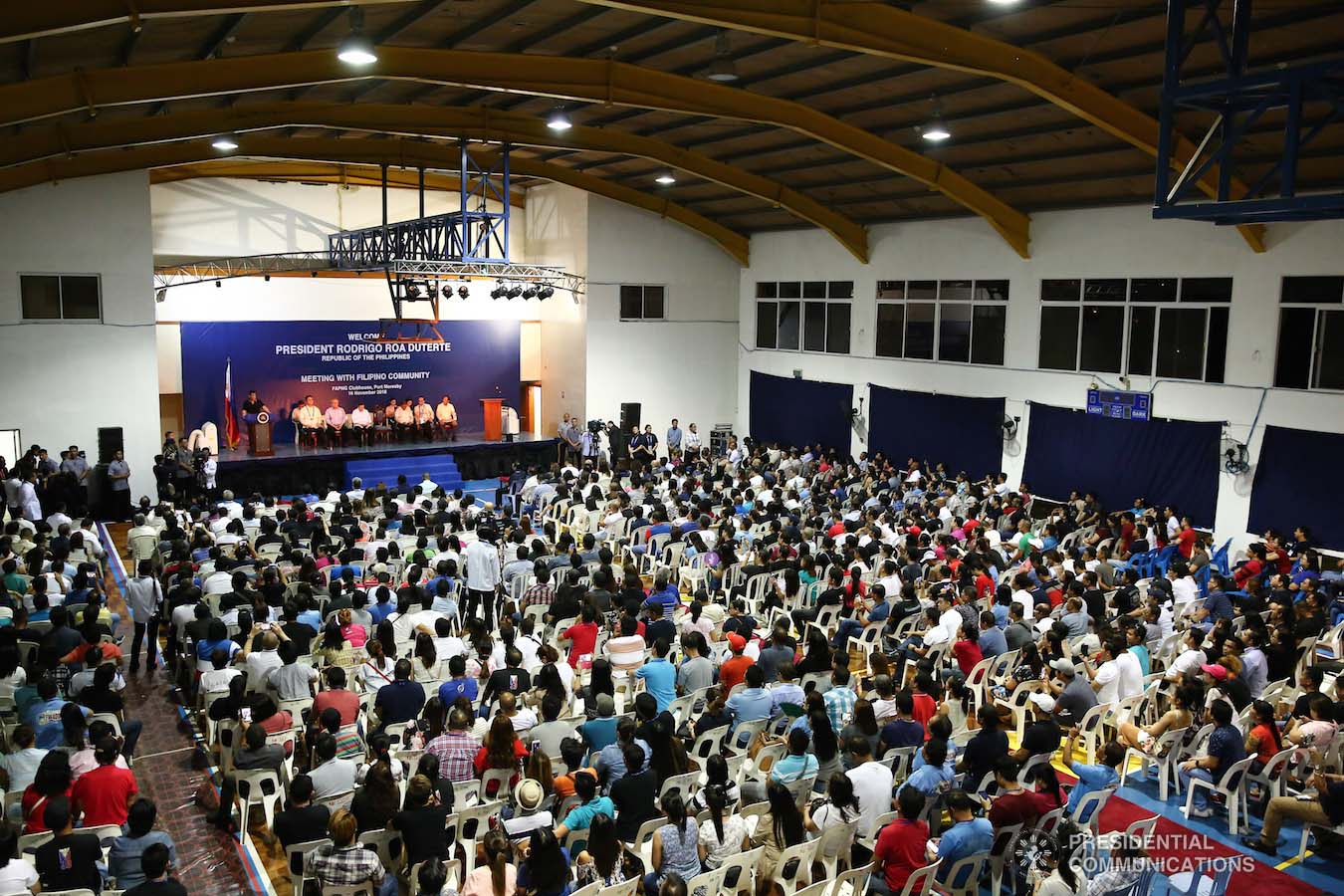 PORT MORESBY, Papua New Guinea — President Rodrigo Roa Duterte met with the members of the Filipino community here in Papua New Guinea on Friday, November 16, expressing gratitude to the host government for taking care of Filipino workers.
President Duterte is in Papua New Guinea to attend the Asia Pacific Economic Cooperation (APEC) Leaders' Meeting. There are over 40,000 Filipinos in the country, mostly in services and agriculture sectors.
"You know, you should love Papua New Guinea. One is that, you have work here to earn money for your family. It is part of the cycle. The money that you send enriches the economy. So you should be thankful," the President told a crowd of Filipinos at the Filipino Association of Papua New Guinea (FAPNG) Clubhouse here.
"I really thank you, Governor and the Prime Minister, that you have accommodated us and I've heard that you have treated us very well," he added, referring to East Sepik Governor Allan Bird, who was present during the event.
President Duterte said Filipinos staying or working in Papua New Guinea are really "very industrious and bright," noting that the nation could take advantage of those qualities.
"You can take advantage of the expertise. We can come here…we can establish schools…and if you want a university. And we are good at that. We will try to help you," he said.
The President likewise thanked the government of Prime Minister Peter O'Neill for accommodating the Philippines through a tie-up for a venture in rice production.
The Philippines already sent agriculture experts to the country and would help in cultivating palay with the excess production going to the Philippines for its consumption.
Papua New Guinea has a vast land area ideal for palay cultivation and a collaboration with the Philippines, which has an advanced rice production technology, can benefit both. The Philippines has a huge rice requirement to feed its rapidly growing population.
And while Papua New Guinea starts to develop its agriculture sector, the President advised its leaders not to allow encroachment of multinational companies in its agriculture that could threaten its food crop production in the future.
A partnership in agriculture could expand to other areas, as hinted by the President. The Philippines, he said, could also send technical vocational experts from Technical Education and Skills Development Authority (TESDA) to help the people of Papua New Guinea. The Philippines could also build schools for them, he said.
Although there are challenges in the economy, the President told the OFWs in Papua New Guinea that his government has already gained momentum in fighting corruption and illegal drugs.
He said he fired several members of his government who were accused of abuses and wrongdoings. In combatting illegal drugs, he said he would not budge in the fight against illegal narcotics and the campaign against it would continue until his last days in office.
Among the members of the Cabinet who accompanied the President were Finance Secretary Carlos Dominguez III, Trade Secretary Ramon Lopez, Presidential Communications Operations Office Secretary Martin Andanar, Agriculture Secretary Emmanuel Piñol, and Presidential Spokesperson and Presidential Legal Counsel Salvador Panelo. PND