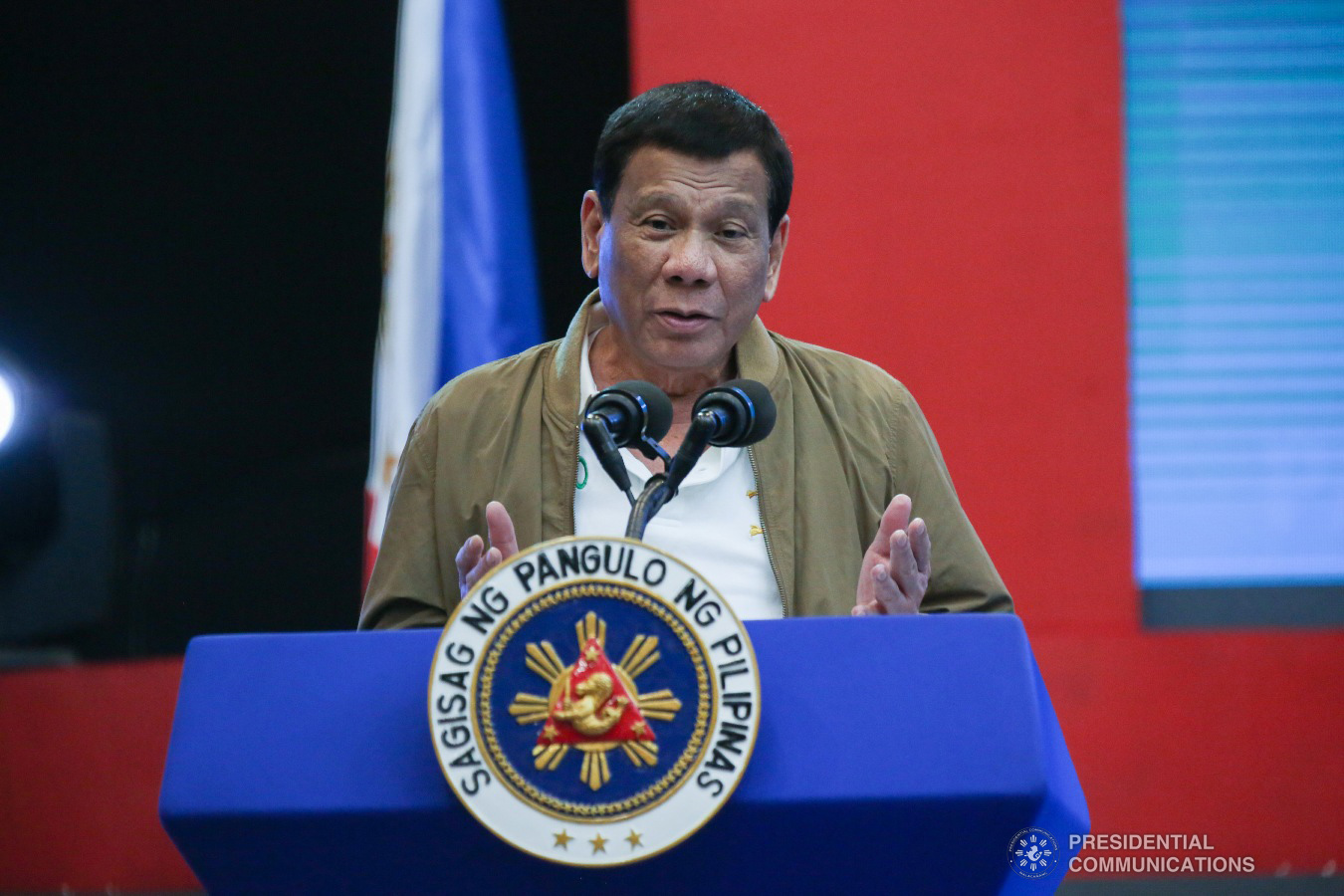 MARIKINA CITY — President Rodrigo Roa Duterte on Wednesday, March 20, announced that he proposed creating a negotiating peace panel for the Moro National Liberation Front (MNLF) to attain peace in Mindanao.
In a speech during the Partido Demokratiko Pilipino – Lakas ng Bayan (PDP – Laban) campaign rally in Marikina City, the Chief Executive shared to the public his meeting last Tuesday with MNLF Chairman Nur Misuari in Malacañang.
The President said, "So meron ako isang revolution pa. Sabi ni Misuari kagabi, 'If you do not give it to me, let me be very honest. I will go to war."'
"Sabi ko, 'I understand that, Nur. So ganito na lang gawin natin. Let's form a panel because you have to inform the people. We cannot negotiate secretly here.' Sabi ko, para day-to-day they will be briefed kung ano ang outcome — how gusto mong ma-apply 'yang federal system sa gusto mo. Kagaya ba ng BOL [Bangsamoro Organic Law] or a different type," he added.
According to the President, Misuari has been insisting on the adoption of a federal form of government, which former President Corazon Aquino promised to the Moros after the EDSA revolution in 1986.
However, the President reminded Misuari that adopting a federal form of government requires an act by the Congress. Therefore, the process should be transparent.
"Sabi ko, 'kung wala ng iba, 'yung federalism huwag nating kalimutan pass by Congress and I am making it public and you can ask the persons who were there," President Duterte said.
Present during the meeting were Presidential Adviser on the Peace Process Secretary Carlito Galvez Jr., National Security Adviser Hermogenes Esperon Jr., and Interior and Local Government Secretary Eduardo Año.
President Duterte also mentioned other security threats in Mindanao such as the Abu Sayyaf Group and the New People's Army, which the government has been trying to eradicate.
Meanwhile, prior to explaining to the people of Marikina the challenges the nation is facing and advancing the PDP-Laban senatorial candidates and guest candidates for the midterm polls, President Duterte first lauded the city for producing quality shoe products. He even thanked the shoemaker who made his shoes.
"If Marikina can improve on the quality of its products and choose better materials, it could compete with shoemakers from other countries," he said
"Pero 'pag na-perfect 'yang Pilipinas, I'm sure Marikina would go a long way to be somebody. I-perfect ninyo kasi [si] Danny Lim sa MMDA, 'yung rebelde na sundalo, 'pag mag-regalo 'yan siya sa akin, dito sa Marikina ang gawa," he continued.
Also, the President noted that there is a vast market potential domestically for the Marikina craftsmen, given the country's more than 100 million population.
"Biruin mo ilang paa 'yan? You think about it. And if you just can improve on it, you would be cornering the market. We cannot prohibit imports…free trade eh. I can sell in your country and you can sell in mine," he said.###PND