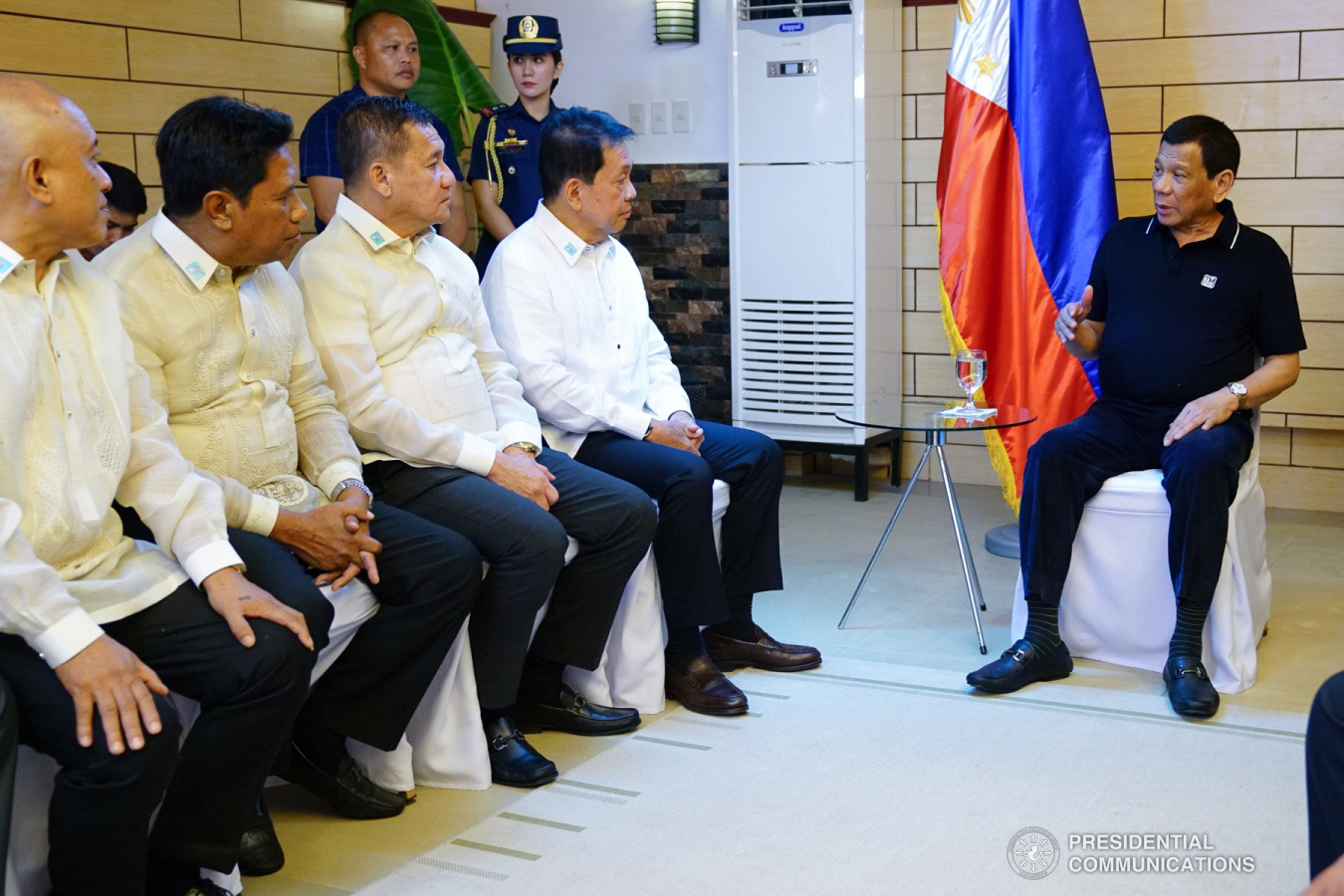 DAVAO CITY – President Rodrigo Roa Duterte on Wednesday, August 22, met with Mindanao key stakeholders to discuss their shared goal of achieving lasting peace in Mindanao.
In an almost hour-long meeting held at the Matina Enclaves, the Chief Executive renewed his vow to put an end to the decades-long dispute in Mindanao.
Among the Mindanao stakeholders present in the event were former Sulu Governor and Royal Council of the Sulu Sultanate (RCSS) Special Envoy Datu Shahbandar Abdusakur Tan, Jolo Mayor Kerkhar Tan, Pandami Mayor Hatta Berto, Kalingalan Caluang Mayor Peping Halun, Lugus Mayor Hadar Hajiri, Parang Mayor Madzhar Loong, Pata Mayor Anton Burahan, Omar Mayor Hadji Hussein Mohammad, former Patikul Mayor Kabir Hayudini, Siasi Mayor Arthur Muksan, and Old Panamao Mayor Al Frazier Abdurajak
The group expressed sincere interests for change and peace in Mindanao mainly through a federal type of government, noting that a federal system is "the best alternative" because it allows the Moro community to "integrate" and not divided by religion.
RCSS Special Envoy Datu Shahbandar Abdusakar Tan expressed hope that a federal type of government will put an end to the "generations after generations" long dispute in the Mindanao Island particularly with the Moro National Liberation Front (MNLF) and the Moro Islamic Liberation Front (MILF).
For his part, President Duterte vowed to do all that he can in his term to pave the way for change in Mindanao.
Duterte stressed that a new autonomous state of Mindanao is necessary, adding that the country should "absorb" a federal type of government for sectors to achieve autonomy.
"I've always wanted peace… Ang akin talaga is peace at all costs," he pointed out.
The President, however, allayed fears that a federal type of government will cause an unfair distribution of power in local governments, saying that he will ensure equality and fairness once the federal form of government pushes through.
"We don't intend to leave anybody behind so things can move forward," he assured.
President Duterte reaffirmed that he would continue to study this matter and prioritize the best interests of the country.
Before his meeting with the Mindanao stakeholders, President Duterte also met with Moro National Liberation Front (MNLF) Chair Nur Misuari in a private meeting. PND
###