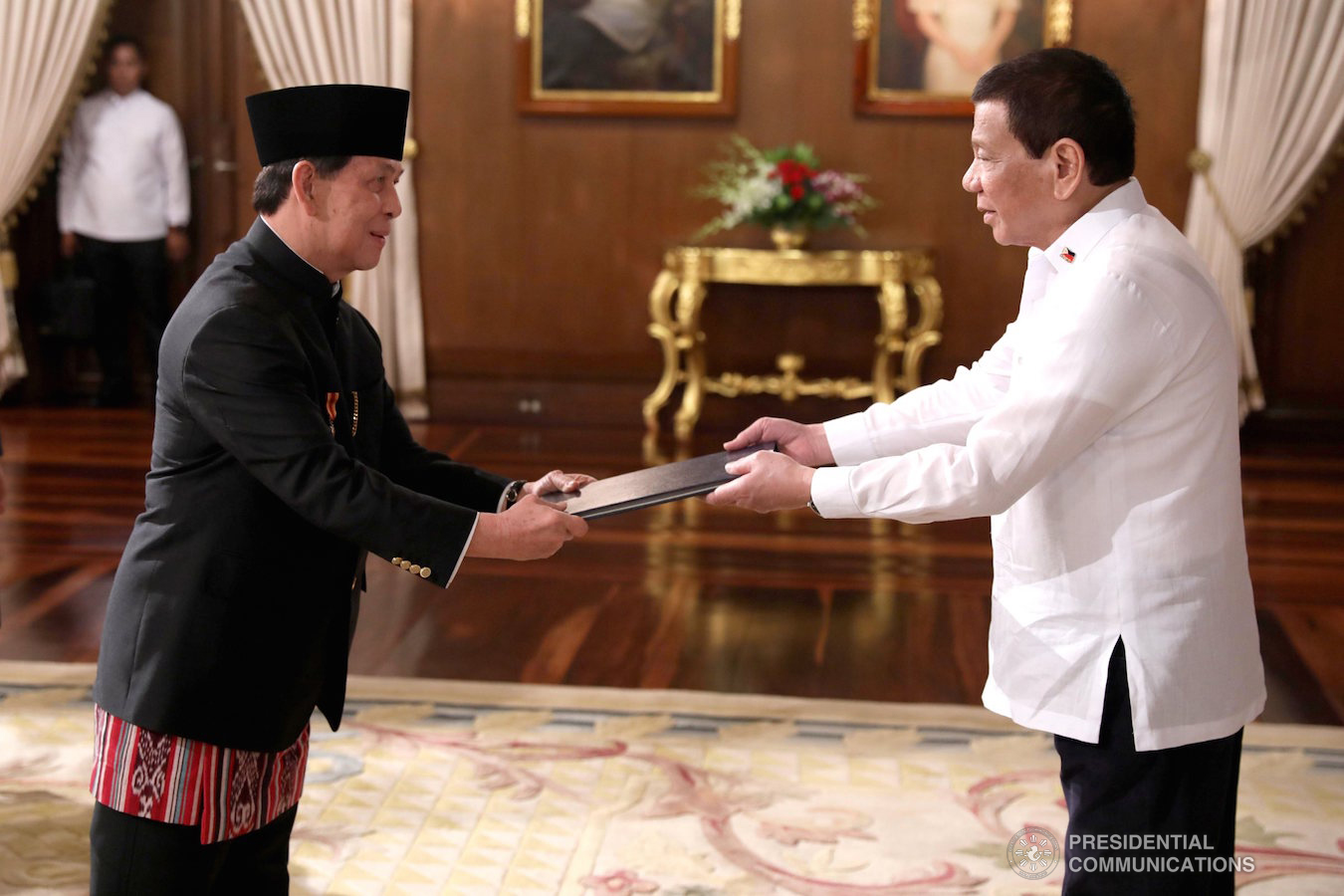 Indonesia's new ambassador to the Philippines Dr. Sinyo Harry Sarundajang presented his credentials to President Rodrigo Duterte in Malacañan Palace on Monday, May 28.
Accepting Sarundajang's credentials, President Duterte said he was glad that the former governor of North Sulawesi was designated as ambassador to the Philippines.
Duterte addressed the new Indonesian ambassador as his "blood brother."
The new ambassador was accompanied by his wife Madame Deetje Adelin Sarundajang and daughter Eva Cinday Sarundajang.
The President also met in a farewell call Monday Lao People's Democratic Republic Ambassador to the Philippines Phoxay Khaykhamphithoune, who served in the Philippines for three years.
Duterte conferred the Order of Sikatuna with rank of Datu, Grand cross (Gold distinction) on the exiting envoy.
The Order of Sikatuna was awarded to him for his meritorious contributions in furthering the relationship between the Laos and the Philippines. The ambassador worked to advance peace and prosperity in the two countries and in the region.
He was also recognized for his vital role in the successful convening of the joint commission for bilateral cooperation and for helping bringing closer the peoples of the Philippines and Laos.
Also present during the event were Foreign Affairs Secretary Alan Peter Cayetano, Presidential Spokesperson Harry Roque and Foreign Affairs Assistant Secretary Millicent Cruz Paredes.
Courtesy call of Korean ambassador
Meanwhile, President Duterte also received Ambassador of the Republic of Korea to the Philippines Han Dong-Man in Malacanang during a courtesy call.
The two discussed improving bilateral relations between Philippines and Korea in areas of mutual interest including security and defense cooperation as well as tourism.
He expressed hope that the decades-long conflict between South Korea and North Korea would finally be resolved.
Ambassador Han, for his part, thanked the Philippine government for extending its warm welcome to Korean nationals who visited the Philippines.
He said that the tourism industry between the two countries has been continuously improving, noting the decrease in crime rate during President Duterte's leadership.
The Korean envoy also took note of the "steadily increasing" number of South Korean nationals visiting the Philippines.
He then committed to further deepen ties between the two countries.
Duterte is scheduled to make an official visit to South Korea from June 3 to 5. PND