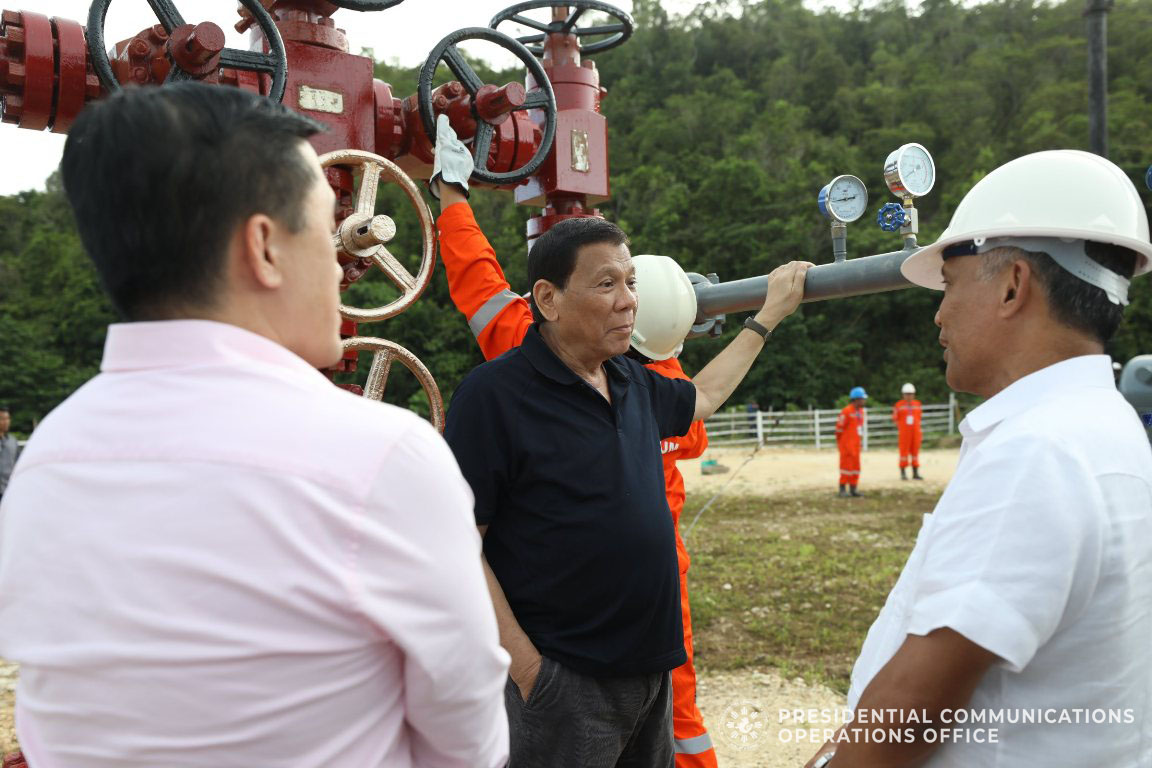 ALEGRIA, Cebu — President Rodrigo Roa Duterte on Saturday, May 19, led the Ceremonial Opening of Oil and Gas Production of the Alegria Oilfield Polyard-3 Well Site here, saying that this development would create job opportubities and generate income for the Filipinos.
Upon his arrival, President Duterte led the ceremonial valve opening of the Polyard-3 Well and was briefed by Energy Secretary Alfonso Cusi and China International Mining Petroleum (CIMP) assistant country manager Edgar Benedict Cutiingco.
In his speech, the President said the production of oil and gas here would help Alegria town become progressive, adding that he expects more people to move to Alegria.
"Prepare for an expansive human and economic development. Madaghan na," Duterte said.
"So prepare for that… and do not forget your fellowmen," he added.
Duterte then urged Alegria's town officials to improve its urban planning, noting that he expects that Alegria will soon have its own airstrip because it will be amassed with developments.
"You have to spend the money locally — infrastructure, improve the living conditions, getting somebody into a gainful employment tanan-tanan," Duterte said.
"Madako gyud ang inyong lifestyle mas taas… So prepare for a massive migration," he added.
"It is a magnet that draws people together. But since we are Filipinos, you should accommodate them and partake of the bounties of what God has given us in the bowels of the earth," Duterte said.
The President meanwhile assured that he will protect his countrymen and preserve the Republic.
"I would say that my oath of office demands me, sa ako, exacts from me, that I will protect the Filipino people and preserve the Republic of the Philippines," Duterte said.
The Alegria oilfield serves as a major breakthrough in the Philippine oil and gas industry.
The said oilfield covers a total area of 197,000 hectares with about 42,749 hectares devoted to the production area.
The oilfield is currently operated by China International Mining Petroleum Company Ltd. with its partners Skywealth Group Holdings Ltd. And Phil-Mal Energy International Inc. in a US $30.80 million investment. PND
###