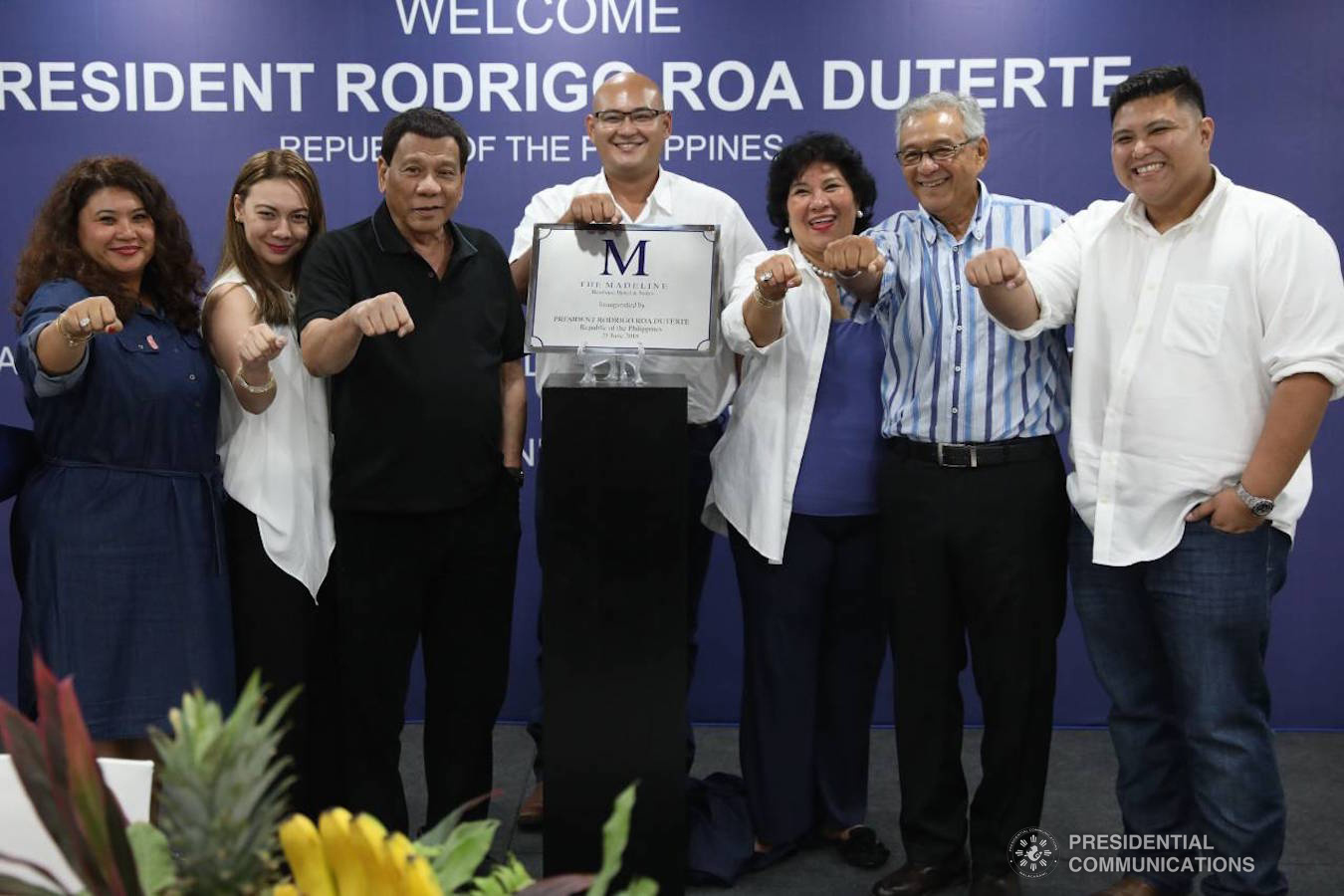 DAVAO CITY — President Rodrigo Roa Duterte praised real estate developers on Tuesday, June 26, for their valuable contribution to Davao region's socio-economic development.
"I thank our real estate developers for their valuable contribution to the Davao region's socio-economic development through the promotion of local tourism that has generated employment and opened opportunities for many locals in the city," President Duterte said during the grand opening of Madeline Boutique Hotel and Suites (MBHS) here.
Duterte commended the Dizon Group of Companies, the developer of the newly-built hotel, for not only providing the people with rest and comfort, but also for raising awareness on the importance of preserving the environment and conserving natural resources.
"This structure is truly a commendable work of architecture as it boldly stands as an eco-friendly hotel. By aiming to transform this space into a green building, it serves as an edifice of the city's conscious environmental efforts and the country's capacity to build sustainable facilities and infrastructure systems," he said.
He also expressed hope that the hotel would attract both local and foreign tourists who would like to experience genuine Filipino hospitality.
Meanwhile, the President reiterated that the government would strive hard to maintain the security of the country's travel destinations.
"On the part of the government, we will work even harder in ensuring a safe and peaceful environment, where tourists can enjoy and investors can thrive," he said.
"Aside from launching charter flights to various destinations and implementing various infrastructure projects that will improve accessibility and connectivity, we are also intensifying our fight against illegal drugs and criminality to protect our people and guests from any form of danger," he added.
He said the government is looking forward to working with the private sectors "in harnessing the potentials of our local products and services and in effecting real and lasting change in society."
"Together, let us shape the course of our nation's path towards even greater socio-economic growth," he said.
Also present in the event were Special Assistant to the President Christopher "Bong" Go, former President and incumbent Pampanga Second District Representative Gloria Macapagal-Arroyo, and MBHS owner Madeline Marfori together with her family.
Prior to the hotel opening, President Duterte led the mass oath-taking ceremony of newly-elected barangay officials in Region 10 and visited the wounded soldiers at Camp Evangelista Station Hospital in Cagayan de Oro City. ###PND