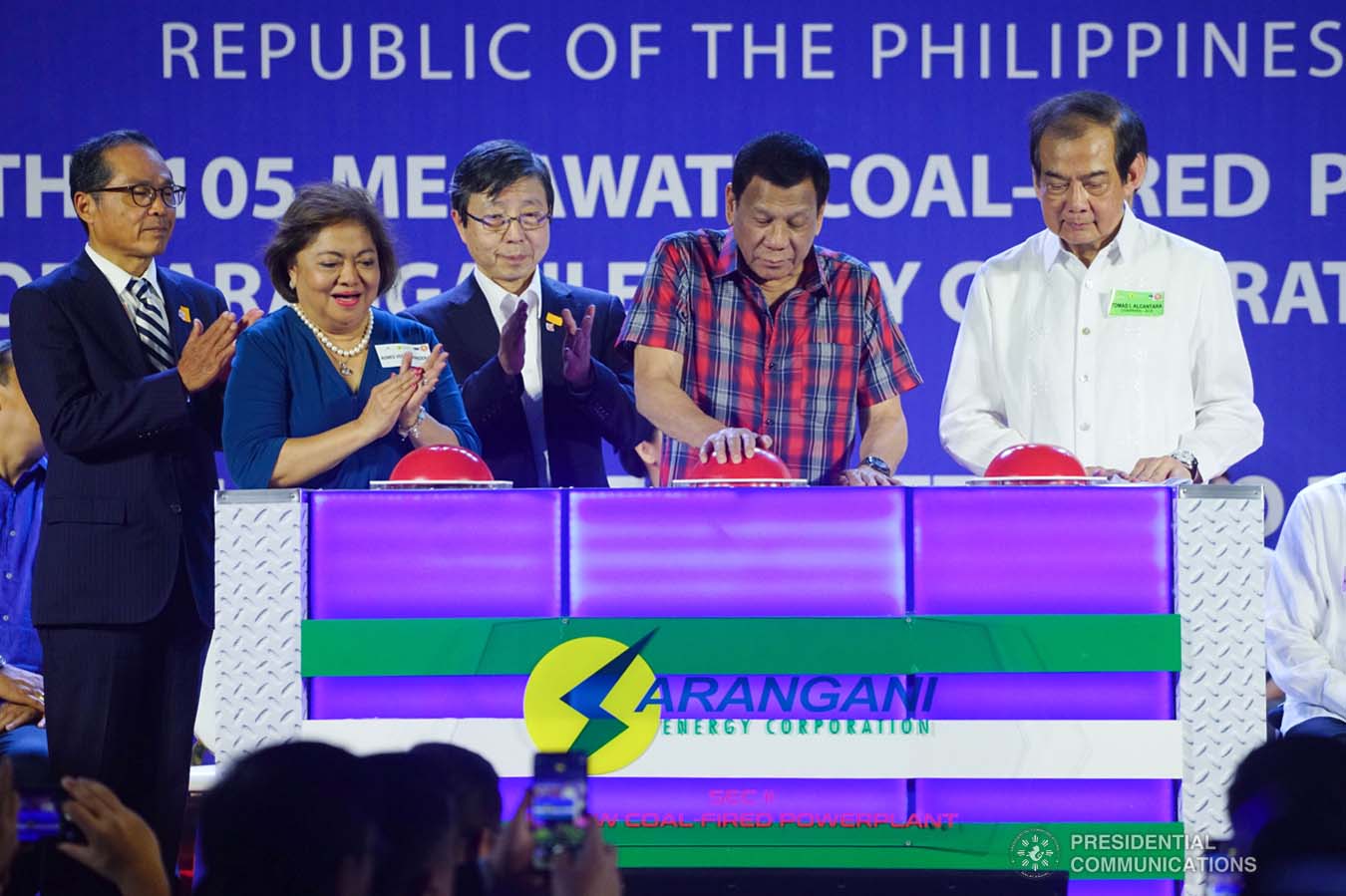 MAASIM, Sarangani Province—President Rodrigo Roa Duterte led the inauguration Friday of Sarangani Energy Corporation's (SEC) coal-fired power plant, as well as the launch of the Hydropower Project of Siguil Hydropower Economic Zone, hoping other companies will invest in renewable energy.
In a speech during the event, President Duterte said power generation companies investing in renewable energy projects in the Philippines should support the government's advocacy for environmental protection and conservation of natural resources.
During the inauguration of the second phase of SEC's coal-fired power plant and the presentation of the hydropower project, President Duterte told the private sector to work closely with the government to effectively harmonize efforts towards ensuring inclusivity, sustainability, and efficiency in power generation.
"Be assured that this administration is determined in its goal to achieve power security in the country, consistent with its drive to uplift the living conditions of our people," said the President.
Power generation companies play an important role in the country's development, particularly in Mindanao, according to the President.
"Through their consistent efforts to expand power coverage nationwide, they are providing much needed support to the government's Build, Build, Build and electrification programs and help significantly in propelling the Philippine economy forward," he said.
President Duterte also noted that the power supply in Mindanao has greatly improved since June 2016. From experiencing power deficiencies, which resulted in power interruptions in the past, the region already has excess power generation.
To date, the total installed capacity in Mindanao has reached 4,038 megawatts with dependable capacity of 3,486 megawatts. Mindanao's 2019 peak demand is only at 2,013 megawatts.
SEC Phase 2 will add the same capacity to SEC Phase 1, which began operations in April 2019.
The power plant provides a combined 210-megawatt baseload power capacity to more than 2.15 million households in Mindanao.
The Siguil Hydropower Project, meanwhile, is a P4.2-billion hydroelectric power plant at the Siguil River Basin in Maasim with a 14.5-megawatt capacity.
It is expected to energize Sarangani Province, General Santos City, and key municipalities of South Cotabato when it starts operation in 2022.
Siguil Hydro project will be the first of eight hydropower facilities to be developed by its proponents in Zamboanga del Norte in Mindanao and Negros Occidental in Western Visayas. PND