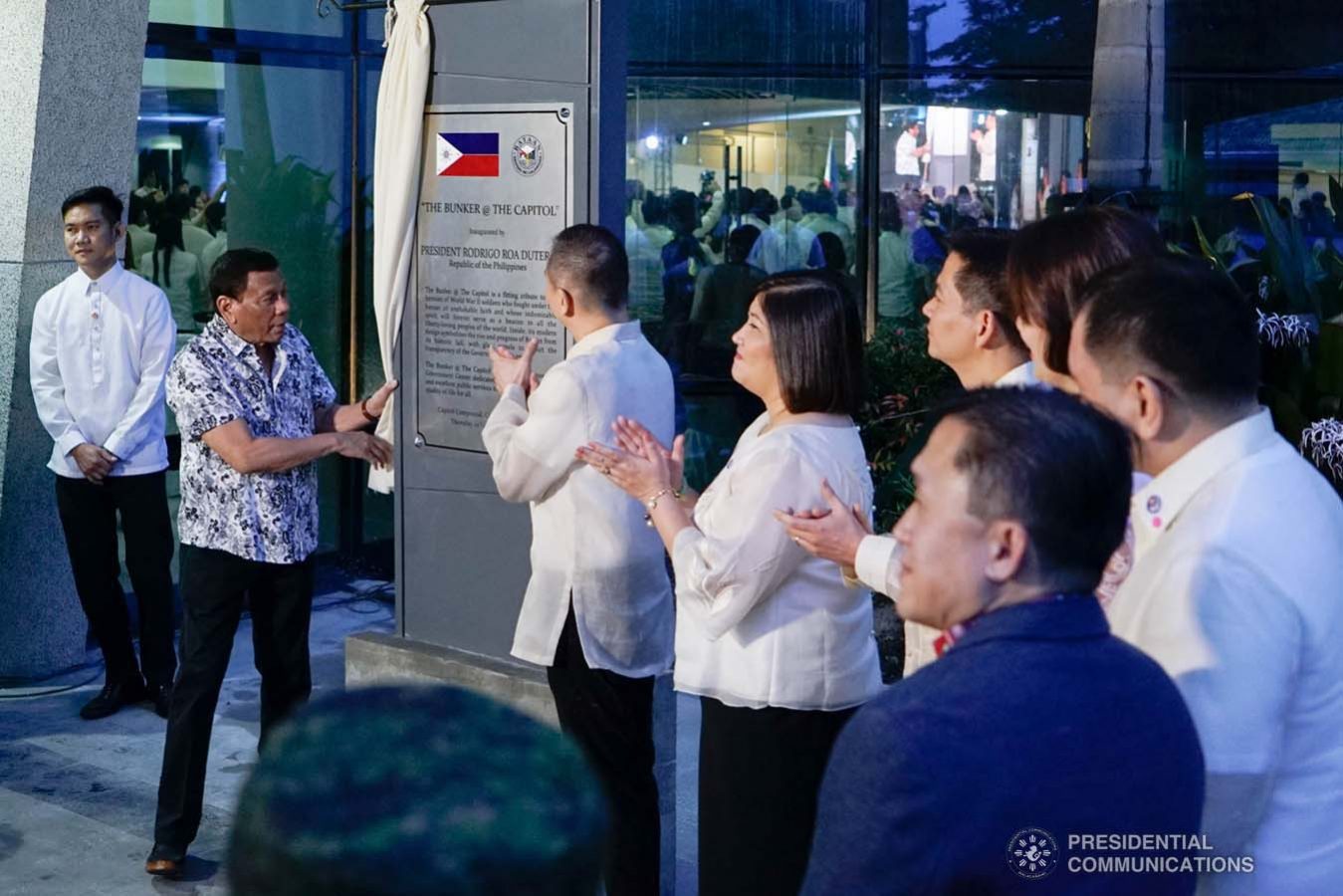 BALANGA CITY, Bataan— President Rodrigo Roa Duterte led the inauguration Thursday of the Bataan Government Center and Business Hub dubbed "The Bunker," making the province the first local government unit in the country to house provincial and national offices in a single location.
The President expressed his gratitude to the people of Bataan for their warm welcome, adding he is deeply honored to be a part of Thursday's inauguration of the new Bataan Government Center and Business Hub.
"I hope that this Bunker that we are inaugurating today will serve its purpose in helping the people of Bataan face the rapidly evolving modern complexities and challenges of everyday life," President Duterte said in his speech.
"It is in this light that I acknowledge the government officials of Bataan for their inspiring vision to build this hub that will facilitate the convergence of government offices, national government agencies, and other service providers as they engage the general public."
Bataan has a huge potential for further development, he stressed, adding he signed a measure expanding the territory of the Freeport Area of Bataan to create more investment and tourism opportunities for the country.
The Chief Executive expressed optimism that Bataan will continue to partner with other stakeholders to maximize the opportunities afforded by the new government and business center including the delivery of quality and responsive government services in line with the Ease of Doing Business Act of 2018.
As a fast-growing province in Luzon, Bataan built The Bunker to house the new capitol building, government financial institutions (GFIs), as well as national government agencies for easier business facilitation.
It is based on the "One Stop Shop at the Bunker" concept seen by its proponents as a crucial step towards sustaining the province's economic growth by attracting more investments. The center caters to the needs of the general public, overseas Filipino workers (OFWs), and businesses.
Aside from being the central headquarters of Bataan, The Bunker also pays homage to the defenders of the province during the Second World War.
Replicas of a World War Two-era tank and fighter planes will be displayed at The Bunker to highlight Bataan's wartime past.
The seven-storey edifice was built through Public Private Partnership (PPP) under the collaboration between the provincial government of Bataan and MTD Alloy, a Malaysian firm.
The Bunker will be home to government financial institutions and government agencies such as the Land Bank of the Philippines (LBP), Development Bank of the Philippines (DBP), Veterans Bank, Bureau of Internal Revenue (BIR), Pag-Ibig Fund, Land Transportation Office (LTO), National Bureau of Investigation (NBI), Department of Science and Technology (DOST), Department of Trade and Industry (DTI), Land Registration Authority (LRA), 1Bataan ITS, and Bataan Negosyo Center. PND