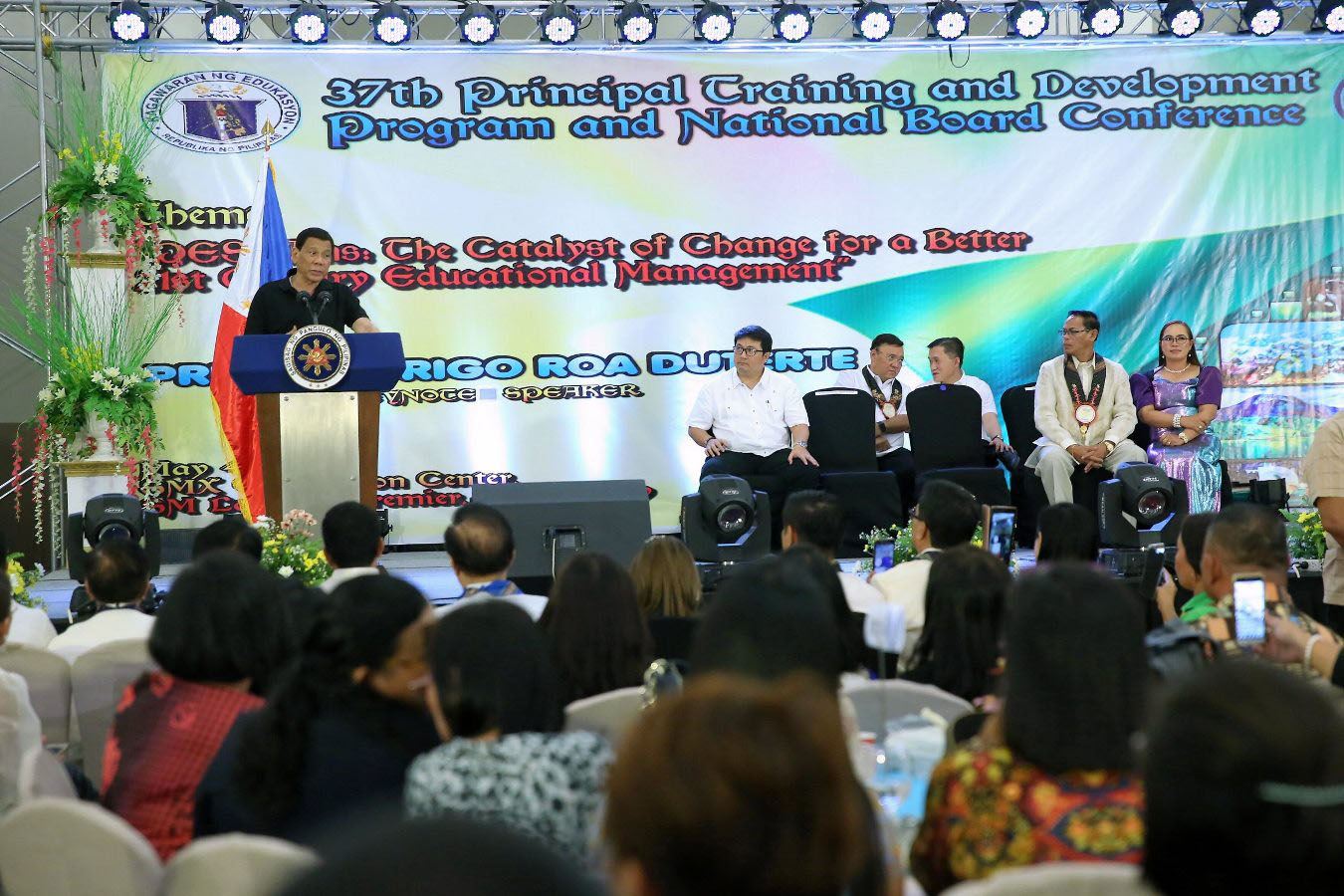 Davao City — President Rodrigo Roa Duterte on Friday, May 4, refuted the Time Magazine article that featured him as one of the "strongmen," stressing the Filipinos' freedom to criticize him.
"Kaya ako, andiyan ngayon sa Time Magazine, isa daw ako sa mga strongman. Hindi naman ako strongman," the President said in his speech at SMX Convention Center here during the 37th Philippine Principals Training and Development Program and National Board Conference.
"Kailan pa ba ako naghari-hari dito sa Pilipinas?" he said.
The Time Magazine article, which was written by Ian Bremmer, concluded that "we are now in the strongman era."
The article that came out on May 3 featured President Duterte, along with Hungarian Prime Minister Viktor Orban, Turkey President Recep Tayyip Erdogan, and Russian President Vladimir Putin.
President Duterte maintained that he has never sent anybody to jail for criticizing him.
"And for all I care, 'yung security guard, police, general, o NPA o si Sison or a teacher or a gardener can criticize me… I will take that," he said, adding that he is just a government worker.
"Kayo 'yung nagsusweldo eh sa akin. Ngayon, okay sa akin 'yun na 'yung magsigaw sila diyan Gabriela, go ahead. You use your freedom of expression," he further said.
He, however, insisted that he will never agree to take criticisms from foreign nationals.
"Pero kung foreigner ka, that is another thing," he said.
Duterte vows teachers will get pay hike too.
Meanwhile, the Chief Executive declared that he would give teachers an increase in their salary.
"Pero ang inyo, kayo ang isunod ko pero hindi naman masyadong doblado, hindi talaga kaya. Hindi talaga kaya," he said.
"We've been trying to come up with a progressive — Ako I'm not blaming anybody but simply there are too many Filipinos," the President noted.
Duterte signed on January 1 this year the Joint Resolution No. 01, which authorized the increase in base pay of military and uniformed personnel in the government.
The Palace then announced that the President has directed the Budget department to find ways to raise the wages of teachers.
Duterte said the increase would be incremental, citing the large number of teachers.
"Remember, the economy. Pag nag-improve 'yan, kayo ang sunod. Honest. Pero incremental ha, walang biglaan. Marami kayo. You are five times more or seven times more than the soldiers," he said.
The Chief Executive said that he himself is a son of a schoolteacher.
The President recalled that his mother retired as the adult education supervisor for Davao City.
"Kaya po ako lumaki rin ng salary ng isang teacher and so was my father," he said. PND
###