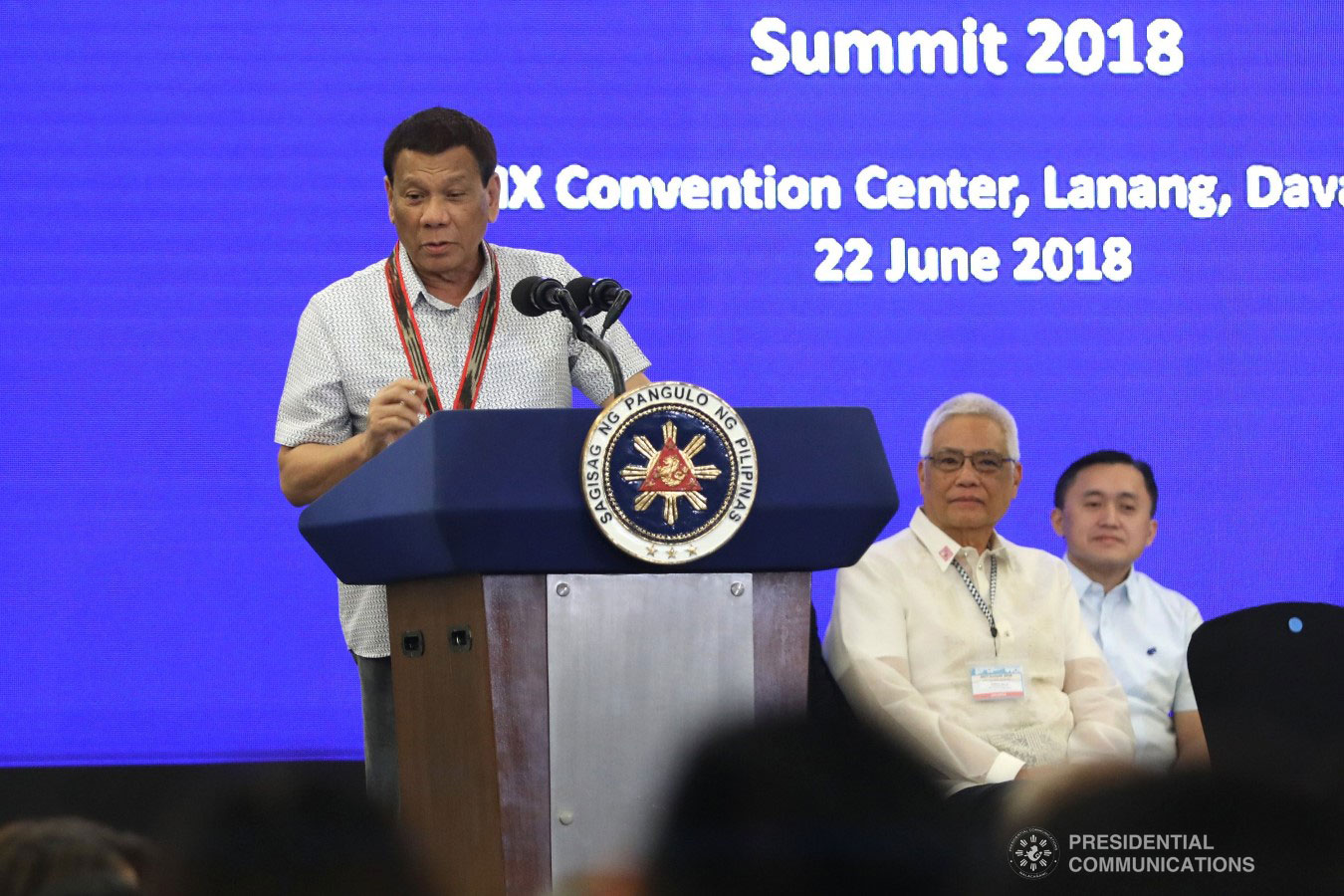 DAVAO CITY — President Rodrigo Duterte clarified Friday, June 22, that he never ordered the police to arrest "tambays" or loiterers.
In his speech during this year's National Information and Communications Technology (NICT) Summit here, President Duterte said he was aware that loitering was not a criminal offense.
"I never said, 'arrest them.' 'Di ba ang sabi ko, do not — 'you go home. Do not congregate'," he said.
"I never said arrested. But if you are drinking diyan sa alley, 'yung mga squatter's area. If you are there, making a sala out of the road there, huhulihin talaga kita," he added.
Duterte said as the "father of the nation", he could still order the arrest of loiterers especially those "unruly" who might pose danger to other people especially women and children.
"Of course I can accost you. Sabihin ko, 'what are you doing here?' If you are a minor under the power of parens patriae, you are the father of the nation, you can always give an advice for people kagaya ng minors," he said.
Parens patriae is a Latin phrase for "father of the nation" which refers to the principle that a political authority carries the responsibility of the protection of the citizens.
"Kaya sabi ko pag — if you are unruly talagang sabihin ko, 'uwi ka kundi arestado ka.' That is a police power of the state," he added.
He stressed that efforts to rid off the streets of loiterers could help lessen crime and maintain peace and order especially since the problem on illegal drugs "has become far worse."
Boracay land will be given to natives
In the same speech, the President also said that portions of the Boracay island will be given to its Mangyan natives, noting that the island is forestal and agricultural and not meant for commercial use.
"Remember that Boracay island is a forestal, agricultural category. So tandaan ninyo 'yan because if I decide to make it a land reform, tabla na ang negosyo ninyo," said Duterte.
"I'll give it to the farmers and to the Mangyans, the original people who never had the opportunity like somebody na make use of Boracay," he added.
He then said that he will leave it to Congress to decide how land portions in Boracay under the land reform will be distributed.
"I will leave it to Congress to cut a strip there, maybe from the high or low tide where the water reaches and you can count about half kilometer. Then you delineate it between a commercial and agricultural," he said.
Duterte, meanwhile, noted that no gambling establishments will be put up in Boracay after the island's rehabilitation.
Delegates from the information communication technology field and the academe as well as government executives were present during the three-day National ICT Summit 2018.
The summit seeks to provide an avenue for information sharing, presentation and discussion of programs, initiatives, policies, innovative paradigms and solutions, and resolution of ICT concerns.PND