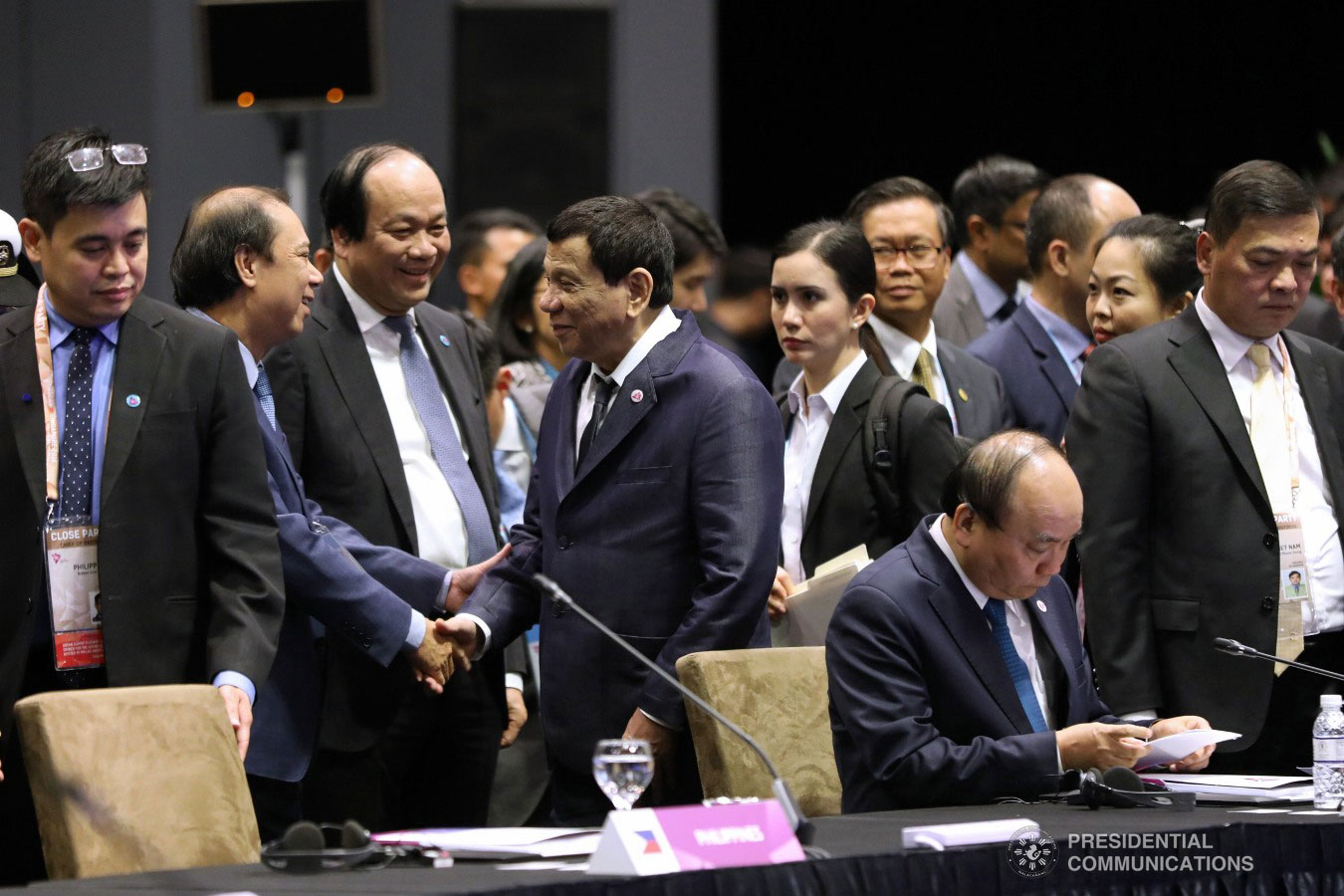 Singapore —- President Rodrigo Roa Duterte on Wednesday, November 14, highlighted the improvement in the security cooperation in counter-terrorism and the support for a drug-free Association of Southeast Asian Nations (ASEAN). 
In his intervention for the 21st ASEAN-Japan Summit here, the President noted that the engagements between the regional bloc and Japan continue to broaden through collaboration in innovation and in helping micro, small, and medium enterprises (MSMEs) connect to the global value chain.
"There is greater security cooperation in counter-terrorism
and a wider support for a Drug-Free ASEAN," the President told his fellow leaders during the summit held at Suntec Convention and Exhibition Centre.
According to the President, there is also an intensified interaction between the ASEAN Coordinating Centre for Humanitarian Assistance and the ASEAN Centre for Biodiversity.
"We look forward to the anticipated signing of the ASEAN-Japan Technical Cooperation Agreement to further strengthen our people-to-people exchanges," he said.
The Philippines, the Chief Executive said, appreciates Japan's commitment to ASEAN centrality.
"As active partners for greater peace, security, and stability in Southeast Asia, we remain open to discussions on the regional structure, which include the Free and Open Indo-Pacific Strategy, with a view to enhancing ASEAN centrality," President Duterte said.
Meanwhile, the President welcomed Viet Nam as the new Country Coordinator for ASEAN-Japan Dialogue Relations.
He expressed confidence that Viet Nam would further "build on ASEAN-Japan relations based on mutual trust and heart-to-heart understanding."
The Chief Executive also took the opportunity to express gratitude to Japan for its "solidarity and offer of assistance after Typhoon Mangkhut hit the Philippines in September 2018."
He said nations, especially those in Southeast Asia, continue to be vulnerable to climate change and natural disasters.
"This is one area of major concern shared by both ASEAN and Japan," he said.
"We note how Japan quickly recovered from the impact of Typhoon Jebi. This is a testament to Japan's remarkable resilience and admirable ability to build back stronger communities," he said, noting that this is an area where ASEAN and Japan can clearly benefit from greater collaboration and sharing of best practices.
The President also mentioned the Fukuda Doctrine during his intervention.
"With its positive engagement anchored firmly on the Fukuda Doctrine, Japan continues to make inroads and break new grounds for cooperation with ASEAN," said the President .
He cited that the Fukuda Doctrine was the blueprint that ushered in a new era of more meaningful partnerships between Japan and ASEAN.
"This year, we honored the significance of
the Fukuda Doctrine with the unveiling of a memorial
marker at Manila Hotel where then Prime Minister Takeo
Fukuda made the historic pronouncement that redefined
Japanese diplomacy in 1977," he said.
"Today, we continue to see the impact of the Fukuda
Doctrine. Japan actively engages relevant sectoral
bodies in ASEAN, particularly in human resource
development and policy developments in public health,
labor, social welfare, and media information literacy," he added.
President Duterte Holds Bilateral Meeting with Singapore PM Lee Hsien Loong
President Duterte met with Singapore Prime Minister Lee Hsien Loong on the sidelines of the 33rd ASEAN Summit and Related Summits here.
The two leaders met shortly before 3 p.m. at the Suntec Convention and Exhibition Centre.
The Prime Minister of Singapore expressed gratitude to the Philippine leader "for the chance to chat."
President Duterte, for his part, said he was honored to meet with the Prime Minister.
The Chief Executive was accompanied by Finance Secretary Carlos Dominguez III, Defense Secretary Delfin Lorenzana, National Security Adviser Hermogenes Esperon Jr., and Presidential Spokesperson and Chief Presidential Legal Counsel Atty. Salvador Panelo.
Also present were Constance See, Director-General (Southeast Asia II), Ministry of Foreign Affairs; Peter Tan, Deputy Permanent Secretary (Southeast Asia and ASEAN), Ministry of Foreign Affairs; Chang Li Lin, Press Secretary to PM, Prime Minister's Office; and Jeffrey Siow, Principal Private Secretary to PM, Prime Minister's Office.
President Duterte recognized on Wednesday, November 14, Singapore's warm hospitality and able chairmanship of ASEAN this year.
"We are grateful for Singapore's able chairmanship of ASEAN, which has brought us closer to achieving a resilient and innovative community," the President said during his intervention at the 33rd ASEAN Summit working dinner. ###PND