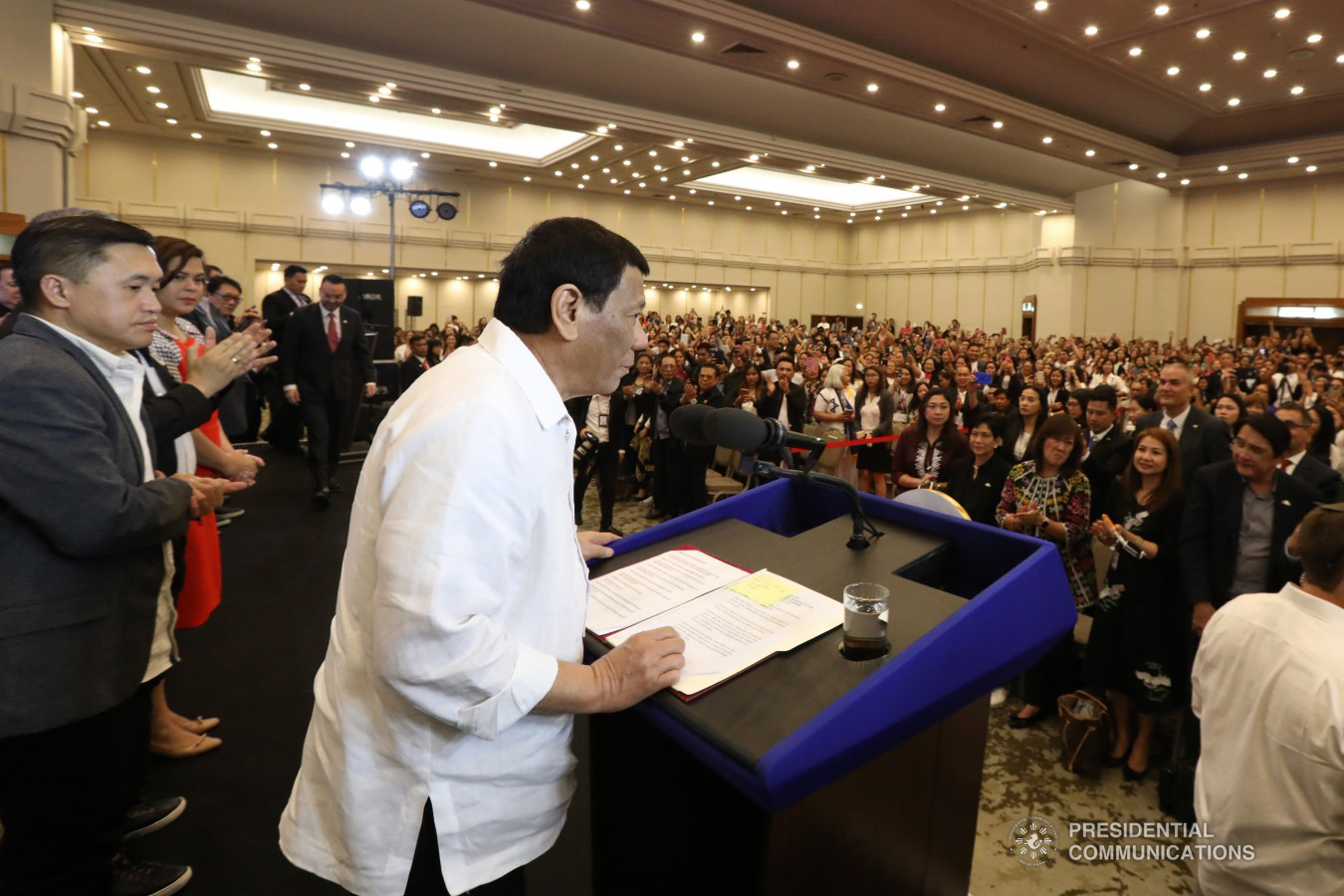 JERUSALEM — President Rodrigo Roa Duterte on Sunday, September 2, 2018, expressed his gratitude to the government of Israel for providing good working conditions to Filipino workers.
President Duterte took the opportunity to thank Israel during his meeting with some 1,400 overseas Filipino workers (OFWs) at Ramada Hotel here.
"First, I would like to thank Israel for inviting me to visit the Holy Land. Second, I would also like to say thank you for hosting so many of my countrymen in the State of Israel," he told the members of the Filipino community as he embarked on his four-day official visit in Israel accompanied by top government and military officials.
The President turned emotional after receiving a "rock star" welcome during his first-ever trip to the Holy Land.
"Alam mo, bihirang-bihira ako umiiyak. I could remember maybe the times that I cried, when my father and mother died. But rare, very rare," he said.
"Ito lang ang bisita ko na maybe I will do it again, I really do not know. But this is the first time napaluha ako na nandito ako sa aking mga kababayang Pilipino," he added.
Duterte said he felt nostalgic when he set foot in the Holy Land, dismissing perceptions that he was an atheist.
"Hindi ko naman sinabing hindi ako naniniwala ng Diyos. Sinabi ko lang, 'ayaw kong maniwala sa Diyos mo'," he stressed.
"I believe in the supreme God that my father and mother passed on to me. So huwag kayong maniwala diyan sa intriga na hindi ako naniniwala ng Diyos. Politika lang 'yan," he added.
The President is in Israel upon the invitation of Prime Minister Benjamin Netanyahu.
Duterte praised Netanyahu for giving the "best care" to more than 28,000 Filipinos working and residing in Israel.
"Iba talaga ang Israel because it knows how to define a human being," he said, adding that the working conditions of Filipino workers in Israel are far better than in other countries in the Middle East.
With the growing number of caregivers going to Israel, the President said he would be discussing with Netanyahu how to "better manage" the influx of Filipino caregivers there.
The two leaders are expected to sign a labor agreement for Filipino caregivers as they meet Monday. The agreement aims to reduce exorbitant placement fees being charged by recruitment agencies to caregivers who want to work in Israel.
"It behooves me to see to it na 'yung mga kababayan kong Pilipino are in the best of health and in a state of living na maganda," he said.
Meanwhile, the President was also glad to note that his daughter, Davao City Mayor Sara Zimmerman Duterte, who accompanied him on this trip, has Jewish ancestry.
"Ang asawa ko Zimmerman. So, one of the few 'yung pumunta sa Pilipinas when there was war in Europe. They were there to seek sanctuary. They were there to avoid the trouble of the times. And my daughter is Zimmerman. One of those descendants nila," he recalled referring to former wife Elizabeth Zimmerman.
The Philippines and Israel are celebrating the 81st anniversary of the Open Door Policy of the Philippines under then President Manuel L. Quezon who provided shelter to around 1,300 Jewish refugees escaping the Holocaust in Europe in the late 1930s.
While in Israel, the President is scheduled to visit the Yad Vashem Holocaust memorial in Jerusalem and the Open Doors monument, which commemorates the Philippines' assistance to Jews during the Holocaust.
Also in his speech, Duterte assured the OFWs that he has been working hard in fulfilling his campaign promises such as eliminating corruption, combatting illegal drugs, fighting crimes, and seeking peace with the enemies of the state.
He stressed that he had installed the best and brightest officials in his administration who would help him in fulfilling his mandate to the people.
"Iyon lang ang mensahe ko basta mahal ko kayo at magpapakamatay ako para sa inyo," he said, eliciting loud cheer from the audience.
Apology to Obama
Meanwhile, in his more than an hour extemporaneous speech, President Duterte mentioned his spat with former United States President Barack Obama, saying that he was ready to bury the hatchet.
Duterte said that he found it inappropriate for Obama to criticize him regarding human rights issues as he has been elected as President of the Philippines, prompting him to curse the US leader.
"Eh sinobrahan niya eh. If you have qualms, if you have complaints against me, go to the United Nations. File your complaint there and ask for a hearing. Hindi 'yan diretsuhin mo ako, you tell in public that I am wrong," Duterte said.
"Well then it would be appropriate also to say at this time to Mr. Obama that you are now a civilian and I am sorry for uttering those words," he continued.
"No, it was just a plain 'talkatise' also like yours. We have learned our lessons very well. Nagkakaintindihan tayo," he said.
"So if it is to your heart to forgive, you forgive. I have forgiven you," he added. ###PND