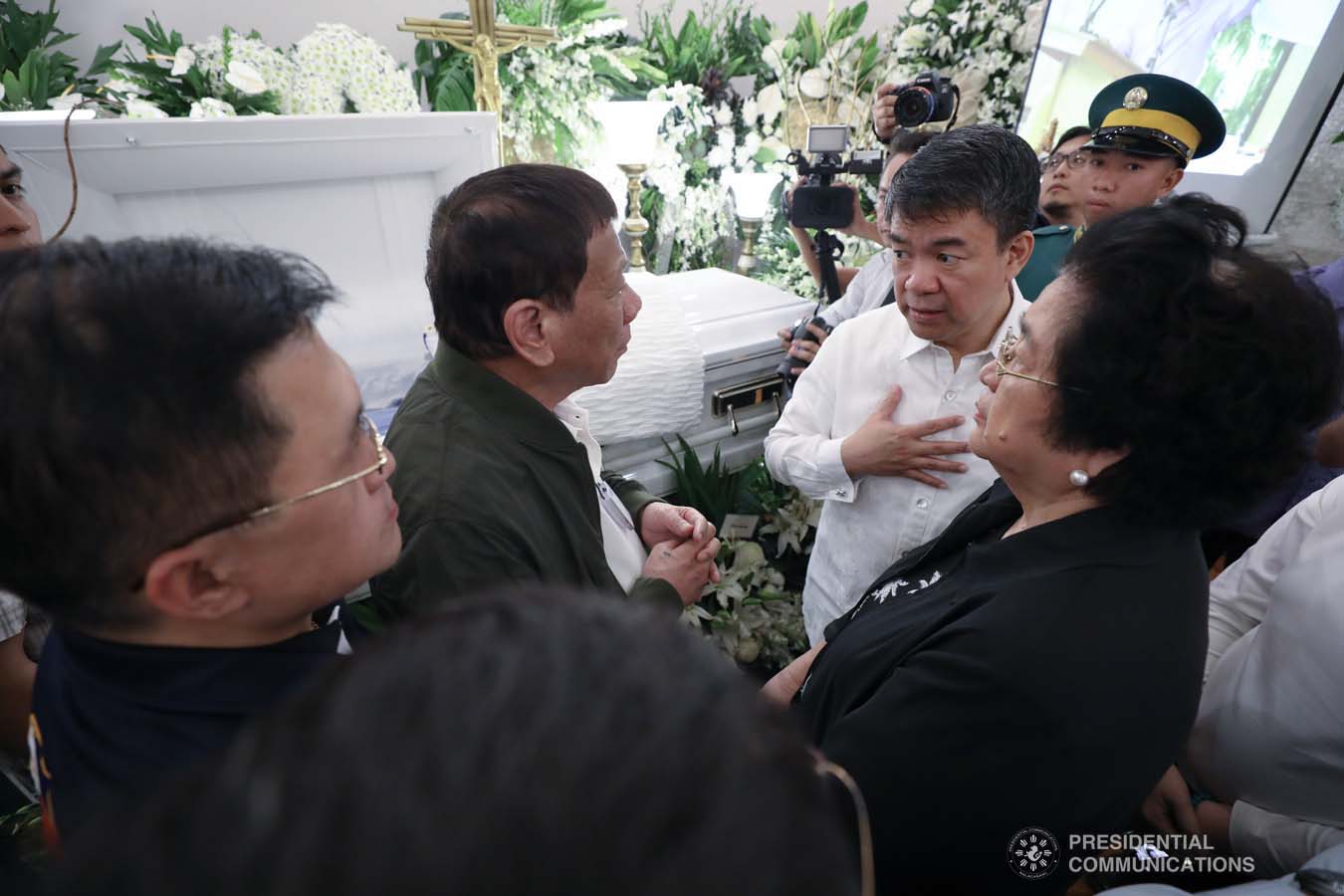 President Rodrigo Roa Duterte on Tuesday evening paid his last respects to former Senate President Aquilino "Nene" Quilinging Pimentel Jr., who passed away Sunday due to complications from lymphoma. He was 85.
President Duterte arrived at 11:04 p.m. at the Heritage Park in Taguig City after returning from Japan to attend the enthronement of the new Japanese emperor.
He condoled with the family, offering his sincerest condolences to Pimentel's wife, Lourdes "Bing" Pimentel, his son Sen. Aquilino Martin "Koko" Pimentel III, and other family members.
Pimentel, known as the "father" of the Local Government Code, was an opposition leader who fought the dictatorship of former strongman President Ferdinand Marcos in the 1970s.
He became a close ally of former President Corazon "Cory" Aquino, the widow of opposition leader Senator Benigno S. Aquino Jr.
Pimentel was originally Cory Aquino's running mate in the snap elections called by Marcos in 1986, but later stepped aside to give way to Salvador "Doy" Laurel.
Before vying for national office, the late senator served as mayor of Cagayan de Oro City in Mindanao from 1980 to 1984. He also co-founded the Partido Demokratiko Pilipino-Lakas ng Bayan (PDP-Laban) and was elected senator in 1987. He served as Senate president from 2000-2001.
Pimentel authored the seminal Local Government Code in 1991, which devolved functions including health care from the national government. Some of his key pieces of legislation were the Cooperative Code, the Philippine Sports Commission Act, the Act Creating the Autonomous Region in Muslim Mindanao, and the People's Small-Scale Mining Act.
He also authored and co-sponsored the Generic Drugs Act and the Act Establishing the Philippine Police under a Reorganized Department of Interior and Local Government.
The late lawmaker was also a staunch proponent of federalism in the Philippines and has vigorously supported the administration's push for the decentralization of power in government.
The remains of Pimentel will be brought to the Senate of the Philippines and to Cagayan De Oro City Hall on Wednesday and will lie in state in his hometown until Friday.
Sen. Christopher Lawrence "Bong" Go accompanied the President Tuesday during the wake visit. PND