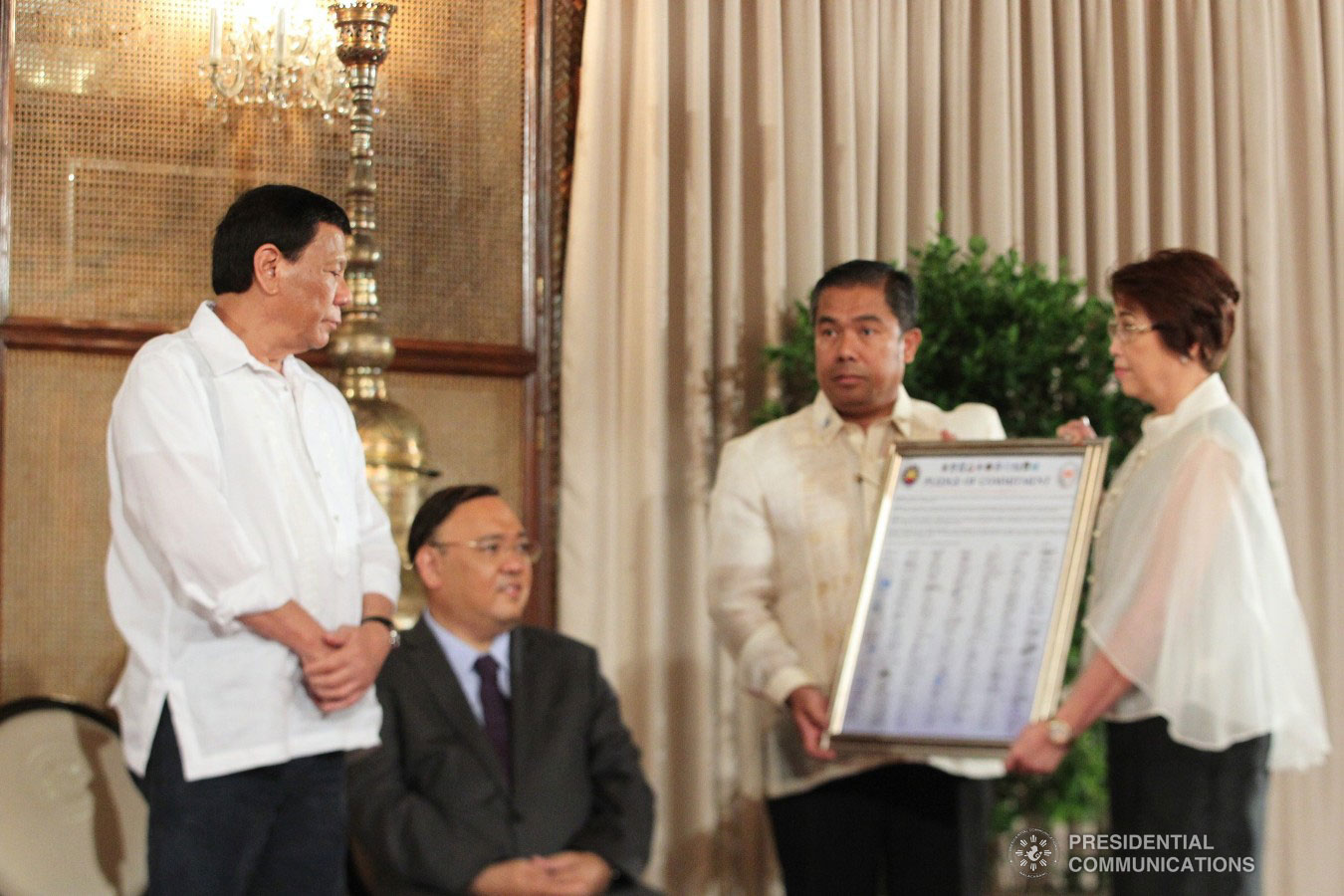 President Rodrigo Roa Duterte on Wednesday, June 13, vowed to further empower the youth by making quality education affordable and accessible to everyone, especially the poor.
President Duterte made this commitment as he witnessed the ceremonial signing of the Memorandum of Agreement (MOA) between the Commission on Higher Education (CHED) and the 112 State Universities and Colleges (SUCs) and 78 Local Universities (LUCs) to launch the implementation of Republic Act (RA) 10931 or the "Universal Access to Quality Tertiary Education Act."
"Education is the single most important legacy that we can bestow upon our youth. It opens doors for countless opportunities that will lead to their further empowerment, greater success and the realization of their individual aspirations," the President said.
"At present, millions of Filipino youth are still having a hard time finishing their studies due to poverty. Many poor students are struggling to go to school simply because they have no money for allowance, transportation, books and projects and for other miscellaneous expenses," he added.
Duterte noted that the signing of the MOA "is a crucial step in helping young Filipinos fulfill their dreams of becoming productive members of our country's workforce through academic degrees and technical or vocational training."
The President also recognized the valuable efforts of Congress, CHED, TESDA, and other state universities and colleges, local universities and colleges, technical vocational institutions, and other partners for making free quality tertiary education for all a reality.
Aside from broadening the access to tertiary education, the President said that the government would prioritize improving the quality of education in the country.
"As we bring education closer to poor students, we must also ensure that the quality of education is not compromised and that its benefits are cascaded to all," Duterte said.
"I therefore ask our state and local educational institutions, our esteemed teachers, administrators and everyone involved in the effective and efficient implementation of RA 10931 to do your best in fulfilling your respective mandates under this law," he said.
Duterte said encouraging the youth to finish their studies will keep them away from being involved in crime and illegal drugs.
"One of the reasons why I'm really so passionate in my advocacy sa drugs pati crime and criminality is my constant — our constant worry about the tomorrow of our children," he said.
"This is why we have made it a priority to make quality education affordable and accessible to all," he said.
According to CHED officer-in-charge Prospero de Vera, more than 800,000 students did not pay their tuition in June 2017 while close to 1.3 million students will not pay tuition and miscellaneous fees this year.
Out of the 1.3 million students, 300,000 students from the 4Ps program will be given additional subsidy by the government.
Last August 3, 2017, President Duterte, signed into law RA 10931, specifically strengthening and mandating the Unified Student Financial Assistance System for Tertiary Education (UniFast), an agency created under Republic Act No. 10687, to implement all the identified programs stated in RA. No. 10931.
This program and the student loan program under RA. 10931 are expected to aid around 1.3 million students with an at least P50 billion allocation budget.
Students in state universities and colleges, local universities and colleges and technical-vocational schools will be exempted from paying tuition fees and miscellaneous fees. Honoraria of trainers in tech-voc schools are also waived.
The President witnessed the signing with Presidential Spokesperson Harry Roque, Jr., Albay Rep. Joey Salceda, Sen. Sherwin Gatchalian, and Zamboanga Sibugay 2nd District Rep. Ann Hofer. PND ###