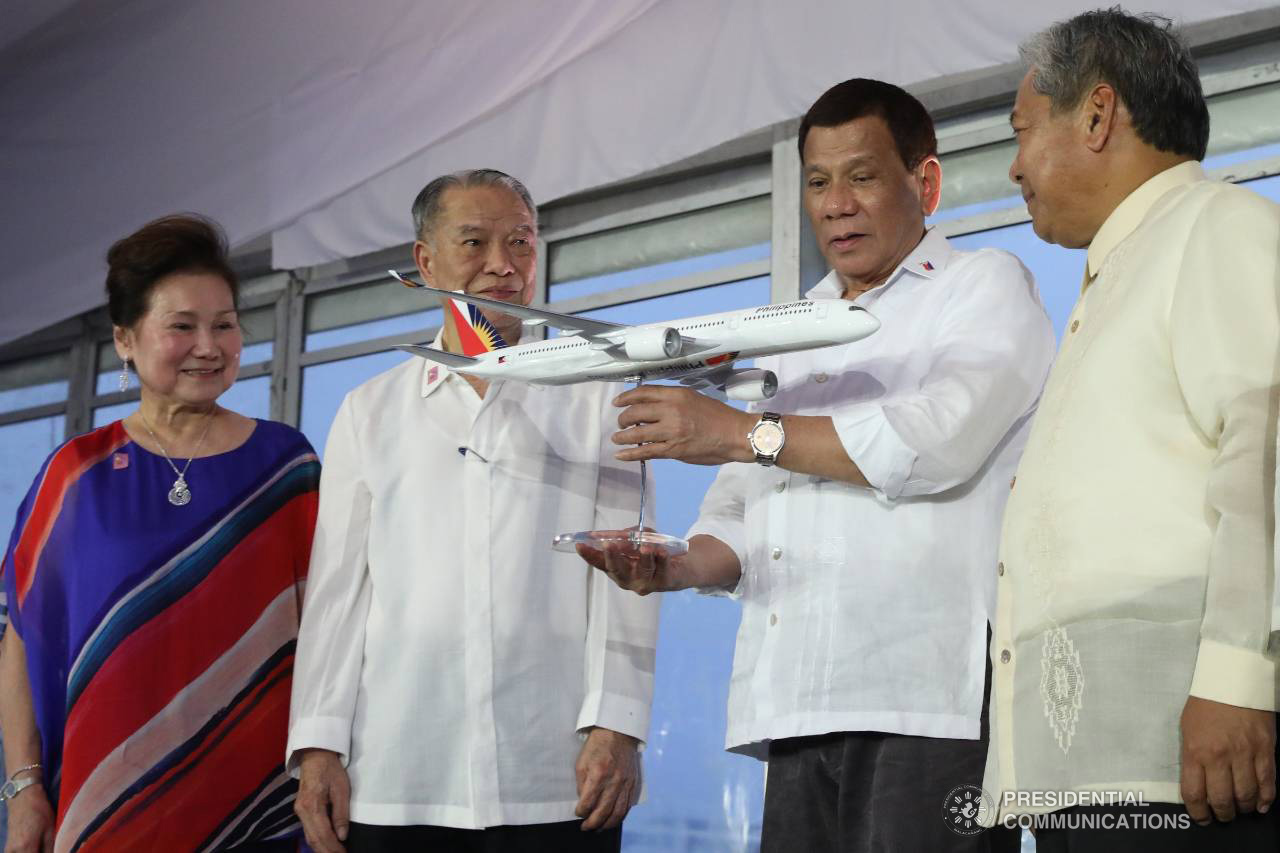 President Rodrigo Roa Duterte on Tuesday, July 17, led the traditional ceremonial welcome for the brand-new planes of Philippine Airlines (PAL), noting that the flag carrier's recent achievements and initiatives will encourage more tourists to travel to the country.
During the roll-out ceremony for PAL's Airbus A350 XWB and A321neo, he commended the airline for its efforts to deliver quality flight experience to all its passengers by modernizing its fleet, expanding its reach, and providing "wholehearted care that is distinctively Filipino."
"I note that all of the airline's recent accomplishments and existing initiatives will encourage more people to travel to the Philippines, thereby boosting our tourism industry," the President said in his speech at Villamor Air Base in Pasay City.
The flag carrier said the event marks a historic milestone in the Philippine aviation as two of the most advanced commercial aircraft join PAL's fleet, allowing it to operate longer-range routes to North America, Europe, and Asia-Pacific regions.
The Chief Executive stated that the tourism sector is full of exciting opportunities that do not only showcase the Philippines' unique heritage but also serves as a crucial instrument for the development of the livelihood of the people.
At the same time, Duterte enjoined PAL and the rest of the private sector to continue supporting the government as it lays down the groundwork for a better and more prosperous society.
"I assure you that you will have my full support as you realize your vision of becoming a world-class airline. I urge you to join me in bringing real and lasting change for the benefit of our country and people," he said.
Meanwhile, President Duterte also expressed his "profound gratitude" to PAL and Cebu Pacific for helping the government in bringing home distressed Filipinos from Kuwait.
"And I requested, though we had the money then, Philippine Airlines and Cebu Pacific to fly to Kuwait and bring in some of our countrymen who were there in distress," he said.
"And I hope that somehow, the government can return the favor in the days to come. Salamat po sa lahat ng ginawa ninyo para sa ating mga kababayan," he further said.###(PND)