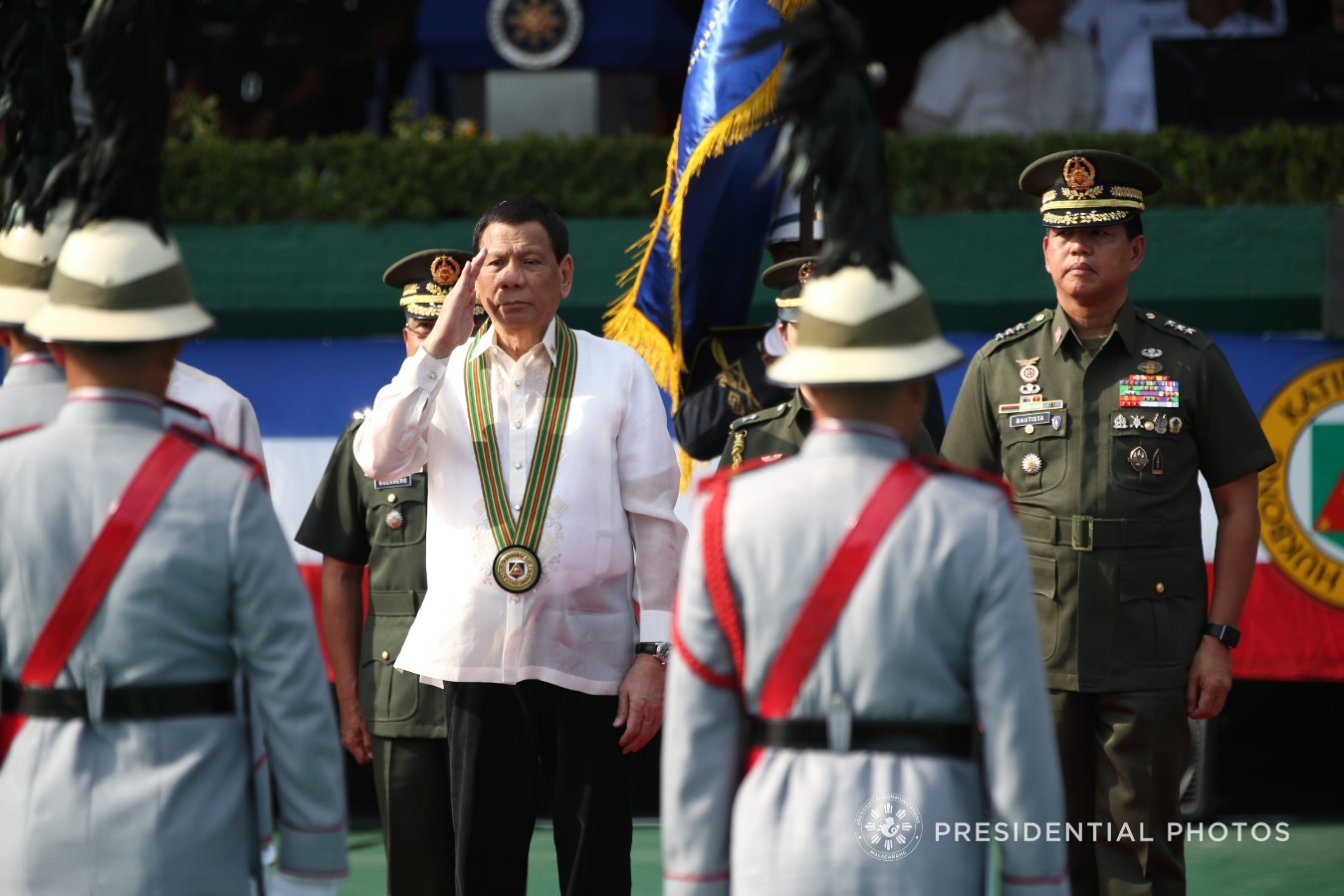 President Rodrigo Duterte on Tuesday, March 20, recognized the sacrifices of the county's soldiers during the Philippine Army's 121st founding anniversary, assuring them of his administration's unrelenting support.
In his speech at the Philippine Army headquarters in Fort Bonifacio, President Duterte particularly mentioned the military's five-month offensive against the ISIS-linked Maute group in Marawi City.
"A year after, you continue to play a crucial role as we rebuild the city and endeavor to ensure that our fellow citizens are able to live in an environment of peace and stability," the President said.
"Your continuous internal security operations in Mindanao and the rest of the country have allayed our people's fear of any possible resurgence of these terrorists," he said.
As the Army continues with its growth and progress, the President said expressed confidence that it can attain its vision of a modern and world-class military force.
"The Filipino people are eternally grateful for your service and sacrifice for our nation. I have said before, as [long] as you perform your duties according to the rule of law, I will take care of your needs," he said.
Part of this support is the implementation of the Second Horizon of the Revised AFP Modernization program, with the President assuring the soldiers that the government is doing its best to ensure that men and women in uniform are provided with benefits and proper equipment to perform their duties.
"As you celebrate 121 years of service and sacrifice for the Filipino people, let me take this opportunity to thank and honor every member of the armed forces, past and present, for your selflessness, heroism and faithful service to the Republic," he said.
Tuesday's event highlighted the Army's latest capabilities, particularly its weapon system, communication technology and mobility.
The Army also showcased its humanitarian assistance and disaster response, combat service support, tracked and wheeled armor services as well as its special operations forces.
The President also led the awarding of the Army's exemplary personnel who performed in various fields and capabilities.
Twenty personnel were conferred the Order of Lapu-Lapu for their exemplary dedication to service. Twenty one other personnel were conferred the Distinguished Star, Gold Cross Medal, Silver Cross Medal, Military Achievement Medal, and the Gawad sa Kaunlaran as well as the Bronze Cross Medal, among other awards.
The Philippine Army traces its heritage to the revolutionary army formed by Filipino freedom fighters in 1892 against the Spanish colonial rule. In 1935, the National Defense Act was passed into law, paving the way for the birth of a modern and organized Philippine Army.
From 1941 to 1966, the Philippine Army was involved in various campaigns such as the World War II, the Korean War, and the Viet Nam War. ###PND