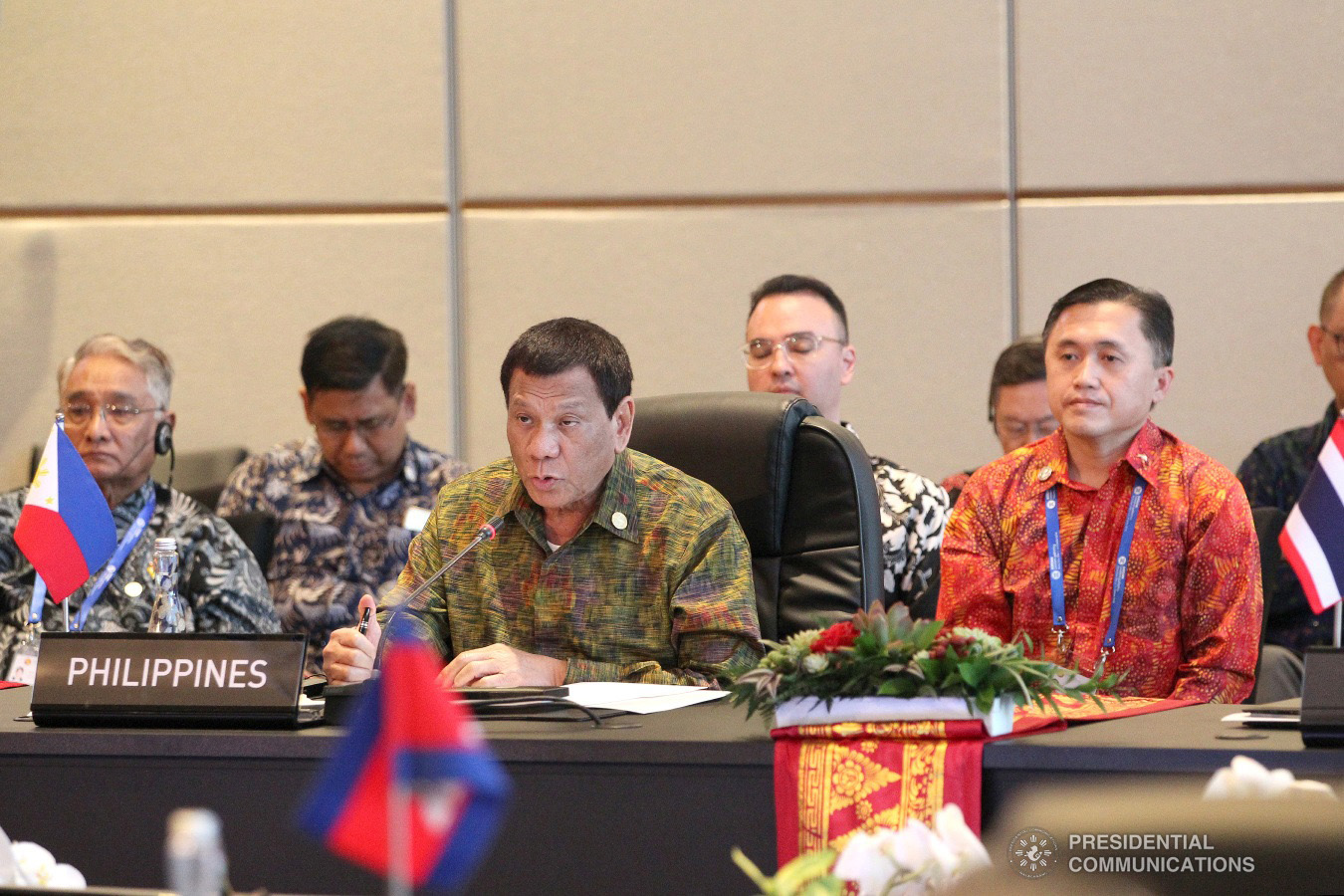 BALI, Indonesia — President Rodrigo Roa Duterte on Thursday, October 11, urged the Association of Southeast Asian Nations (ASEAN) leaders to stand as a united and stronger regional community to achieve the objectives set for the 2030 Sustainable Development Goals (SDGs).
"Today, I say, ASEAN should be bold enough to invest in ourselves. A stronger ASEAN is key to unlocking the potentials of the ASEAN Economic Community," President Duterte said during his intervention in the ASEAN Leaders' Gathering at Sofitel Bali Nusa Dua Beach Resort here.
"As our economies grow, we should look at each other as our natural economic partners, intensifying trade and increasing direct investments within the ASEAN region," he added.
The Chief Executive underscored that only a stronger ASEAN would allow the regional bloc "to effectively deal with regional and global economic powerhouses."
"And only a stronger ASEAN can take on opportunities that are only available to the many that work together. This, so the world can see that ASEAN is worth investing in. This, so global institutions should rightly support us in achieving our goals," he said.
The President expressed optimism that ASEAN could achieve or even surpass the achievements of other regional blocs by stepping up ASEAN-centered efforts to bring down collective trade and investment barriers.
President Duterte cited the Philippine government's efforts to achieve sustainable development and inclusive economic growth in the region.
He said the Philippine economy is "on an upward trajectory of growth," and his administration is "investing in its future" by innovating and creating resilient trade and investment policies to drive growth such as the Build-Build-Build Program.
"We have embarked on an ambitious Build-Build-Build Program that can support domestic consumption and cushion the impact of decreased external demand," he said.
He further emphasized his commitment to practice good governance, address corruption, and maintain peace and order by securing the nation from criminal elements and terrorist threats.
Likewise, he said that the ASEAN's economy has a "steady growing path" and the region is "connecting more with the world."
Last year, the ASEAN's trade increased by almost 15 percent, and the Foreign Direct Investment also grew by nearly 12 percent. The ASEAN intra-regional trade and investment linkages also continue to strengthen.
The President, however, said the ASEAN must address the challenges facing the region such as escalating trade tensions, protectionism, terrorism and violent extremism, transnational crimes such as the illegal drugs trade, and destructive natural calamities.
Toward the end of his remarks, President Duterte reiterated his sincere sympathies to the Republic of Indonesia after the tremendous loss of lives and extensive damage to property caused by the 7.5 magnitude earthquake and tsunami last month.
The Philippine government has extended support to Indonesia by providing $500,000 in cash and in-kind humanitarian assistance consisting of generators, water, and medical kits.
The President said while Indonesia is rebuilding and rehabilitating its communities after the calamity, the nation "does not stand alone."
"Your brothers and sisters in ASEAN stand with you. In responding to disasters, Southeast Asia has declared: One ASEAN, One Response. And we have done so," he said.
"This should be our rallying call, not only in times of disasters but, indeed, as we strive to move our region forward to genuine growth, inclusive development, and one resilient ASEAN community," he added.
After the Leaders' Gathering, the President and his counterparts attended the gala dinner hosted by Indonesian President Joko "Jokowi" Widodo.
At the sidelines of the event, President Duterte had separate meetings with President Widodo and Vietnamese Prime Minister Nguyen Phuc. ###PND