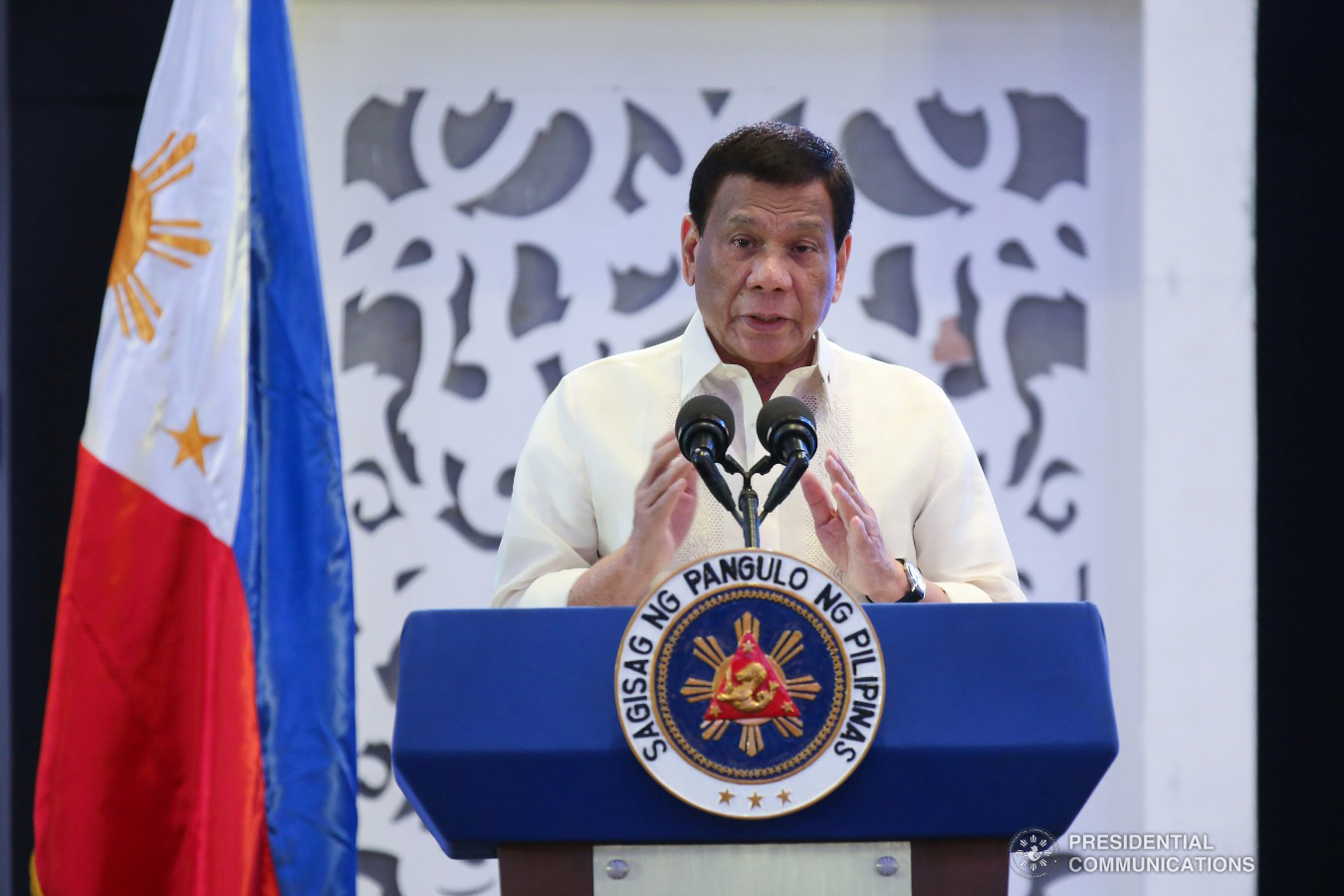 MANILA — President Rodrigo Roa Duterte on Tuesday, February 26, graced the League of Municipalities of the Philippines General Assembly 2019 at the Fiesta Pavilion, Manila Hotel.
In his remarks, President Duterte called on all the municipal mayors at the assembly to work together with the national government, reassuring them that he would protect them if they get into trouble.
"Magtulungan tayo. 'Pag napasubo kayo performing your duty as Mayor… Ito totoo 'to, if you commit something…the other agencies may characterize it as a crime but if you do it in accordance with the law… Ako, I cannot promise you all for General Año, he has his own mind, pero sa akin kung mapasubo ka, tutulungan kita," President Duterte said.
"You can explain it clearly to us. We would always be on your side and I will defend you. No problem sa akin. Just do your duty," he added.
The Chief Executive, on the other hand, warned mayors who may have been involved in the illegal drug trade, particularly shabu, to stop their unlawful businesses.
He then reiterated his warning to hunt them down in the last three years of his term.
"This is my message that I would want you to just reecho, maybe when you go home. The last three years of my term ngayon would be the most dangerous years for people who are into shabu," President Duterte said.
Crafting a new deal for the Moro National Liberation Front
During his speech, the President shared his meeting with Moro National Liberation Front (MNLF) Chairman Nur Misuari on February 25 in Malacañang. According to President Duterte, their meeting intended to boost peace efforts in Mindanao.
"He [Misuari] saw me last night. He was not allowed by the court to go out because he has pending charges when he was armed. So I had to make some arrangements. Sabi ko, this is a personal request of me, which I do not do at any time, at any other time. Sabi ko, papasukin — ah palabasin ninyo," he said.
"So he went to see me last night. Whenever we see…we embrace each other because I consider him a brother. Tapos sabi niya, 'papuntahin mo lang ako, babalik ako.' Sabi ko, 'Fine. You have done that several times. You can go.' So nag-courtesy call siya tapos umalis siya," he added.
In their meeting, albeit short, he said the government decided to create a new deal for the MNLF.
"Kaya sabi ko itong kay Nur, areglo tayo dito. Sabi ni Nur, he is willing to talk, and he has waited this long for me to make a decisive decision when he comes back. Nandoon man sila kagabi dalawa [Año, Lorenzana]. Sabi ko, 'time for us to craft a new deal for the MNLF of Misuari,'" he said.
The President also said that he assigned Interior Secretary Eduardo Año, Defense Secretary Delfin Lorenzana, and Office of the Presidential Adviser on the Peace Process Secretary Carlito Galvez Jr. to craft the deal with MNLF.
He stated that Misuari had no intention to fight against the government, but rather negotiate and have talks. The President acknowledges the significance of MNLF to promote lasting peace in Mindanao, and he is always trying his best to fulfill this promise to the people.
"Iyan, kailangan pa natin 'yan. And…but they are revolutions driven with territorial intentions or objectives. Ngayon, kung naplantsa mo 'yan and we are able to talk to them, you must understand Philippine history and the core of what ails this country," the President noted. ###PND