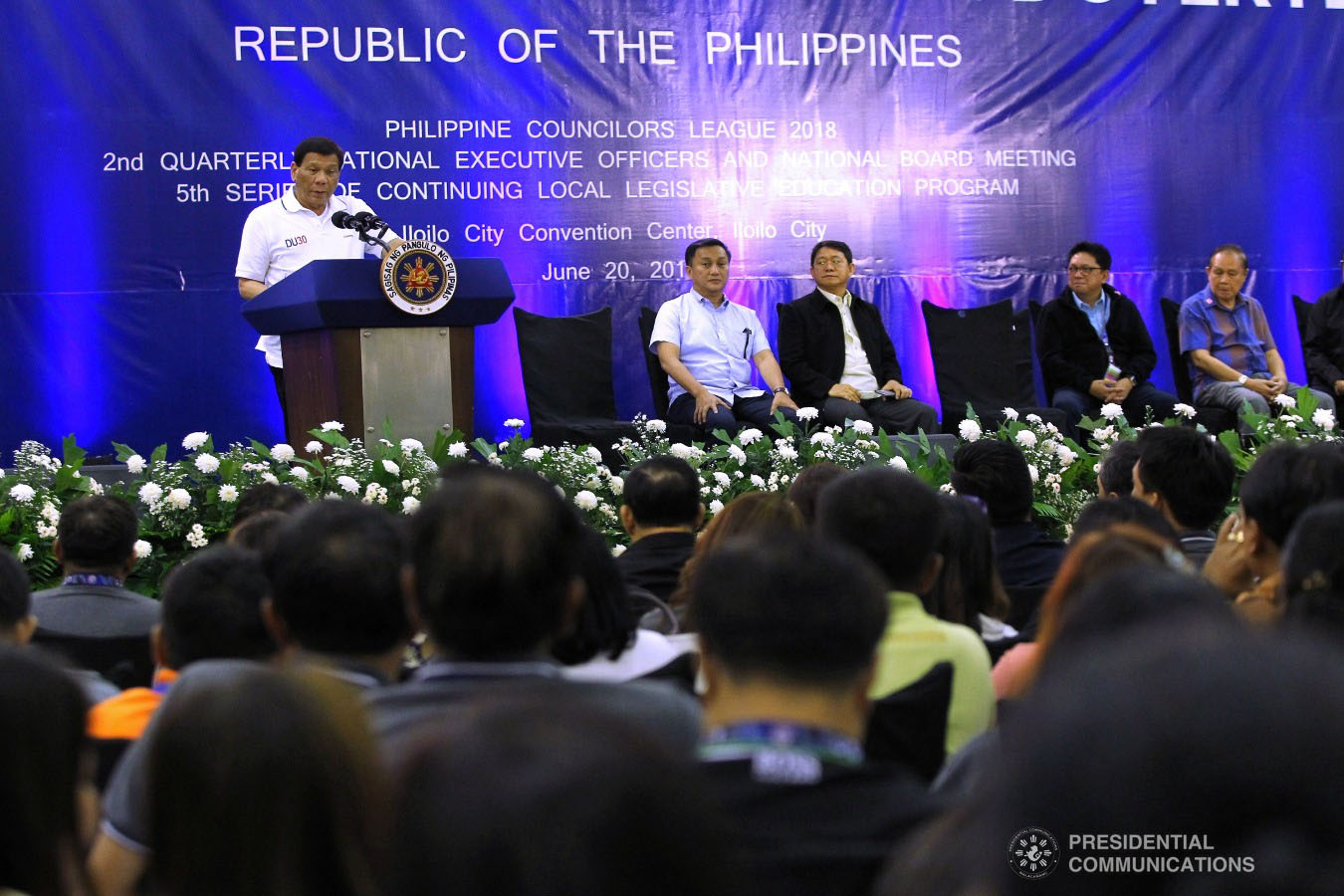 ILOILO CITY—President Rodrigo Roa Duterte on Wednesday, June 20, assured that funds for public projects are equally distributed across the nation under his administration.
The President also assured that he is continuing the projects started by his predecessors.
"In the scheme of things now, if you are just worried about the distribution of the wealth of the nation in form with budget and what you get. Ah wala ho kayong problema diyan," President Duterte said in his speech during the Philippine Councilors League's 2nd Quarterly National Executive Officers and National Board Meeting and Continuing Local Legislative Program at the Iloilo Convention Center here.
The President said that he has instructed his officials to ensure that good projects started by his predecessors will continue, adding that he has set aside politics to ensure public welfare.
"I have always instructed and that is my standing instruction all the way until matapos ako, God willing. Ah meron 'yang national plan and I think it was Arroyo's time sabi ko pati 'yung kay Aquino, kopyahin lang ninyo 'yan and distribute the public works, money equally all throughout," Duterte said.
"'Yung mga projects with — na importante according to NEDA — the previous NEDA and all the succeeding studies, tinapos ko po," he added, noting the completion of the Cebu – Mactan International Airport Terminal 2.
According to the President, his administration is completing the Panglao Airport in Bohol and making improvements in the Clark International Airport.
"Baka 'yung airport ninyo would need upgrading because you're getting a lot of foreigners now. You have outpaced everybody including Davao. Ako maligaya ako. Anything that improves anywhere in the Philippines," Duterte said.
"Wala na kasi ako sa politika. Mine is just to say that everything is fair na walang ano. Hindi ako nakikialam po. Hindi ka magpunta sa akin na ano… I'll just refer you to NEDA and say that if it is good for the place, probinsiya mo di hingiin mo. Then I'm sure NEDA would start to study the pros and cons; and if you deserve it, you get it," he said.
President Duterte: I respect the Church
In the same speech, President Duterte assured the Church that he is not against the priests and the Church.
"Wala kaming policy na galit kami sa pari o… Nothing of the sort. As a matter of fact, nirerespeto ko 'yung simbahan," Duterte said.
He said he wants the Catholic prelate to stop thinking that he is behind the killings of priests.
"Ang akin lang mahinto lang itong… There are a few bishops na medyo 'yang sabi nila parang nili-link nila ang gobyerno. Hindi ko… Sa totoo lang, hindi ko kayang magpatay ng pari pati babae, bata. Pero 'yang matanda lalo na drug lord kita, eh with pleasure. Oo, totoo. Lalo na 'yung mga bigtime," Duterte said. PND