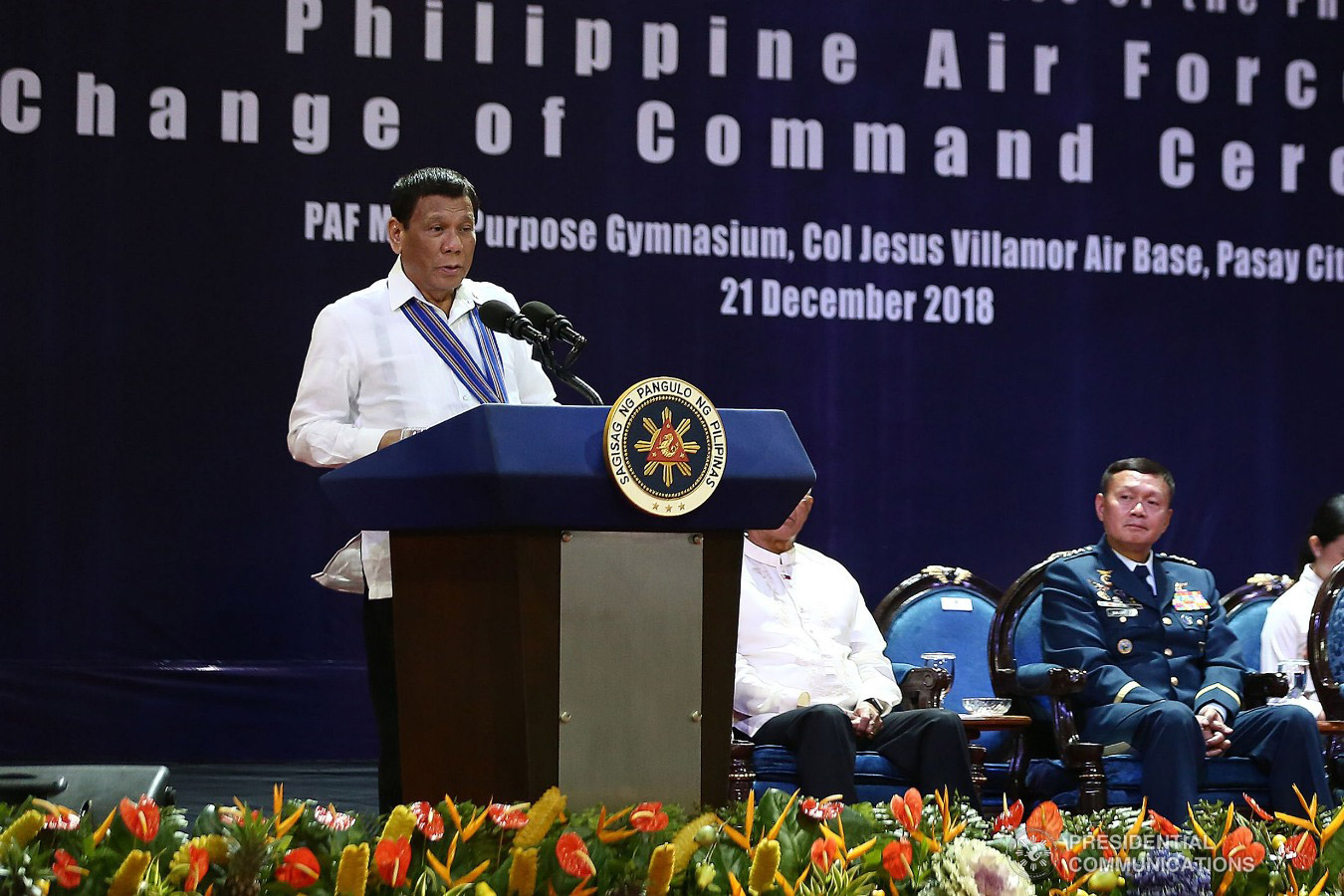 PASAY CITY — President Rodrigo Roa Duterte on Friday, December 21, announced the appointment of retired Philippine Air Force Chief Lt. Gen. Galileo Gerard Kintanar Jr. to head the Philippine Coconut Authority (PCA), as Congress crafts law for the return of the multi-billion Coco Levy Fund to Filipino coconut farmers.
In his speech during the PAF change-of-command at Villamor Air Base, the Chief Executive said that the Coco Levy Fund is now more than P100 billion including its interests. President Duterte said, "And I want somebody — kailangan ko ng tao na talagang above the rest of the crowd. Taong malinis kasi bilyon 'yan. Huwag sanang mawala. At kung hindi man lang maibigay doon sa mga tao na karapat-dapat maghawak sa pera, then you might as well reserve that money for the future generation of farmers."
"Kaya sinasabi ko when we were conferring in the Cabinet, I was looking for a candidate to be the chairman who should be someone na talagang maasahan ko na walang mawala maski piso," he continued.
The President admitted that even though he does not know much about General Kintanar, he was already "eyeing him" to fill the position.
"When the time comes and if I can get the mechanisms of how the money will be distributed to the beneficiaries and if I look for somebody na talagang makita ko na ang pera ng Pilipino hindi mawawala, it should be the retired General Kintanar," he said.
During the event, the President praised Kintanar for accomplishing the Air Force's mission, especially in its efforts to fight insurgency and terrorism.
Under his watch, the PAF in coordination with other units of the Armed Forces of the Philippines and other agencies, many terrorists have surrendered or have been arrested, numerous firearms were recovered, a drug laboratory was dismantled, many drug personalities were captured, and millions worth of illegal drugs were seized.
"During his tenure, General Kintanar has proven his commitment to duty as highlighted by his valuable contributions in ensuring security during the rehabilitation of Marawi, as well as the humanitarian and relief assistance during typhoons and disasters throughout the year," the President said.
"All these attest to the exemplary leadership of General Kintanar and the collaborative efforts of the valiant men and women of the Philippine Air Force," he added.
President Duterte also rallied support for the new PAF Chief, Lt. Gen. Rozzano Briguez, as the country continually faces multiple security threats.
"I trust that you will continue the Air Force's advancement through reforms and modernization programs that will transform the organization into one that is responsive to national security and development, and a credible external defense force," he told General Briguez.
He underscored the importance of engaging all stockholders and communities in fighting insurgency.
Abolition of Road Board
Meanwhile, amidst the controversy in Congress concerning the Road Board, President Duterte announced that he is keen to abolish it, noting that Road Board is the "milking cow" of corrupt politicians.
He then stressed that since the beginning he assumed office, he was "wary" about the graft-ridden Road Board.
"You know there's a little bit of a ruckus there in Congress regarding the abolition or the continuance of the road user's tax — board. I believe that the Senate has decided the right thing and has stated that the road tax — board has been dismantled," he said.
"Ever since I assumed office, I've always been wary about this office because it has been the milking cow of people who are corrupt in government. Ever since I've really questioned the existence of this office. It's nothing but a depository of money meant for corruption. Walang ibang purpose 'yan," he added.
President Duterte also said that it is time to return its function to the Department of Public Works and Highways.
He also explained that this issue was already been discussed to House Speaker Gloria Macapagal Arroyo; however, his stance about the matter seemed misunderstood by House Majority Leader Rolando Andaya Jr.
"I had a talk with president Arroyo and apparently there was a misunderstanding because all along I really wanted to abolish the road tax. And Andaya says now that I — was one of those who said that it should be maintained. No, nagkamali sila doon," he noted.
"My feelings about that board is — was at the strongest against it being there. Kasi walang ginawa 'yan kung hindi ma-corrupt. And I see now that it's about time na buwagin nila 'yan because if not and if I side, which I am on the side of the Senate, it would create another constitutional issue and maybe another crisis," he added.
The President reminded those who are involved in prioritizing the public's interests, "Please, if it's good for the people, it's good for the trust reposited on the people by government employees… better just go ahead and abolish it."###PND