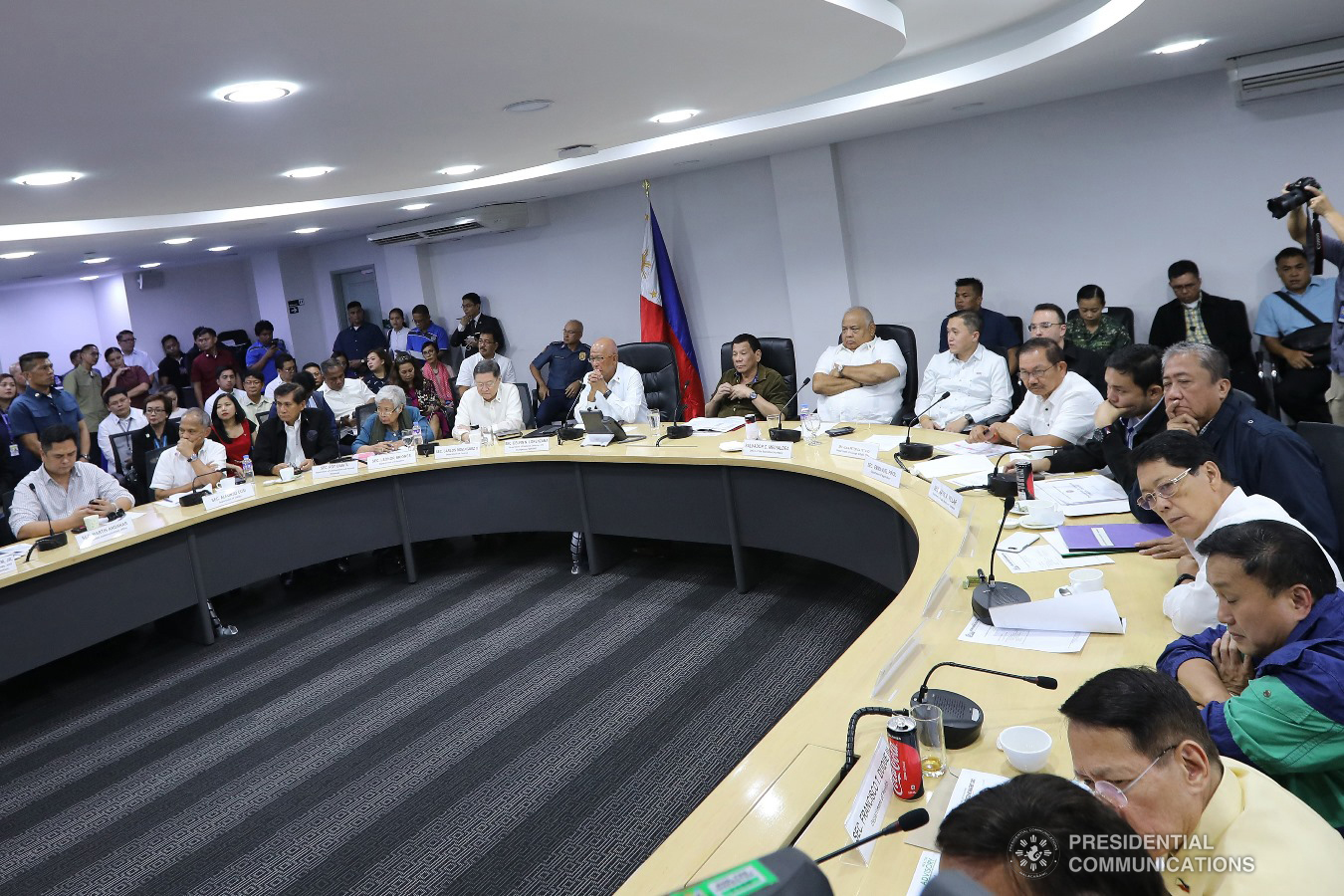 QUEZON CITY — President Rodrigo Roa Duterte on Thursday, September 13, presided over the National Disaster Risk Reduction and Management Council (NDRRMC) command conference for Typhoon 'Ompong.'
Before the conference started, the President inspected the facility and equipment of the NDRRMC's Command Center on the second floor of the NDRRMC's Operations Center in Camp Aguinaldo, Quezon City.
Dr. Vicente Malano, administrator of the Philippine Atmospheric, Geophysical, and Astronomical Services Administration (PAGASA) started the conference by giving an update on Typhoon 'Ompong' (international name: 'Mangkhut'), and the areas that will be affected, especially Northern Luzon.
The Chief Executive then decided to send some cabinet secretaries to areas that will most likely be hit by the typhoon to monitor the situations there. "I cannot be everywhere and anywhere," he said.
Some of the secretaries the President mentioned were Labor Secretary Silvestre Bello III and Transportation Secretary Arthur Tugade.
"Kasi taga-roon sila eh. Bello is from Isabela. Tugade is from Cagayan. So it's indeed proper — tama nga sila, sabi nila I would need a face there. So tutal taga-roon man sila, I told them to go there," he said.
Moreover, during the command conference, the President proposed to his secretaries that there should be one central line for all departments and another one for the armed personnel.
He also suggested that it is better for them to use satellite phones because cellular networks are not reliable during calamities.
"During a crisis, 'pag puno ang tawagan, nag-overheat ang cellphone. Hindi makatawag. The use of cellphones becomes inutile at some point," he pointed out.
Subsequently, he then designated Presidential Adviser on Political Affairs Secretary Francis Tolentino as the "conduit" or point-person for the preparations and disaster response on Typhoon 'Ompong.'
"Everything that needs to be done is nandoon na. So all he has to do is to report to me the progress of the — whatever is being presented by the typhoon there in those places," the President explained.
After the conference, the President faced the media and answered some of their questions.
Still, regarding Typhoon 'Ompong,' the Chief Executive assures the public that the government's preparation is adequate for the typhoon's possible onslaught with a disaster fund of almost P2 billion.
When asked by the reporters if the government is willing to seek assistance from the international community, President Duterte said, "It would depend on the severity of the crisis. If it flattens everything, maybe we need to have some help. And if there are countries who are well-meaning… Pero wala pa naman. It's too early to speculate."
Meanwhile, according to President Duterte, he might be monitoring the typhoon in Davao or Surigao. ### PND