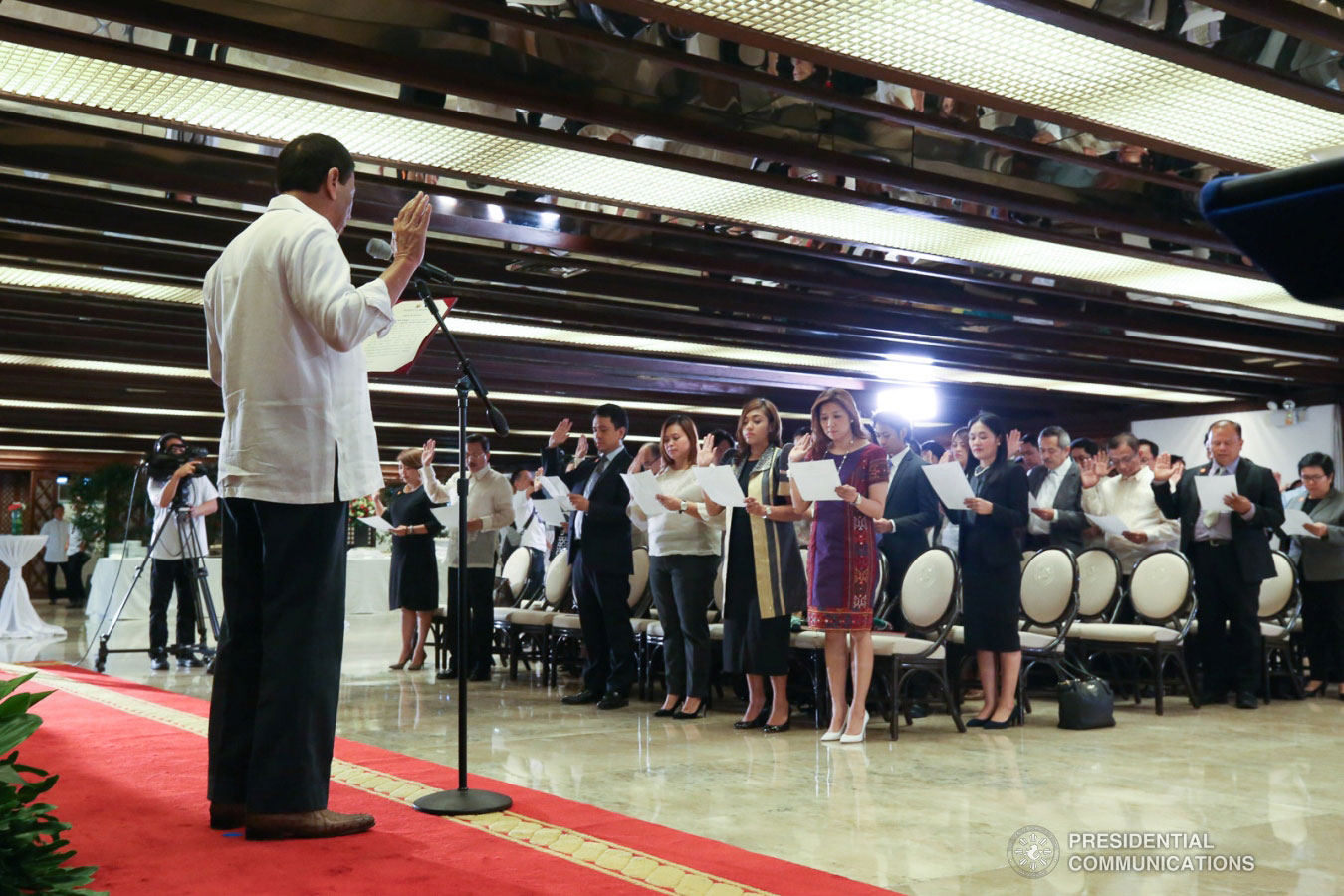 MALACAÑANG — President Rodrigo Roa Duterte on Wednesday, September 12, spearheaded the mass oath-taking of the new Presidential appointees.
The Chief Executive expressed his gratitude to the new officials for answering the call of public service and asked them to provide honest and genuine services for the benefit of the Filipino people, and to make a difference in their lives.
"It is my sincere hope that as you take your respective oaths of office, you will not just become dedicated civil servants, but also effective agents of change in your respective departments and agencies," President Duterte said during his speech at the Heroes Hall.
He told the appointees to fully utilize their skills, knowledge, and expertise in realizing the government's vision of creating a better and brighter future for all.
"With you as part of this administration, I am confident that we can overcome the challenges we are now facing as a nation," the President said.
President Duterte also reminded them to uphold their honor as public servants, and not to be tempted by activities that would taint their dignity and integrity. He then explicitly mentioned graft and corruption.
"Alam mo, I hold it as an article of faith. But for as long as there is really corruption in the government— malalim, as deeply as we are now. Lahat kasi ng departamento, every purchase, everything, meron talagang kalokohan 'yan. And that prompted me to say at one time that, 'hindi ko na kaya 'to habulin,'" he said.
"I also encourage you to remain steadfast in fulfilling your oath to be ethical and honorable government workers," the President added.
Additionally, the President enjoined the officials to take part in enforcing mechanisms that will preserve, protect, and uphold the rights and freedom of the Filipino people as the country forges a more inclusive, responsive, and participatory government that looks after its citizens.
"You are the embodiment of this administration's dedication to accountability in governance," he said.
"Be assured as well that I am with you as you lead with integrity, serve with compassion, and advocate noble initiatives that will promote sustainable development and lasting progress in the years to come," he added.
There were about 100 new Presidential appointees from various departments of the government who participated in the mass oath-taking.
Accompanying the President during the event was Executive Secretary Salvador Medialdea, Presidential Communications Operations Office Secretary Martin Andanar, and Office of the Special Assistant to the President Secretary Christopher Lawrence "Bong" Go. ### (PND)