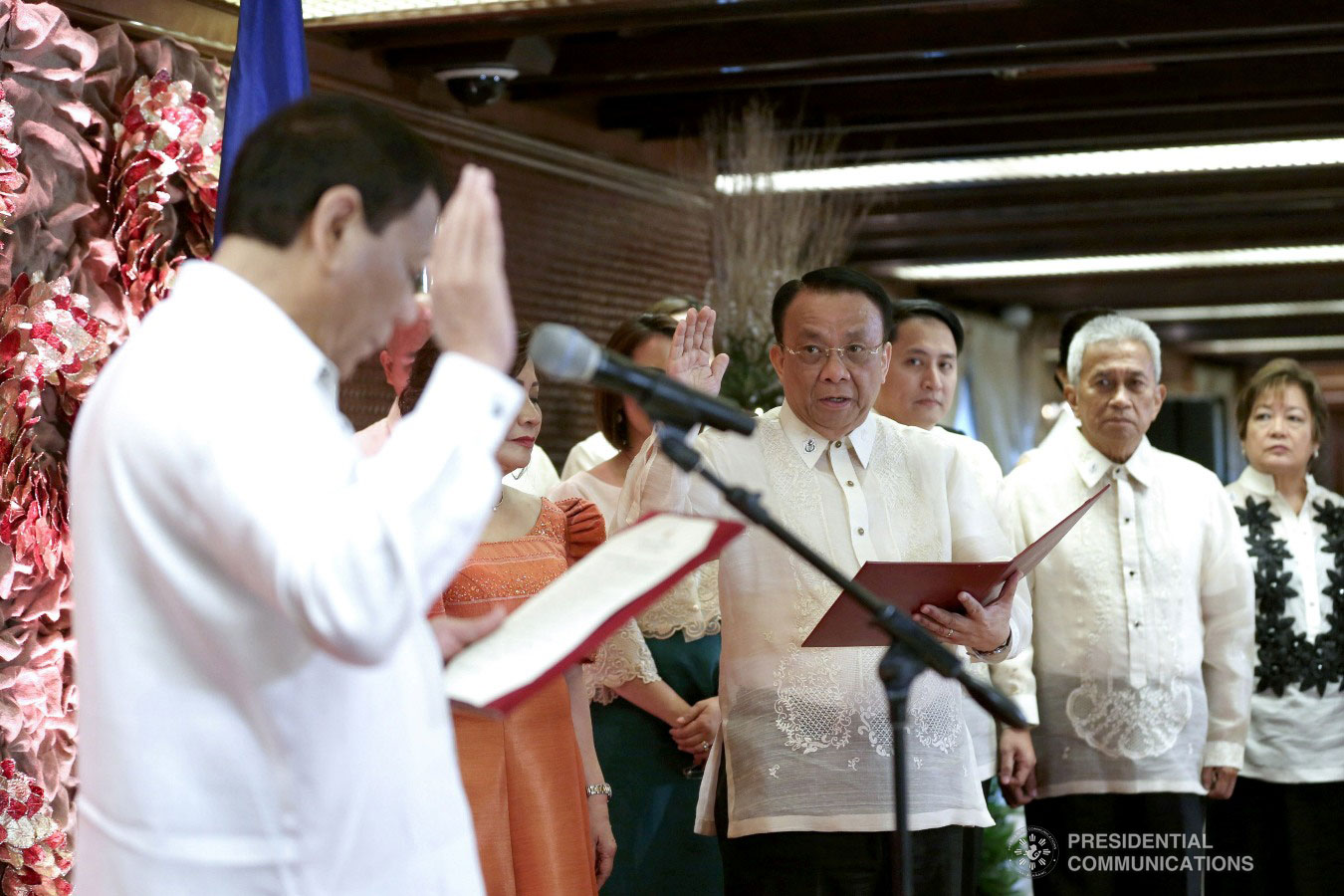 MALACAÑAN — President Rodrigo Roa Duterte on Tuesday, December 4, administered the oath of office for newly appointed Supreme Court Chief Justice Lucas Bersamin
During the ceremony, Chief Justice Bersamin was accompanied by his family at the Heroes Hall.
The President appointed Bersamin to replace former Chief Justice Teresita Leonardo-De Castro who retired last October 8.
Bersamin was appointed as the country's top magistrate on his 9th year in the Supreme Court last November 26, 2018.
President Duterte appointed Bersamin being one of the most senior in the judiciary. Bersamin has been a trial court judge since November 1986.
Apart from Bersamin, Associate Justice Ramon Paul Hernando and Associate Justice Rosmari Carandang were also sworn in on this day.
Supreme Court justices and members of the Judicial and Bar Council of the Philippines were also present during the oath taking.
Mass oath-taking of newly appointed officials
Immediately after the swearing in of the top officials of the Supreme Court, the President led the mass oath-taking of 49 newly appointed government officials, composed mostly of Regional Trial Court Judges, State Prosecutors, and State Solicitors
Among the newly appointed officials included in Tuesday's oath-taking ceremony were Presidential Communications Operations Office Undersecretary Raquel "Rocky" Tobias, Civil Service Commissioner Aileen Lourdes Abella Lizada, National Anti-Poverty Commission Lead Convener Noel Kinazo Felongco, and Presidential Commission for the Urban Poor Chairman Alvin San Juan Feliciano.
In his brief message to the new officials, President Duterte said, "My only message to you is that we are all workers of government and so let us work to preserve the nation and to protect the people." ###PND