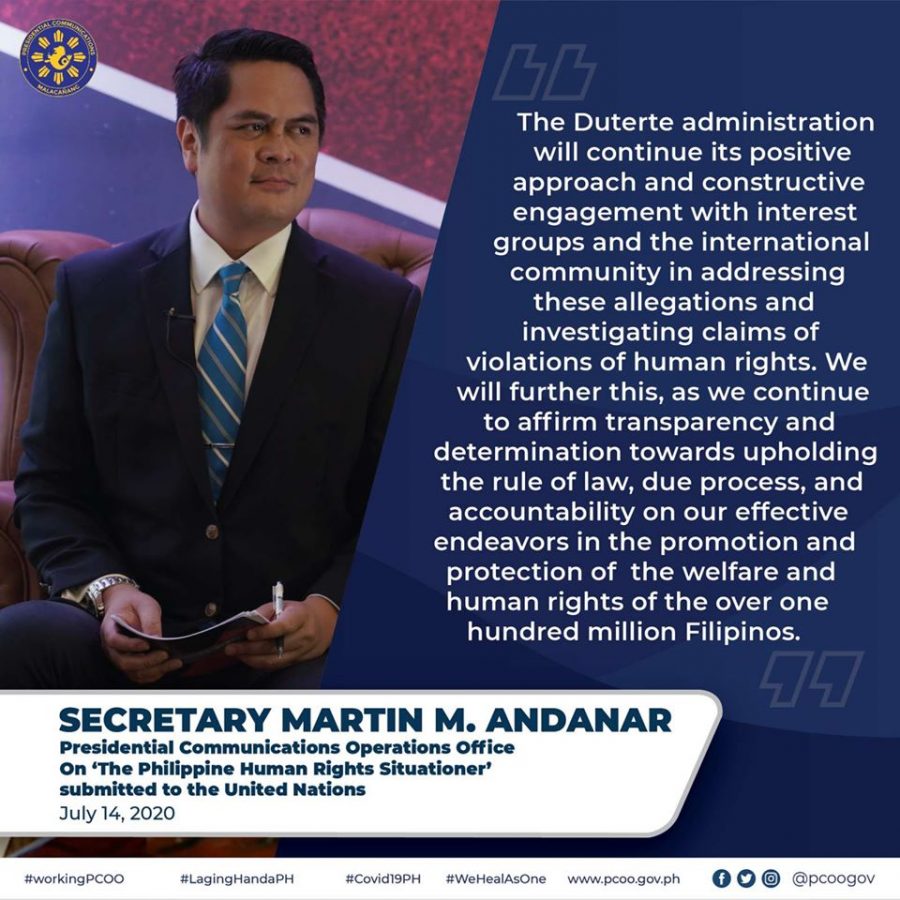 MANILA – The Philippine government maintains its commitment to positively respond to allegations on human rights violations as its Permanent Mission to the United Nations presented and promulgated the Philippine Human Rights Situationer report before the Office of the United Nations High Commissioner for Human Rights (OHCHR).
In his statement on Monday, Presidential Communications Operations Office (PCOO) Secretary Martin Andanar said that the presented report detailed the 'comprehensive understanding and appreciation of the Duterte administration's commitment towards furthering every Filipino's human rights amidst the misrepresented allegations brought by different interest groups.'
"Following the spirit of integrity and political will, the Duterte administration continues to strongly advocate for the overall collective development and a safer and more comfortable life for all Filipinos, while partaking in constructive consultations with different stakeholders, interest groups, and the international community," he said in a statement.
Secretary Andanar stressed that the Duterte administration will continue to promote the protection and preservation of human rights while concurrently implementing policies with public interests.
He also noted proactively engaging others, especially the international community in addressing claims of human rights violations.
"The Duterte administration will continue its positive approach and constructive engagement with interest groups and the international community in addressing these allegations and investigating claims of violations of human rights," he said.
"We will further this, as we continue to affirm transparency and determination towards upholding the rule of law, due process, and accountability on our effective endeavors in the promotion and protection of  the welfare and human rights of the over one hundred million Filipinos," he added.
###