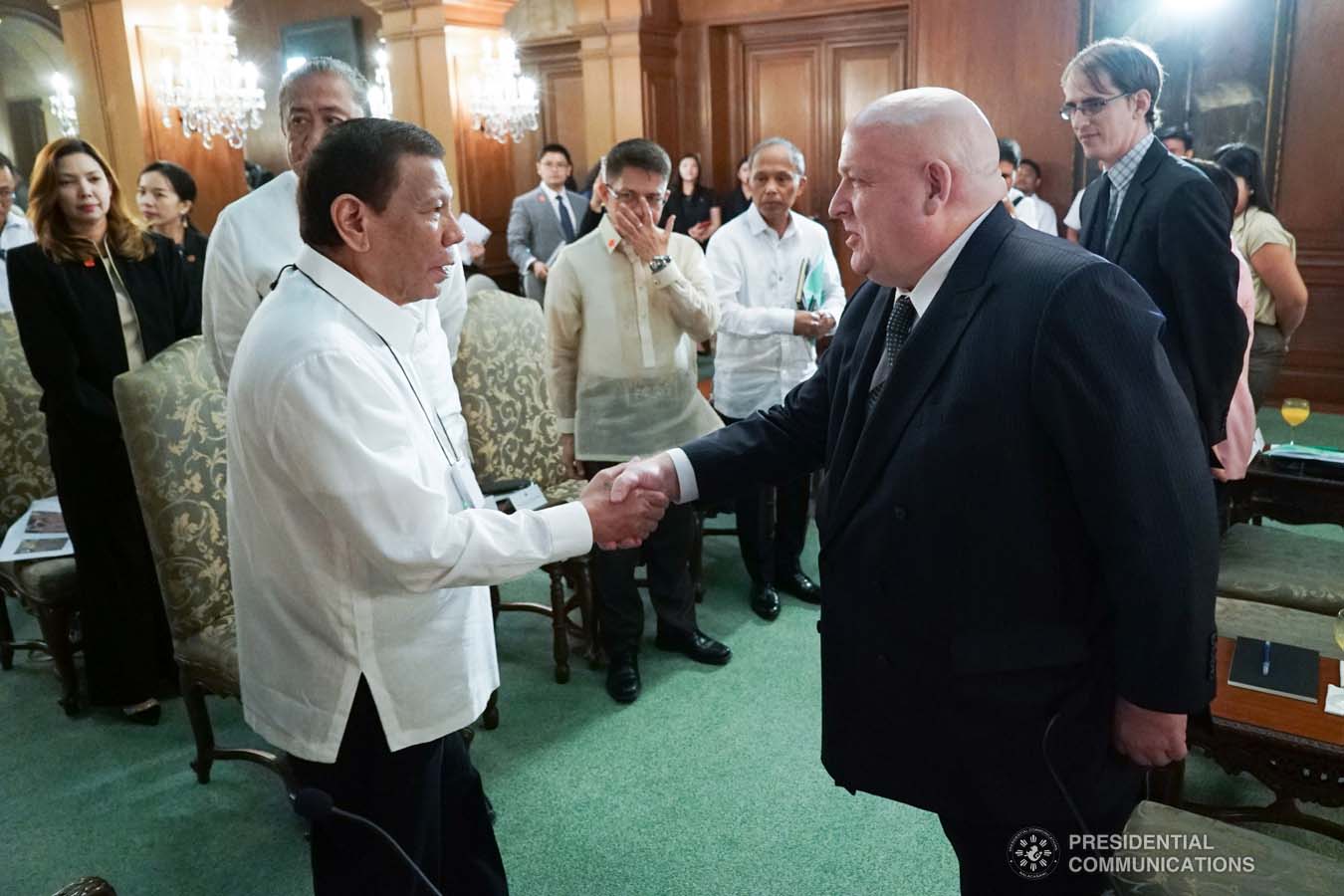 New Zealand Ambassador to the Philippines David Strachan on Monday, January 27, paid a farewell call on President Rodrigo Roa Duterte as he concluded his tour of duty in the Philippines.
During the call in Malacañang Palace, the President expressed his gratitude to the outgoing ambassador for his efforts to further strengthen cooperation between New Zealand and the Philippines.
Under his tenure, the two countries experienced increased engagement in economic relations, defense and security cooperation, as well as the extension of development assistance.
Ambassador Strachan will be succeeded by Ambassador-designate Peter Kell.
Before his appointment as New Zealand's ambassador to the Philippines in December 2014, he was ambassador to Egypt, Libya, Algeria, Tunisia, Morocco and the League of Arab States.
In 2011, Ambassador Strachan represented New Zealand in Juba at South Sudan's Independence Day commemorations.
Early in his career, he served in Kuala Lumpur, Port Moresby, Seoul and Jakarta. And in 2000, he became a member of the first New Zealand mission to Pyongyang, which established diplomatic relations with the DPRK.
Ambassador Strachan joined the Ministry of Foreign Affairs and Trade (MFAT) in 1983 and has served in the South East Asia, South Pacific and Middle East Divisions of MFAT. He was also the head of the Asia Regional Unit in the Asia Division.
Also present during the farewell call were Foreign Affairs Secretary Teodoro Locsin, Transportation Secretary Arthur Tugade, and Energy Secretary Alfonso Cusi.
Accompanying the outgoing ambassador were New Zealand Deputy Head of Mission Tim Stewardson, Aid Manager Dyan Rodriguez, Policy Adviser Noelle Velasquez and Trade Commissioner Hernando Banal. PND