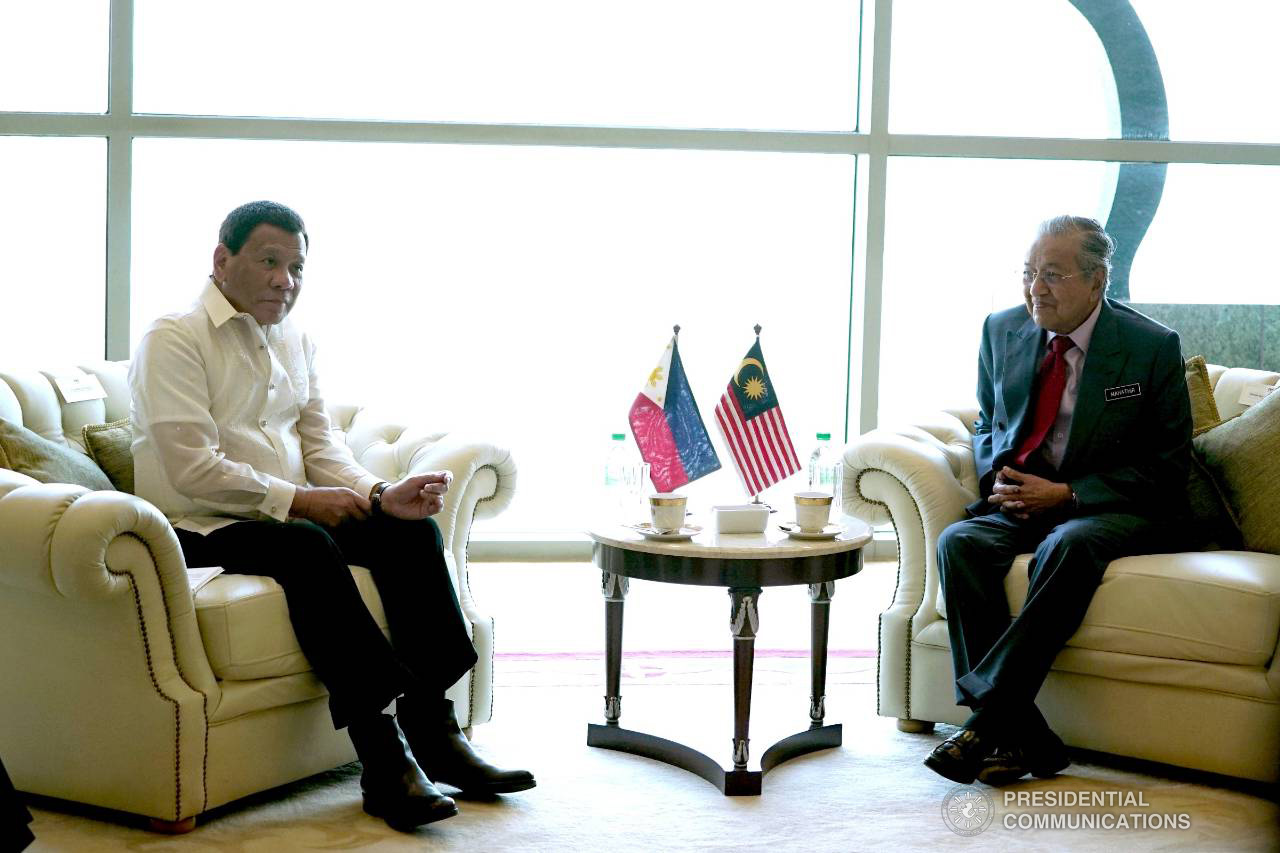 President Rodrigo Roa Duterte met with Prime Minister Mahathir Mohamad in Malaysia where the two leaders renewed and reaffirmed the long-standing friendship between the two Southeast Asian nations.
Malacañang said President Duterte is "grateful" to the Malaysian leader's invitation to visit Kuala Lumpur and meet with him for the first time "to discuss matters of mutual interest."
"President Duterte and Prime Minister Mohamad renewed and reaffirmed the long-standing brotherhood and friendship between the Philippines and Malaysia," a Malacañang statement said.
"President Duterte likewise renewed the commitment to further strengthen defense and security cooperation at the bilateral and regional level," it added.
The President also raised the urgency to address issues that threaten the region such as terrorism and violent extremism, transnational crime, illegal drug trade, and piracy in the high seas.
Duterte likewise expressed his appreciation for Malaysia's sustained support for the quest for just and lasting peace and development in Mindanao.
"Both leaders stressed the importance of working closely together bilaterally and at ASEAN to achieve shared aspirations of greater peace, progress, and prosperity for the Philippines and Malaysia, and greater stability and security in the region," Malacañang added.
Following their meeting, the Chief Executive gave a painting of the face of the Prime Minister as a token, painted by self-taught painter Maestro Ronilo Abayan.
The President was accompanied by Foreign Affairs Secretary Alan Peter Cayetano, National Security Adviser Hermogenes Esperon, Jr., and Special Assistant to the President Christopher "Bong" Go.
The meeting was the first for the two leaders since Mahathir's election as the new Malaysian Prime Minister last May.
Duterte arrived in Malaysia Saturday night to show support for Senator Manny Pacquiao, who clinched the World Boxing Association welterweight belt from Argentinian boxer Lucas Matthysse via knockout in the seventh round.
Prime Minister Mahathir also watched the boxing match and gamely posed for a photo with the Filipino boxing champ and President Duterte doing the signature clenched fist gesture after the bout.
###PND